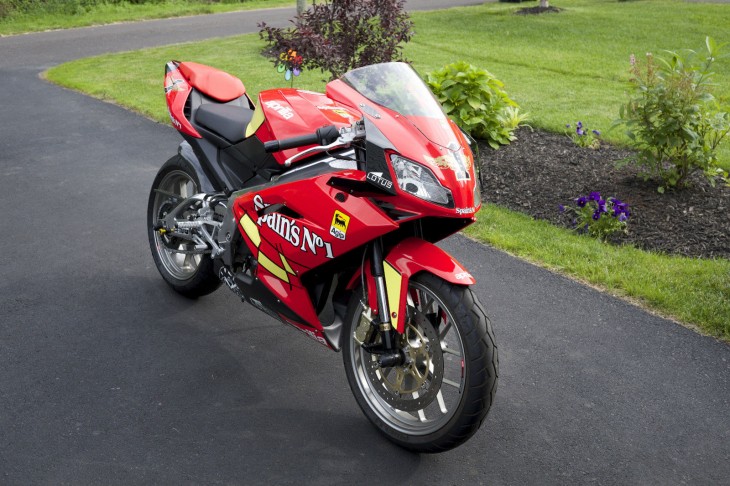 Most small displacement sportbikes look like small-displacement sportbikes, but Aprilia really knows how to make lust-worthy entry-level machines. While their RS250 is certainly no learner bike, this one definitely is: you won't be going very fast on an RS125, but you will look good doing it…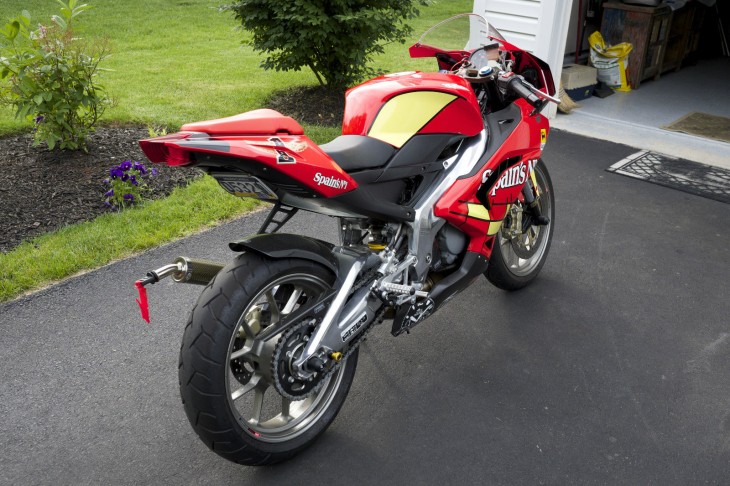 Manufactured between 1992 and 2012, the RS125 was a two-stroke, single-cylinder bike designed to capture well-heeled young race fans unable to purchase larger motorcycles due to licensing restrictions. This iteration of the 125 was designed to evoke the RSV1000 v-twin sportbike that was at the top of Aprilia's range until the introduction of the RSV4. With two-strokes being phased out all over the world, the RS125's place in Aprilia's lineup has recently been taken over by their new RS4, a cleaner-burning 125 four-stroke powered bike.
It's a very muscular-looking bike for a 125, although they're very petite in person. They do feature lights and signals to make them road-legal, but I've never seen one that had rearview mirrors fitted. I'm sure a nice set of Rizoma mirrors would add a bit of bling and meet DMV requirements.
This one has had quite a bit of quality aftermarket thrown at it already, and has been tuned by noted East Coast tuner Fast by Ferracci.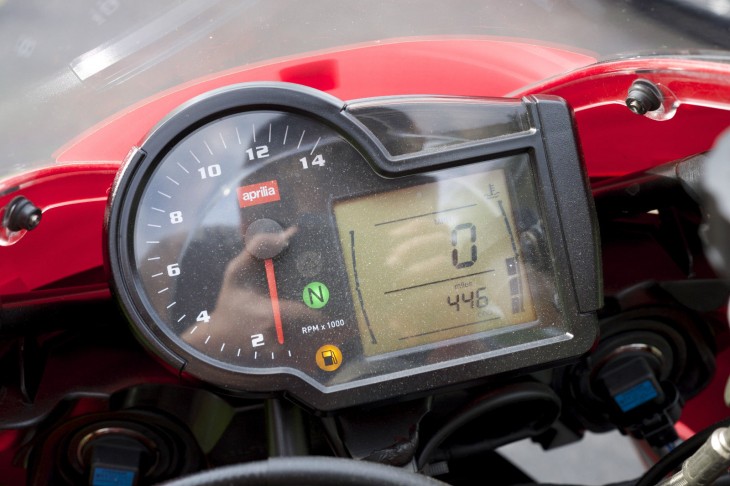 From the original eBay listing: 2009 Aprilia RS125 for Sale
For sale 2009 Aprilia RS125 (GP derived replica). Bike is like new with only 446 miles on it, it's been garaged kept and rarely ridden. Bike is for competition use only but it is titled, plated and registered in the state of PA and is street legal. Bike has some upgrades done to it and I will included all original parts except for OEM exhaust to the buyer. This motorcycle was dyno tuned and services by Fast By Ferracci and produced 31hp at the rear wheel, all the fluids were changed after 300 miles. This is a real rare motorcycle, I believe only 200 were imported in to US, so if you're looking for a GP replica 2-stroke this is a perfect opportunity to get one in new condition. I'm sad to let it go, but don't have time to ride it at all, and need more space in my garage. Thank you for viewing and Good Luck!

Aftermarket parts installed: 
Woodcraft rearsets

Front & Rear Axle Sliders 

Tyga carbon fiber Rear Hugger 

Tyga carbon fiber Sprocket Cover

Tyga carbon fiber Chain Guard 

Arrow titanium exhaust full system with carbon can 

Evotech exhaust hanger

European ECU with all the harness/wiring – to make the bike street legal.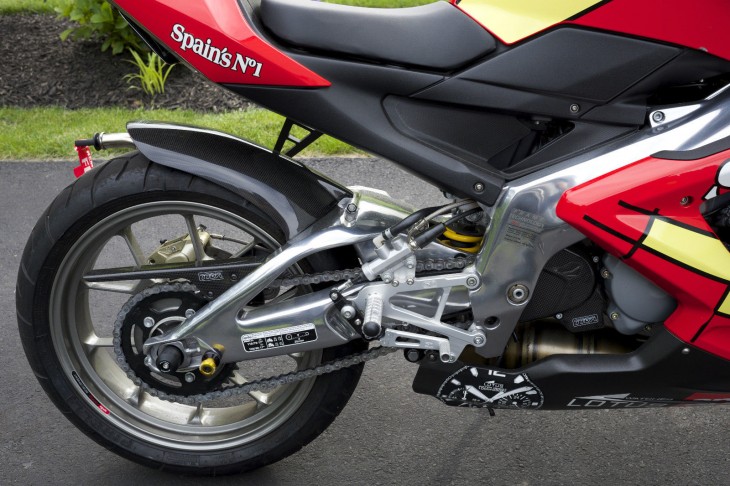 With the introduction of KTM's RC390 and the increased interest in small-displacement bikes in Asian markets, here's hoping that we see a trend towards smaller sportbikes here in the US. I do see the appeal of scary literbikes, of riding something that you know is a barely-tamed animal.
But honestly, it's nearly impossible to even tap into that performance on the street, and I think it'd be pretty frustrating to own a 200hp motorcycle and never really be able to take it over 8,000 rpm unless you're risking life and license… A bike like this you could twist to the stop and ride it like a complete idiot with far less risk, and still have something very sleek and exotic to admire in your garage during these cold, dreary winter months…
-tad