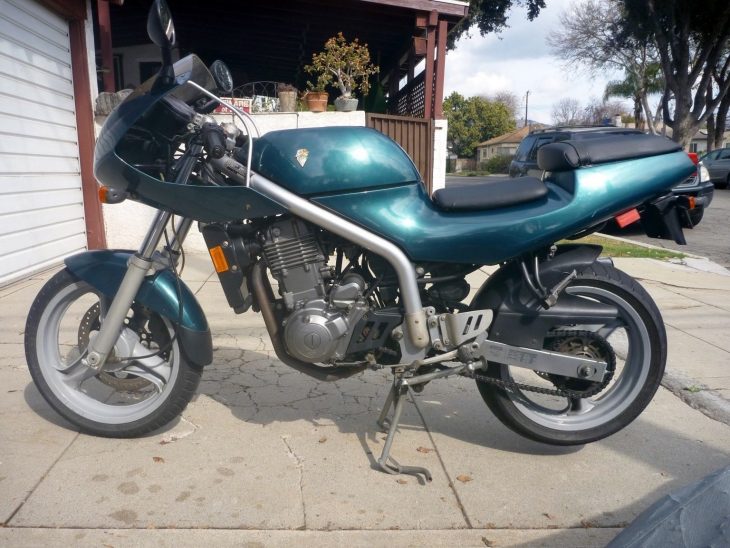 MZ's history is more significant than the average enthusiast realizes, especially if you're a fan of this site and/or grey market two-stroke sportbikes. "Why is that?" You might ask. Or more likely, "Who is that?" MZ, formerly MuZ was an East German manufacturer of two stroke motorcycles. Engineer Walter Kaaden actually pioneered the use of expansion chambers while working for Motorrad und Zweiradwerk to tune and increase performance of the dirty little smokers. But after factory rider Ernst Denger fled to the West, taking the company's secrets with him in a move to Suzuki [technically the East then] MZ's dominance ended and the company faded into the background. Later, they built a range of simple, very Soviet-looking bikes based around a Rotax single, but it wasn't until their mid-90s revival with bikes like this MZ Skorpion Sport that they really looked like a modern alternative to anything.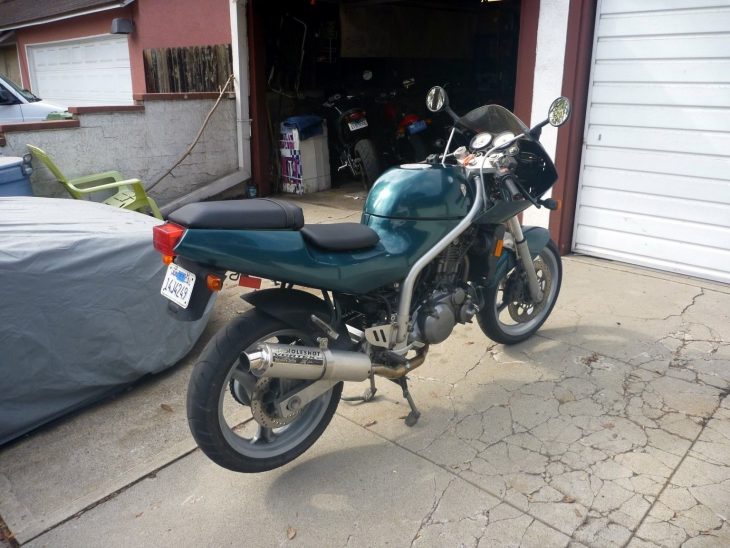 Like an East German version of Triumph's 1990s lineup, MZ's entire range was built around a common frame, and all the bikes used Yamaha's five-valve XT660 single backed by a five-speed gearbox. The frame was less top-heavy than Triumph's spine design, but the big thumper meant modern sportbike fans weaned on Japanese inline-fours were… confused, to say the least. The package made sense for the Mastiff supermoto or the Baghira adventure bike, but wasn't the ideal choice for the Traveller [guess what that one was supposed to be for] and the Sport, along with its Cup and Replica variants, and the bikes were never all that popular.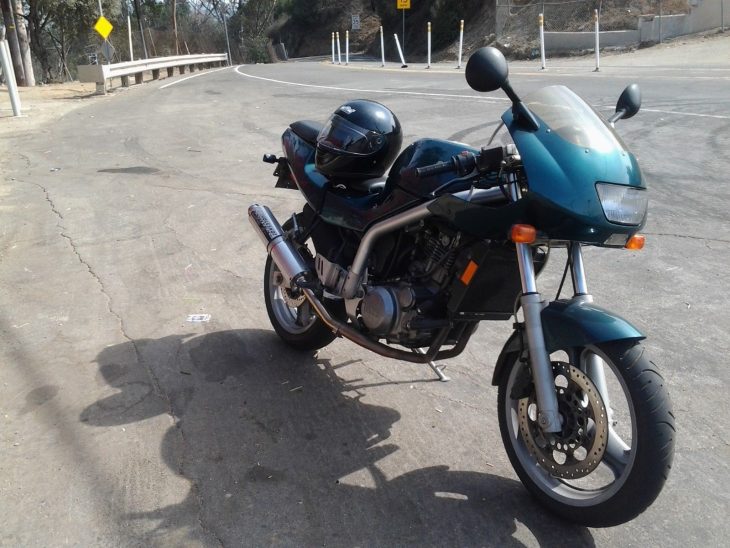 All the better for the rest of us! The Skorpion wasn't scorchingly fast in a straight line, but throw it into a set of corners and the bike was in its element: Motorcycleonline.com referred to the limited-production WP-suspended Skorpion Replica as one of the best handling bikes they'd ever tested. The lower-spec Sport seen here might not handle quite as well right out of the box, but the basic components are there and the bike just a cartridge kit and an updated shock away from similar results. There's a good reason people like to use them as the basis for affordable track and racebikes.
From the original eBay listing: 1995 MZ Skorpion Sport for Sale
Rare and nifty sport single! Yamaha, 5-valve, 660cc, liquid cooled, electric-start engine as used in Yamaha 660cc ATV's Quads. Chassis is unique English design and great handling! Manufactured in (formerly) East Germany. Stock except for Holeshot muffler. Clear title. Runs well, stops great and steers amazing! Please look at photos and ask questions. Local pickup or you handle shipping. Thanks!
At 26,000 miles, this is no garage queen, but it looks like it's in good cosmetic condition and the XT660 powerplant isn't exactly rare, so basic maintenance should be easy. Considering the bidding starts at just $1,799 with no takers yet, this should be on the short list of anyone looking to graduate from track days to racing, fans of affordable exotica, and basically anyone that's a lover of fun, honest, practical motorcycles.
-tad