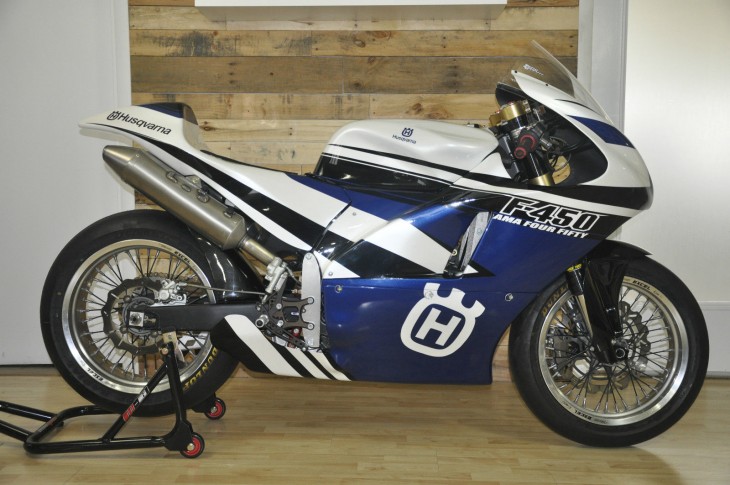 Today's Featured Listing Husqvarna SM450RR-based roadracer is a bit outside what we usually feature here, a bike without much of a pedigree or racing history, but one that has function and character by the bucketload. Race bikes are often cost-no-object creations designed to perform without compromise. Super Singles are almost the complete opposite of that design brief and are built to provide the foundation for a race series that keeps costs low and the level of competition high.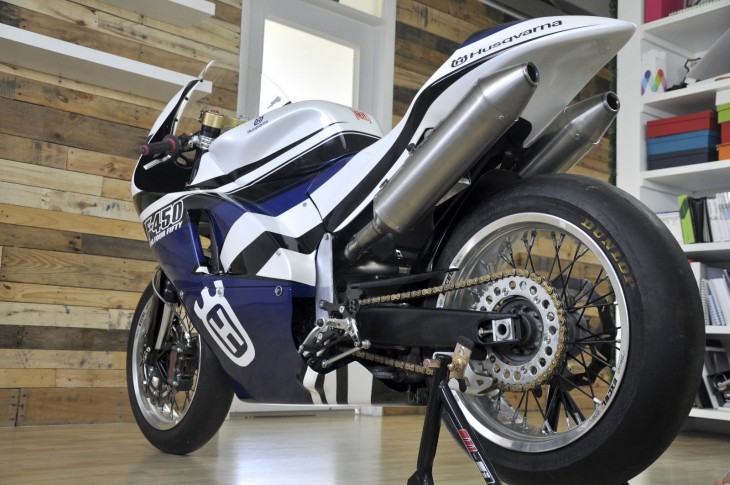 The costs to run top-tier race teams in Moto GP and WSBK are astronomical and, even with limits in place to keep costs from spiraling out of control, there are few that can play at that level. It takes mountains of money and talent to compete, with very few slots and many eager riders fighting to fill them.
So how do you get started racing if you aren't blessed with deep pockets, or want to really learn the ropes on something that rewards finesse and talent? Where do you find the perfect bike to go racing on a budget? Something with torquey, flexible power, light weight, reliability, and easy parts availability, a bike that allows the riders, not the bikes to shine brightly?
A number of big names, including Roland Sands, were involved in developing bikes to compete in an AMA Superbike feeder class, and bikes like this were the result. Several companies stepped up to the plate and produced kits that utilize big offroad singles as the basis for roadracing machines, utilizing the donor bike's engine, frame, and swingarm. New wheels, brakes, suspensions, and bodywork were added for the bike's new mission and while the resulting bikes weren't exactly cheap, costs could be kept manageable. Performance? With a weight of about 250lbs and 60hp these are seriously quick machines with the power-to-weight of a tuned two-stroke 250, but with a fat wedge of midrange and durability undreamed of by the smoker brigade.
From the seller: Brand New 2009 Husqvarna SM450RR Road Racer
Gavin Trippe (A legendary motocross and road race promoter, father of the Supermoto and the AMA Superbike Championship) joined with Troy Lee Designs and Roland Sands Designs to build several F-450 examples based off of current 450cc Motocross bikes.  One of the last and the most expensive design the trio has designed is this Husqvarna 450RR and it's ready to race!

This Husqvarna's SM450RR Limited Edition is the only one imported and was constructed to celebrate Husqvarna Motorcycle's success in the 2008 Supermoto World Championships when Adrien Chareyre (France) and Husqvarna bike won 2 world titles. This motorcycle was the identical backup bike of Adrien Chareyre setup but not raced.

The SMRR's power plants are more powerful "race" versions and are mated to six-speed gear boxes derived the mx bikes which come stock with a STM slipper clutches. Changes to the engines include an enhanced electric started, 41mm Keihin carburetor and along with special cams and pistons. In collaboration with Arrow, Husqvarna engineers designed a tailor-made exhaust system for the SMRR's which are constructed from titanium (complete) and feature twin silencers and heat shield also made of titanium.

The bike offer a TIG welded frame with adjustable steering heads (just like on the official Team Husqvarna machine) as well as a shortened, black anodized swing-arm that improves traction and maneuverability. The one-piece steering plate made from anodized Ergal and the increased diameter steering pivot is all aluminum.

The brakes are special for these models and feature a one-piece caliper and pump. Wave disc rotors from Braking are oversize 310 mm for better compromise between adjustability and stopping power. 

Front suspension is handled by 50mm sealed cartridge Marzocchi Forks, and the rear is controlled by a Sachs racing aluminum bodied shock.

There are several titanium bolts on the bike.

The twin-colored anodized aluminum fuel filler cap is special as are the one-piece anodized Ergal racing handlebar clamps. The racing type stand is included.

This bike has never been on a track.
What?! "This bike has never been on a track"?! Someone buy this thing and rectify that immediately! It's almost a shame that the best thing to do with this Husky is thrash the living hell out of it on track, considering how nicely put together it is. With a number of companies currently making kits to convert dirt bikes into whippy little roadracers, the final product will certainly vary in terms of polish, depending on who's built them. That's not a problem with this one.
Although this nicely finished and highly spec'd machine is unlikely to ever be a collector's item in the same way the Honda NSR250 has become, it's the perfect tool for going fast or learning to go fast and will look good doing it.
-tad