Pepsi Refreshes The World:  1988 Suzuki RG500 Heron Pepsi Edition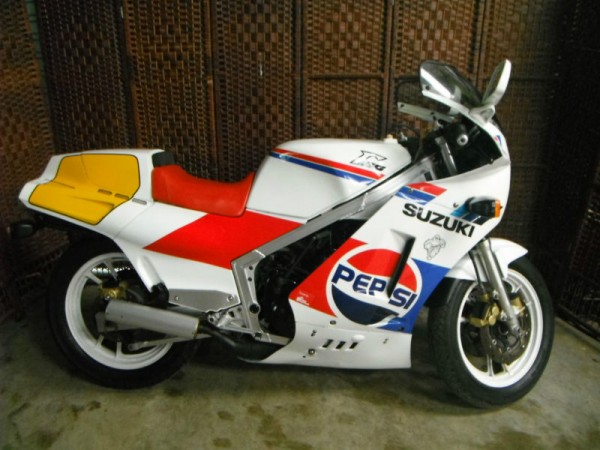 I take cash or check for the plug PepsiCo.  Take your hand off your wallet if you are in the United States as this one is in Australia.  It's still ok to look at the pictures though. Seeing a Pepsi logo on a Suzuki takes me back to the days of a young Kevin Schwantz starting to show  promise and put the Suzuki RGV500 right up there with the dominant Yamaha's and Honda's of the day.  I have to admit though, I've always thought these Pepsi RG500's have  looked a little funky.  The older RG silhouette with the Pepsi paint just doesn't look quite right compared to say the RGV250 (VJ21) Pepsi Edition.  The story behind them, as told to me, is very interesting.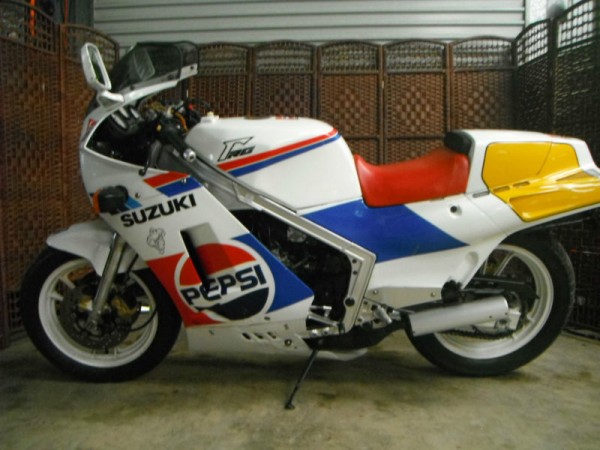 Apparently by 1988 RG500's were not moving off the showroom floors very quickly due to the sales success of the GSXR750.  Heron Suzuki decided a little race paint might make the bikes more appealing and commissioned Dream Machine to paint 50 Pepsi RG's and 50 Skoal Bandit RG's.  So,  if you are purist, you can argue that these aren't "official" Suzuki replicas.  I'd get into that argument with Lucky Strike RGV250 (VJ22) owners in the UK because apparently Suzuki UK had some RGV250's sprayed in Lucky Strike colors as well.  Having said that, the paint quality on these is supposed to excellent and they are extremely rare bikes.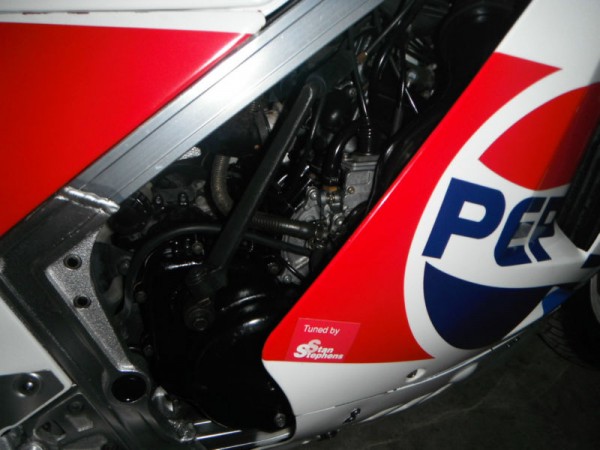 The seller has owned the bike for 13 years and states it resides in his house.  He does say it was tuned by UK tuner Stan Stephens but doesn't go into any detail of what work was actually done.  Not a bad thing but I know hard core collectors like them as close to stock as possible.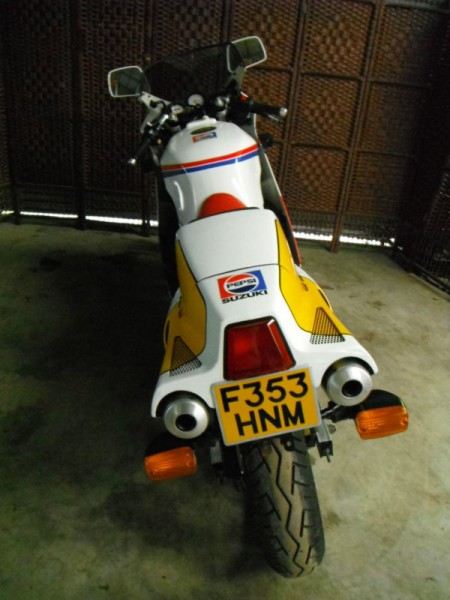 The solo tail cover was included with the bikes.
The info:
Well then what can I say about this that the pictures don't?

As you can see it is in amazing condition and those of you who know about RG500's will know how rare this is.

The only marks on it are from moving it around the house and shed.

It is the 7th Pepsi RG500 made by Heron Suzuki UK, This is stamped on it.

I have had this for 13 years and the person before me had it since new.

It has been tuned by the legendary two stroke tuner Stan Stephens in the UK apart from that it is standard.

I have the passenger seat and foot pegs as well.

I have the Suzuki service book and paper work and the import paper work to register it in Australia.

I can register it for you if you like to save any hassle (it's not hard though).

As you can see by one of the pic's it has been on display in my house and has been for years as ART.

It has been started regularly yes even in the house and filled the house with the smell of two stroke, a much better smell than roses as any die hard two stroke fan will agree.

I only rode it up the road and back in the house to keep all in great working order.

I moved from this house a few years ago and it's been in a dry shed but still ridden up the road and back 2 kilometres about every six months.

I feel the leather jacket signed by Kevin must go with it, He signed it for me when I had a BBQ with him and his mum and dad back in the day.

I have a contact that transports bikes Australia wide and for example from the Gold Coast to Sydney it's $200.

If you would like me to take a pic of any other part of the bike just let me know and I can email it to you.

Please feel free to ask me any questions about it.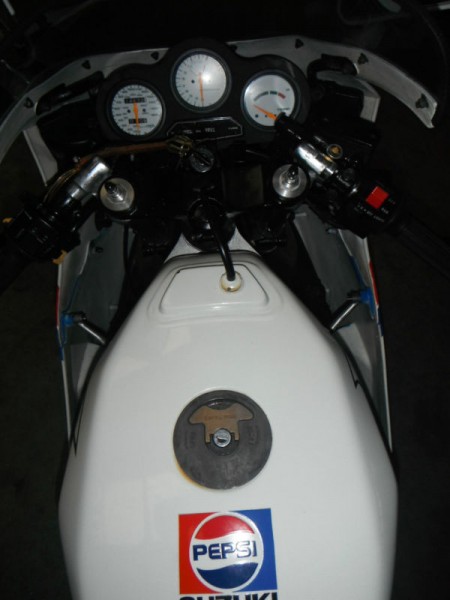 The seller is definitely asking collector type money.  The bike is at $15,000 Aus and has not met reserve and this is a re listing with a lower reserve.  Do you guys think it would command $15,000 in the U.S. (titled)?
Ian