For Sale: 1986 Suzuki RG 500 Gamma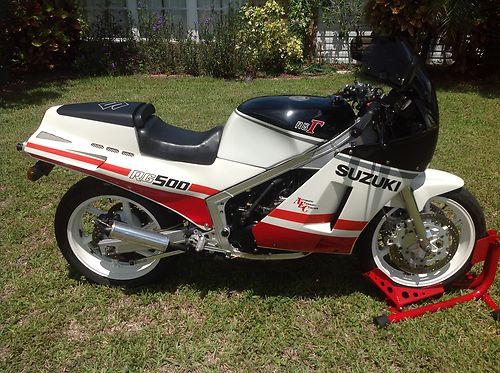 We must be getting closer to Christmas. Some fantastic bikes are coming on the market just in time for me to make my list. If you've been a good boy or girl, here is something that you might need to whisper in Santa's ear…
This RG 500 Gamma has all of the add-ons that you would expect. The Lance Gamma pieces are pre-requisites, but the Crawford pipes help push this over the top. This bike looks clean, clean, clean and it is obvious it was well looked after by the current owner. Lucky for you, it is now looking for a new home.
From the seller:
1986 Suzuki RG 500 Gamma 2-Stroke. 15,626 kilometers or 9,706 +/- miles. Ultra rare black, white & red scheme reported as approxiamtely 60 of 650 units produced in this color when imported to Canada. One of a limited number of Gamma's in the Country with a majority of the Rick Lance GAMMA modifications including, RARE Tommy Crawford pipes, tri-pod air cleaner set up with in-line fuel petock cut-offs to modified hi-flow carbs, oil injection in tact & in use, mildly ported, 17″ inch white CBR wheels (much better looking than Suzuki wheels in my humble opinion) with 160/60/17 rear & 120/70/17 modern rubber, FOX adjustable rear shock with resevoir & Lance adjustable rear ride height mod, PM polished front calipers with EBC dual floating front rotors & more. Bike comes with Lance GSXR radiator mod I just paid $515.00 for but have not installed. Title free & clear in my name, FL registration current, bike ridden 11-2 & started weekly. Lower fairing infrequently pictured but comes with bike & is in good conditon. I keep it off for ease of cleaning & access to carbs, etc. but bike looks better with it on.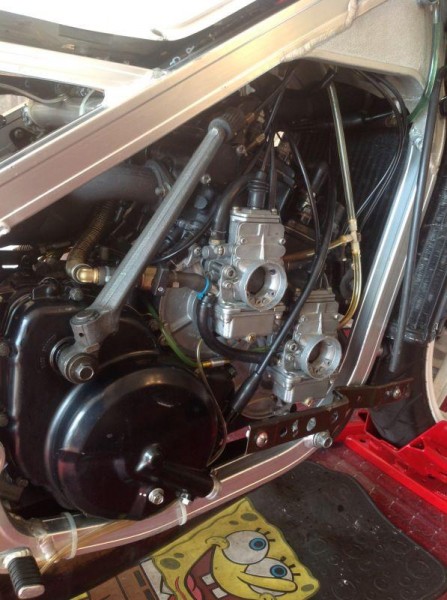 Purists might complain about the Honda wheels, but then again purists would likely moan about any mods. The truth is that that Gamma is a terrific platform for modifications, and that road is pretty well paved by now. What you should end up with is a stout Gamma that looks clean, has the unique white/black/red livery, and has a Florida title. For everybody outside of the Golden State of California, that is pretty much a trifecta right there. Even Sponge Bob seems to agree.
This auction is going on right now, and the current bid is only $8,100 with moderate bidding. I expect this one to go way up from here, so tune in to watch the fun. For photos, specs and more, click the link and jump over to the auction. Don't forget to tell Santa that you found it on RSBFS!
MI