Bimota's stock-in-trade has always been aggressive, lightweight racebikes for the road but, every once in a while, they throw us a curveball. Or even the occasional knuckleball like this DB3 Mantra. An unapologetically road-biased machine, Bimota's third Ducati-powered special featured upright ergonomics, an oval-section trellis frame shared with the later DB4, a roto-molded fuel tank that included a storage cubby at the back in an ill-advised nod to practicality, and styling could be called "wild" if you were feeling gracious.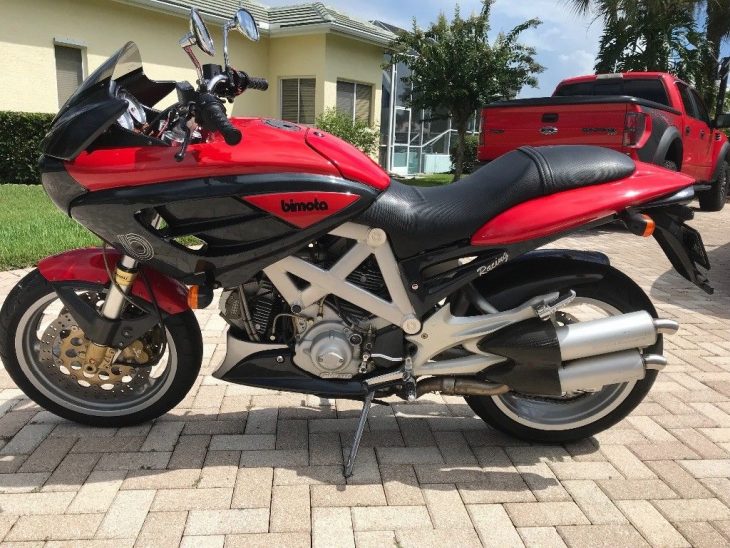 It was polarizing then and now, but if you like the looks, you shouldn't let anything discourage you from buying one: the hard parts are all easy to service, reliable, and pretty entertaining. Ducati's air and oil-cooled two-valve v-twin has been around forever, and is relatively simple to service and parts are readily available to maintain them. Yeah, the regular belt-changes are kind of annoying, but easy to do if you know your way around an engine, and the valves generally aren't too much of a problem either. And if the bike's 85 claimed horses from the 904cc twin don't adequately blow your hair back, you can build yourself a high-compression, 944cc monster that should do a pretty good job of stretching your arms.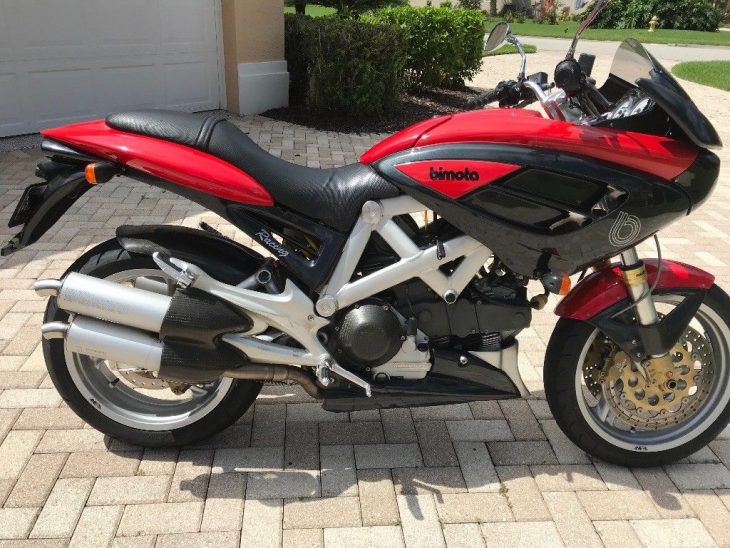 The styling was slightly insane, but the bike handled very well, with a 43mm Paioli fork out front and an adjustable Paioli shock out back. The oval-section trellis frame was stiff and very light: just 11 pounds. Basically, it was a lighter, weirder, much more expensive Monster with better suspension. Like all Bimotas, it makes no sense from a financial perspective, as performance advantages over a Monster that cost half as much were minimal. But 454 Mantras found buyers, which makes the bike pretty much volume production for Bimota.
This example is a second-generation Mantra, with updated styling at the front, tubular handlebars instead of raised clip-ons, and Antera wheels to replace the earlier Marchesini hoops. I have a soft spot for these, as it was one of the first bikes that, as a non-rider, really caught my eye when it was new. Weird as they are, I still kind of dig the DB3 and would have one in a collection if I could afford to:
A: Have that plastic, burl-wood dash replaced with something stupid, like genuine wood or some nice carbon fiber.
B: Replace the horrible four exhaust pipes and the ludicrously-styled hangars with something much simpler.
Remove the taller screen, fit some simple bar-end mirrors and have fun.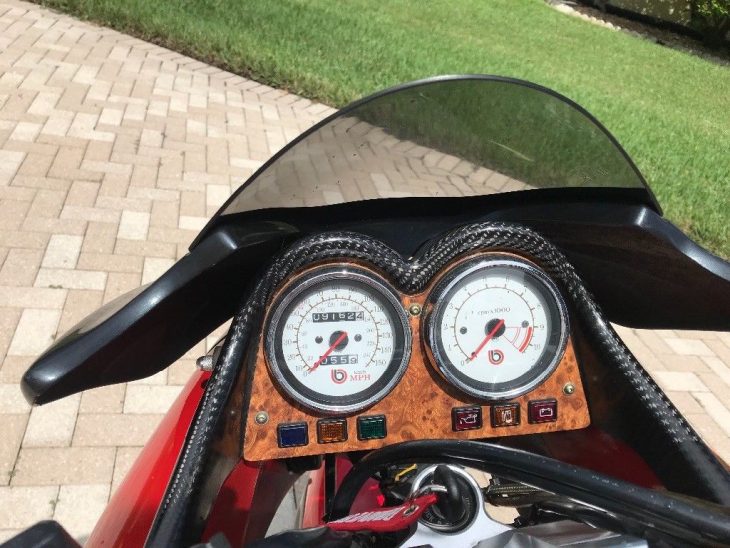 From the original eBay listing: 1993 Bimota DB3 Mantra for Sale
This is an excellent example of a DB3. 400+ made, 23 in red. Very few in the US. Very low mileage at under 9200. Ducati 900 engine just has been serviced with new belts, oil and plugs. New AGM battery. New Conti tires. Previous owner removed the complicated fuel pump system and now it is just gravity fed.

Here are the 3 issues. Without a choke cable, it is a little hard starting until fuel gets in the carbs. With a cable, I imagine it would go on the first try. Once started, restarts fine. Tach works 50% if the time, loose connection? Lastly has a slight whistle noise at an exact rpm. Ducati said it is caused by lack of the factory air box. It hurts nothing, just the flow of air… These are 3 minute things, but I go for full transparency. The bike is in great shape. Very unique Italian styling.
"Very unique Italian styling" might be the epitome of understatement in this case. But the bones are good and the DB3 should make a pretty great weekend roadster for cruising, carving up traffic, and shocking onlookers. "What is that?" is something I'd expect you'll hear pretty often, riding the Mantra. So what's it worth? Well the Bimota pedigree and rarity certainly makes it more valuable than an equivalent 900SS or Monster powered by the same engine, with similar performance. But by how much? Values for 90s Bimotas are currently at a bit of a low-ebb, although I doubt that can continue forever. Bidding on this one is very active and up to just about $5,000 with another day left on the auction.
-tad