Ducati's mid to late-80s bikes existed in a kind of limbo: the modern sportbike was taking shape, and the Ducati 750 F1 Laguna Seca was birthed during this transitional period. The 750 F1 and its variations weren't quite the refined-ish, modern-ish, mass-produced-ish machines of the Cagiva era, but they weren't the nearly hand-crafted bikes of the Fabio Taglioni era either. The Laguna Seca was named after the famous California race track where Marco Lucchinelli found success in 1986, and just 200 examples were built.
The 750 F1 used a Verlicchi-designed steel trellis frame that gave it a look familiar to fans of later Ducatis, and the bike was powered by a 749cc version of their air and oil-cooled engine, here producing a claimed 76hp. Notably, the F1 still has the rear cylinder in its original configuration: later SS models had the rear cylinder rotated 180° to place both carburetors in the vee of the engine for much more elegant packaging. The bike was wrapped in bodywork designed to resemble Ducati's successful TT1 race bikes, with 16″ wheels front and rear, while a dry weight of just 385lbs meant the now-familiar two-valve Pantah engine didn't have much mass to push around, giving the bike a 136mph top speed.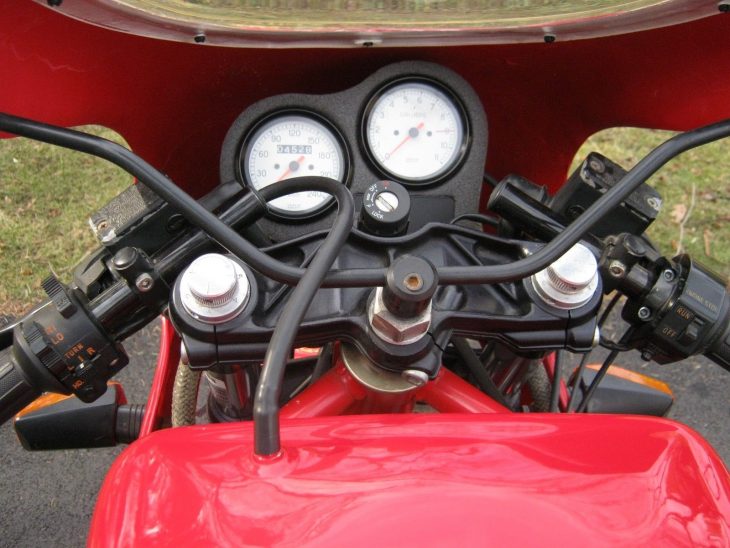 Quality was a bit kit-bike and the bikes were relatively crude as delivered, but the potential was there for a seriously fast motorcycle, if one took some time to develop it. Almost as if Ducati didn't bother finishing the bikes, knowing that most owners would modify them to suit their needs anyway.
From the original eBay listing: 1987 Ducati F1 Laguna Seca for Sale
The only changes to this bike upon delivery was the installation of the proper directionals, rear brake light switch and horn for street use. I installed a proper muffler in the place of the very loud Verlicchi megaphone. The bike also received an upgrade to the wheels and discs although retaining the 16″size. Magnesium Marvic/Akront rims as on the Monjuich and full floating discs replaced the original cast F1 style wheels and semi floating discs. All original parts are included in the sale. The bike is in excellent condition with only 2830 miles and has never been raced. Mileage as shown in photo is in kilometers.
The F1 and its variants spent years undervalued, but at this point, values have increased significantly, and the opening bid for this example is a cool $20,000. The bike is, as the seller indicates, not completely original, but the changes made are period correct and the parts needed to return it to stock are included. The original machine was basically a race bike with lights, so the addition of some small, folding bar-end mirrors is probably a wise concession to road safety: "First rule of Italian driving: what's behind me is not important…" I'd probably see about adding some low-restriction foam pods to those carburetors as well, since plenty of grit and sand can get past the mesh screens currently serving as "air filters."
-tad