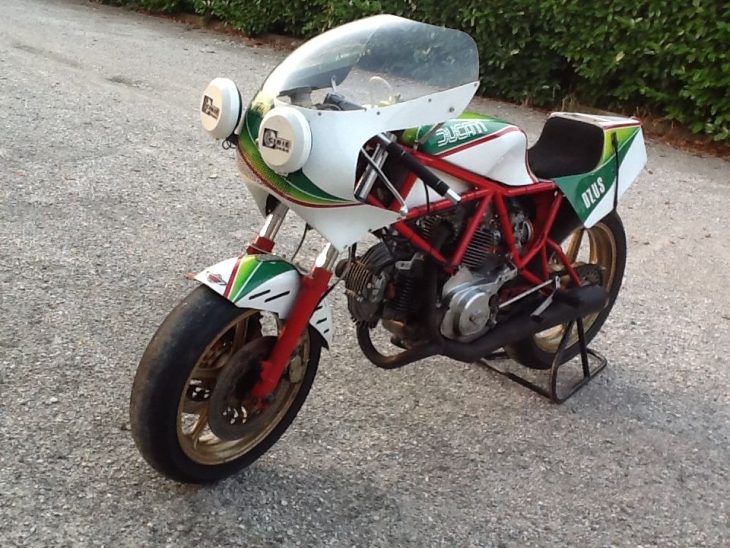 Although the mid-1980s 750 F1 may not have represented the very best from Ducati, the TT2 and later TT1 race bikes that inspired them certainly did. Lightweight, perfectly formed, and highly effective, they epitomize Ducati's racing ethos of the period. The original TT2 displaced 587cc and used the belt-drive Pantah motor, with the later TT1 punched out to something closer to 750cc. Both bikes did well in competition, although the earlier 600 was far more successful.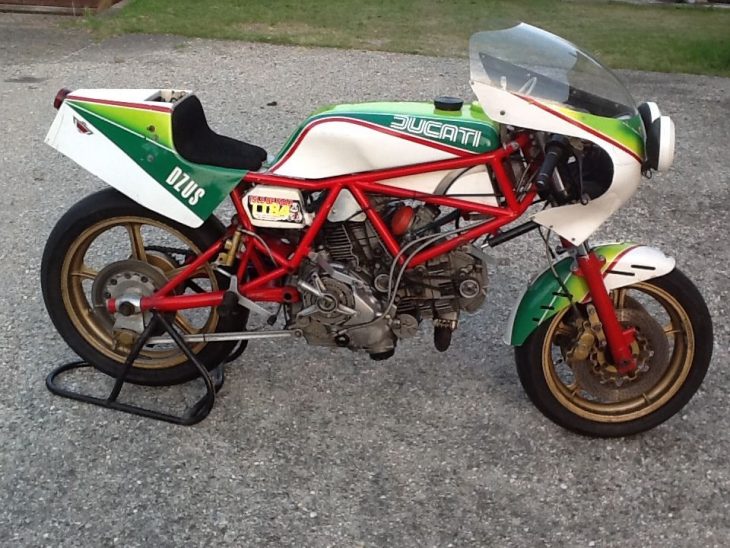 The beautiful and very lightweight [at a claimed 16lbs] frame by Verlicchi and the bodywork with perforations to allow airflow to a front-mounted oil-cooler are distinctive characteristics of the TT, and those huge headlights speak to the bike's obvious endurance-racing intent. The front three-quarter view also highlights the 16" front and 18" rear wheel/tire combo that contributed to the bike's agility.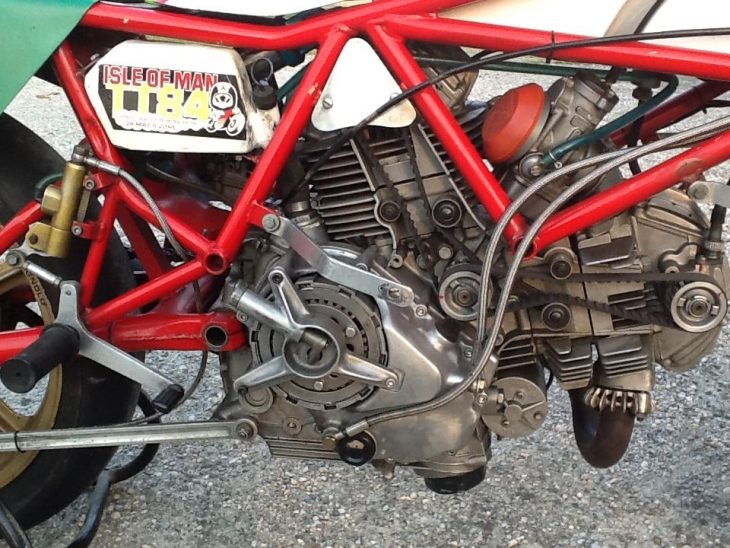 Although this one may have racing provenance and should probably be on display somewhere in a collection or museum, but it's battle-ready and scuffed appearance almost demand that it be put into track-ready condition and campaigned in vintage events.
From the original eBay listing: 1984 Ducati TT2/TT1 Race Bike for Sale
Ducati TT2/TT1 750, model year 1984, VIN 22

This is a GENUINE TT2 factory bike, VIN 22 upgraded to TT1 750cc specs to compete in that class in the Endurance series. Jean Moto Team was a small but very "aggressive" team competing in endurance racing and TT's during the 1980's

A real piece of mid 80's Ducati history this bike finished 6th overall at the 1984 Bol d'Or, first of all Ducatis so in front of works Ducati machines! It's totally preserved as it finished the last race but the engine was completely overhauled by factory ex-mechanic Giorgio Grimandi.

Forget stocks and shares invest in a true piece of motorcycling history! It comes with documentation (original period magazine etc). Race, parade and collect! Bulletproof investment.
Bidding is up to around $6,500 with the reserve not met and several days left on the auction. That's no surprise, considering that real TT race bike should be at least a $30,000 machine. I'm not sure why there hasn't been more interest. Perhaps the bike's mongrel TT1/TT2 history? That seems very much in keeping with a racebike's mission, and only bikes that have spent their lives on display would be lacking period upgrades to keep them competitive…
-tad