Warning!
This post is in our archives. Links in this post have been updated to point to similar bikes available to bid on eBay.
Ducati's two-valve engine variants have long been seen as the affordable, low-performance option for novice or "mature" riders and bikes far from the leading edge of performance. Which makes the choice of an air and oil-cooled Ducati Sport Classic as the foundation for a high-performance racing machine like this highly-developed example pretty surprising.
When the liquid-cooled, four-valve Desmoquattro engine was introduced, it instantly relegated the original Pantah engine and its descendants to second-tier status. But in the early 1980s, the oil and air-cooled two-valve v-twin, newly updated with toothed rubber belts to drive the single overhead cams instead of the classic tower shafts and bevel gears, it was their only engine and, as such, it was developed with competition in mind. The main point here being that you shouldn't dismiss it as a racing powerplant simply because its been surpassed in terms of outright performance.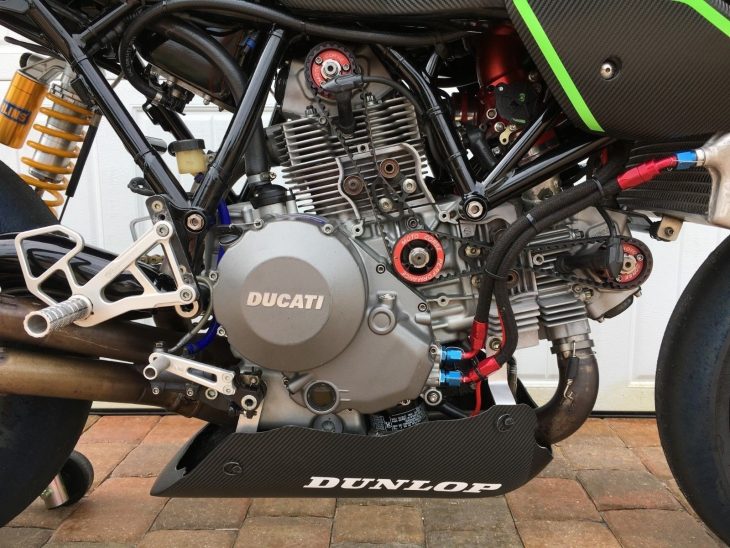 The Ducati's Sport Classic line might not have offered up Superbike power-to-weight ratios, but the engine's durability and the frame's inherent rightness mean that you can build a pretty competitive machine out of one, assuming you find the right class in which to participate.
The 992cc original engine might be torque-rich and involving, but in order to be competitive, this one has been punched out to a little over 1200cc with a raft of NCR components. The result is a claimed 140hp at the rear wheel, up from 92 in the original.
If you're not interested in competing on the bleeding edge, either because of the exorbitant costs involved, or simply lack the talent possessed by only a handful of riders worldwide able to to compete at the highest levels and win , this might provide you with a more budget-friendly option, although it's still pretty far from cheap, at $54,000.
From the original eBay listing: 2006 Ducati Paul Smart Race Bike for Sale
Ducati NCR Paul Smart Road Race Bike

Used in Excellent Condition

Perfect for CCS/ASRA, WERA, AHRMA Racing

140 RWHP

This is a well known national championship winning Ducati NCR Road Race bike created by Chris Boy of Motocorse Performance, Ft. Lauderdale, Florida. It was a no expense spared build with all the best internals from NCR; fresh rebuild of the motor in 2017 with 80 km on the clock since; Engine with top performance parts, fully revised and ready to race; Ducati 1100 evo built to 1215cc ; 140 RWHP ; NCR engine, custom MCP throttle bodies, NCR custom heads, NCR lightweight gears, NCR carbon valve covers, NCR oil cooler, Nemesis traction control, fairings in carbon and many other special parts; This is a rare occasion to purchase fresh well sorted championship winning bike; 

auction includes pit bull front and rear track stands & battery charger

Goodies List:  Carbon Fiber Front Fairing, Seat, Belly Pan, Front/Rear Fenders, Fuel Cell Carbon/Kevlar; NCR Front Fairing Bracket,  NCR Adjustable Triple Clamps , Ohlins Steering Damper, Brembo GP Master, Quick Turn Throttle Kit Electric Brake Fade Lever Adjuster, Woodcraft Rear Sets w/ MCP Lowering kit, Ohlins Road and Track Forks with 30mm Kit; Brembo HP Rotors, Brembo Radial Monoblock Calipers, Aluminum Front Axe Kit, BST Carbon Fiber Wheels, NCR Titanium Bolt Kit, MCP Titanium Rear brake Rotor, Ohlins Rear Shock, Quick Change Rear Axle, Titanium front sprocket, EVR3 Chain, PitBull Front/Rear Stand, AIM MXL Dash with GPS, Full Telemetry, LCU, and Smarty  Cam (mounted through front fairing), Nemesis Traction Control, SP Quick Shifter, Hard Wired MyLaps X2 Transponder; 24 volt starter, 2 Lithium batteries, billet Kill Switch, Custom Engine Build by MCP with NCR 1215 Kit, Custom MCP Throttle Bodies Velocity Stack  KN Filters, MCP Stage 7 Heads, Lightweight Gears, NCR Carbon Valve Covers, Zullo Racing Custom Lightweight Wire Harness, Nichols Motor Mount Bolts, NCR Oil Cooler – Oversized, Oversized crank Case Breather Box, Custom Titanium exhaust; MRX-02 Fuel Mapping 140+RWHP SuperFlo Dyno

Extensive spares package is available for addition charge.

VIN number listed is arbitrary; VIN number area has been painted over; sale is without title; eBay requires listing title information otherwise unable to post sale; there is no title offered with this race bike, just bill of sale.

Should you be also interested in the sister bike listed in my other auction, a "race team" deal with spares package can be arranged.

I can arrange free pickup to regional CCS/ASRA, WERA and AHRMA events on the East Coast; I will assist with shipping domestic and foreign.

Please don't hesitate to contact me with any questions, adjustments in the auction, etc. I pride myself in telling it like it is. If for any reason my description of this item isn't correct, I will gladly refund your money. Having a perfect feedback rating is very important to me and I plan on keeping it, so I don't play games.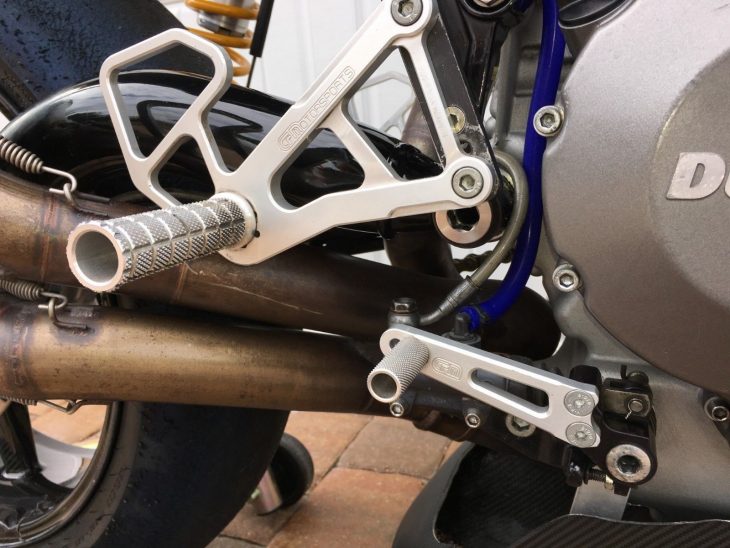 Looking at that list of go-fast goodies, it's pretty clear that no expense was spared in building this thundering v-twin racebike. 140 rwhp is nothing to scoff at, especially given the bike's probable weight: a new Paul Smart weighed in at around 414lbs dry so this one should be a good chunk less without all the lighting and other road gear. And that's before you even get into lightweight parts that decorate this machine. It's all top-shelf, and a ridiculous amount of money to throw at an obsolete v-twin sportbike, but if I were a rich guy, it's exactly the kind of track day toy I'd want in my garage. Liquid-cooled Ducatis might be faster, but I still think that the air-cooled two-valve engines sound much better, and the punchy midrange, here amplified to epic levels, should provide plenty of entertainment for experienced track day riders and racers alike.
-tad