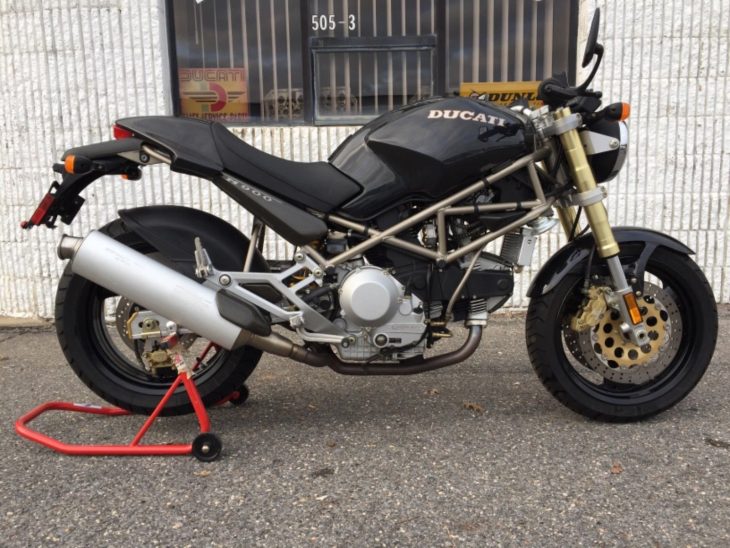 It's arguable whether or not Ducati's iconic Monster actually started the naked bike craze. Certainly, the Honda Hawk GT and CB-1 beat it to market by more than a couple years, but were relative failures and certainly didn't spark the public's imagination in the same way: being first to market doesn't really mean much if you're so far ahead of the curve that no one buys your innovative product. And Triumph introduced their Speed Triple just a year or so later and that's been a popular class benchmark for years now. But you can't really dispute that the Monster saved Ducati from financial ruin and has remained one of their best-selling, most accessible models. From the start, it managed to be enough of an authentic Ducati to capture the company's racing mystique, while being cost-effective enough to generate good profits for the eternally cash-starved company.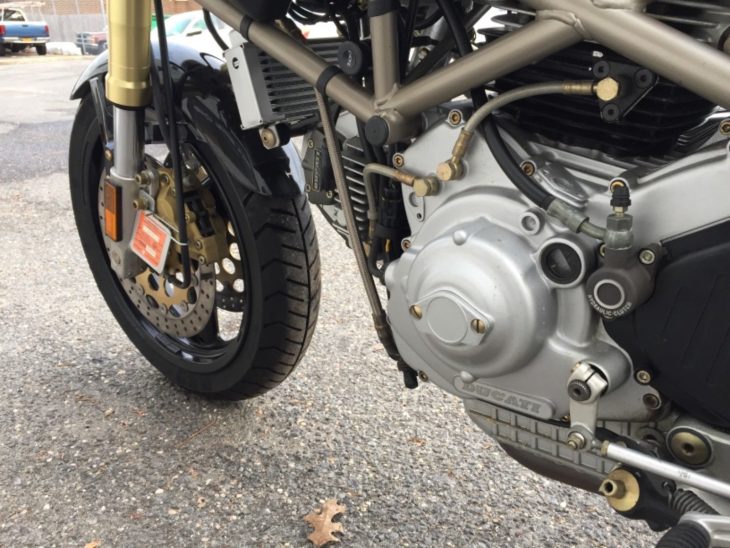 The secret? This iconic Italian motorcycle is a parts-bin lash-up: basically, the only new parts were the gas tank, the seat, and the plastic instrument surround. Everything else was sitting right there on the shelf. The frame? From the 888, obviously a terrific place to start. The engine? Ducati's air and oil-cooled, two-valve v-twin with a six-speed gearbox and dry clutch pulled straight from the 900SS. The suspension and wheels were from the base model 900SS, with fairly crude, non-adjustable forks up front, but it all worked fine for the bike's mission and kept costs down. It didn't even come with a tachometer at first, just the big, white-faced Veglia speedometer from the 900SS and a bank of giant, square idiot lights.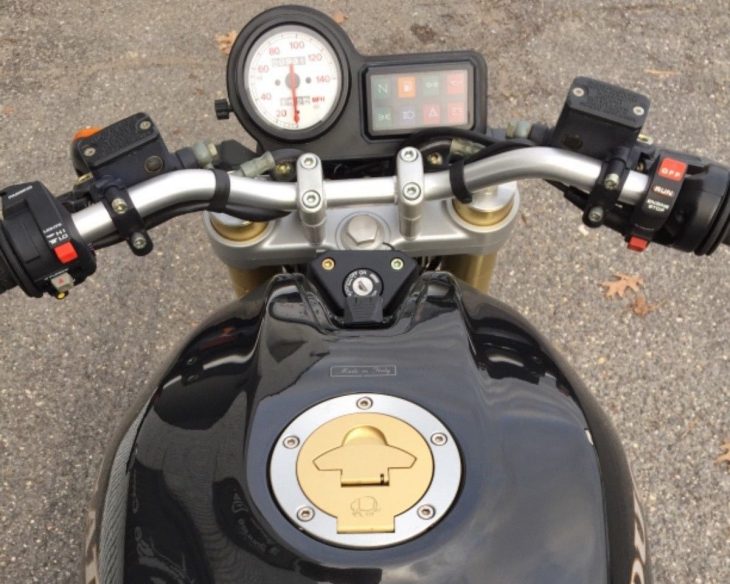 The lack of a tachometer might seem like a serious oversight but, frankly, while the 900SS engine may be redlined at 9,000 rpm, it runs out of puff much earlier, especially in the carbureted form seen here, so there's really no need to wind it out towards the hypothetical redline to make the most of the bike's claimed 75 hp. Even as late as the Dual-Spark 1100, Ducati's two-valve twin has always been about the midrange, and that suits the Monster's "sexy urban hooligan" image to a T. Just be careful or your carefully-cultivated sexy urban hooligan image may take a hit when you try to pull a quick u-turn and run afoul of the bike's shockingly limited steering lock. Stock gearing was a bit tall for actual urban riding, but is easily changed if that's where you spend most of your time.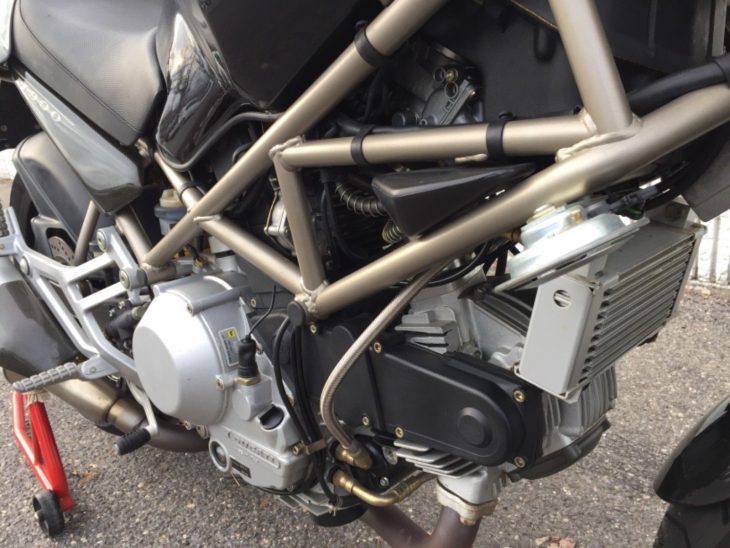 The Monster is a blast to squirt from stoplight to stoplight, and the Brembo brakes were pretty much industry standard at the time and haul the bike down quickly, given the bike's 407lb dry weight. Of course, the bike's parts-bin nature meant upgrades were sitting down at your local Ducati dealer or at the breaker's yard: the fully-adjustable rear shock from the 851 bolts right into place, adjustable forks from the SS/SP slide into the triple clamps with no fuss and even use the stock brakes and front wheel. Big-bore and high-compression kits exist to take your Monster to a fire-breathing 90hp and beyond, although it's not really going to give anything modern a hard time and you'll impact reliability. And of course in the years following the bike's introduction, an entire aftermarket industry sprang up to create a wealth of bolt-ons and dodads and carbon-fiber farkles to make your Monster one-of-a-kind.
All of which makes the Monster sort of like an Italian Harley-Davidson Sportster, but 2/3 the weight and less likely to ground out at the first sign of a corner.
From the original eBay listing: 1994 Ducati Monster M900 for Sale
This is it. Where it all started for the Monster Era. 1994 was the very first year for the Monster in the USA and i am proud to present this amazing piece of Ducati history for auction today. This is an all original 1994 Ducati Monster 900 with 931 ORIGINAL miles on it. Yes, you read that right. 931 miles. This is an amazing machine that has been extremely well preserved and retains all of its originality down to the original Michelin M89 Tires with no dry rot!  I am the second owner of this bike, however, it was never titled in my name so it is technically an original 1 owner bike. I have a clean NYS title in the original owners name with the mileage on the title as 00002. I have some great original documentation on the bike including the original Ducati owners identification card and Ducati limited warenty for street motorcycles paperwork. Papers you received when purchasing the bike new. I also have the original mirrors that will go with the bike in the sale as well as another set of factory exhaust cans i aquired that are brand new originals. Two original Ducati Keys as well. This bike still retains the original oil from Ducati! As you can see the original exhaust cans and even the big licence plate bracket that everyone removed back then, remains. This is truly a collector piece for anyone looking to have in their motorcycle collection. With that said, this machine can be ridden as well. The bike runs absolutely flawless. I own a motorcycle repair shop here on Long Island and personally own and did the carb service on this machine. Carbs were removed, cleaned in an carburetor acid bath and fully rebuilt with all new parts I.E. float needles, gaskets, o-rings, float bowl gaskets etc. Fuel tank does not have a drop of rust in it anywhere as this bike has been stored in a heat controlled area since new. If someone purchases the bike locally and chooses to ride this machine, i would love to see the bike come back to my shop for any service work. The paint on the bike i would say is a 9.5 out of 10. Giving the .5 to two extremely small nicks all the way at the front of the fuel tank as seen in pic. Some touch up paint and you wouldn't notice. There is also come scratches on both left and right side foot rest brackets i can only assume is either from someone transporting the bike and it got scratched from incorectly strapping it down or the original owner had something on his boots that scratched it up. Never the less, with some paint, it can def be repaired/touched up. Just want to be 100%. Other then that, as you can see, the bike is flawless and retains all of its original components. Factory EVERYTHING. Factory tool kit is under the seat as well.  I can honestly say i challenge anyone to find another first year M900 monster in this color combo, with this mileage and condition anywhere in the world. I feel you will be hard pressed to find another and that owning this machine is a once in a lifetime opportunity that will not come around again. These bikes are just not around anymore and if you do see one, it has a ton of miles on it and is most likely run down. With 931 miles on it, its a true collectors piece and will be as close to a new bike as you will get. I have no problems with a local sale and anyone that would like to come see it personally is absolutely welcome to do so. I also have no problems shipping the bike. It will be the buyers responsibility to arrange/pay with shipping but i will help with this any way that i possibly can. Please, if you aren't fully prepared to purchase, do not have the money on hand, or any other issues pertaining to an easy smooth sale, please refrain from continuing with my auction. Anyone truly interested in owning this motorcycle is welcome to call me directly at 631-872-5009. My name is Jay. This is a land line number so please do not text. I have tons of pics so if there is something you specifically want to see, please let me know. Starting bid will be $1.00, so bid to win! Buyer will be responsible for a $200.00 non-refundable deposit via pay pal after the sale of the bike. The remaining balance must be made by either bank wire transfer or cash in hand. The machine will not leave my possession until funds are cleared or cash in my hand. Whoever purchases this bike is getting a true original historical piece that will only go up in value. A true investment if you will. I do not have to sell it, but unfortunately i have a few to many toys and not enough space.

I also have a set of original FG Italy front and rear stands that are period correct for this bike that i am open to selling to the winner of the bike if he/she wants them. The rear can be seen in pic. They will NOT be included in this auction.

Thank you and happy bidding!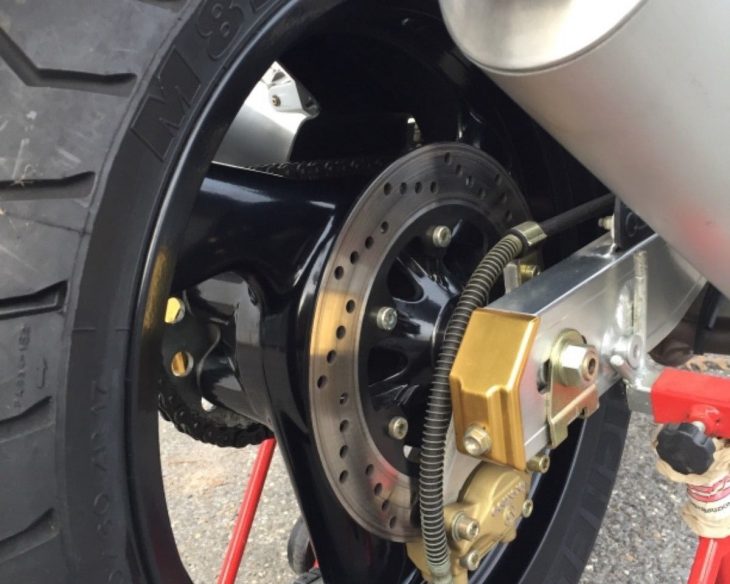 So obviously, you may be thinking, "Yeah, the Monster may have saved Ducati from being a motorcycling footnote, but these things are freaking everywhere!" And they are. But what we're looking at here is probably one of most pristine examples in existence, with just 931 miles on the odometer, in relatively unusual metallic black. Bidding seems stalled out at $6,000 with the reserve not met. That's obviously very high for a Monster, but a pretty fair price for a classic, practical roadster, especially one that was featured in the Guggenheim's Art of the Motorcycle exhibit.
-tad