Update 10.6.2021: Scooped again as this one was bought at 7 this morning !  See the original listing – here –…  Donn
Until you've seen one of Tamburrini's masterpieces in a friend's kitchen or foyer, it's hard to understand why anyone would take a perfectly rideable supersport off the road.  A previous collector got to this one while it was still unmarked, and though it's not a special limited edition, it gets the point of the 916/996 design across with style.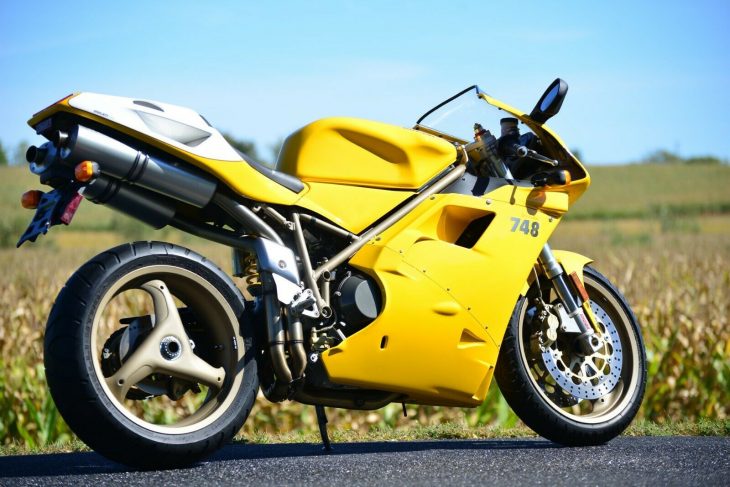 Although it wasn't the superbike, the 748 was equipped for fun, with 98 hp and a closer ratio transmission than the 916.  Elsewhere, the spec sheets were shared, with indistinguishable chassis and brakes, Showa USD forks and monoshock, and wheel sizes.  Weights are within a few pounds and the tank and bodywork are hard to tell apart.  Charging and cooling system mediocrities were also shared.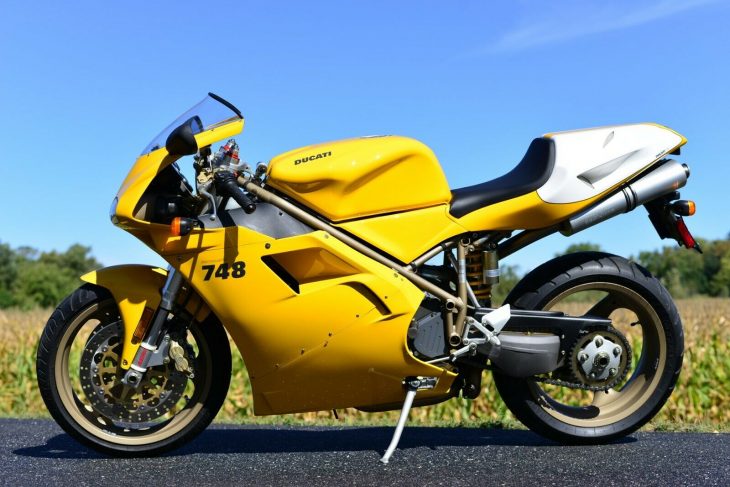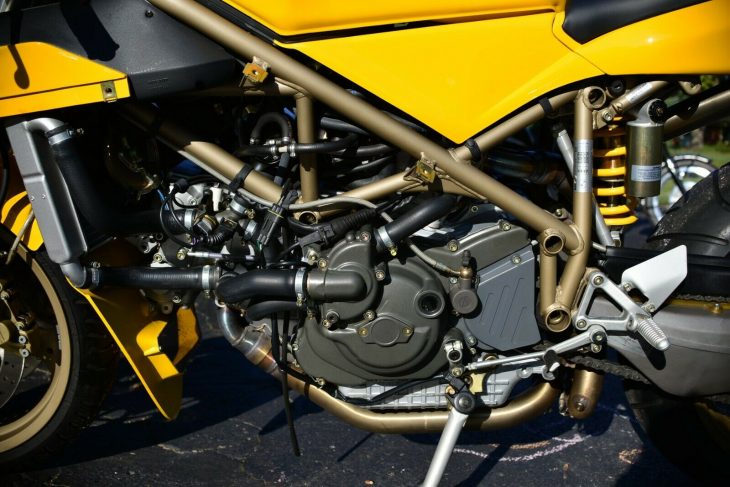 Probably an academic discussion, but some workshop time would be required to re-introduce this 748 to the road.  All the expendables will have to be renewed, and even then a brake, clutch, fork, or shock seal might throw in the towel after a few rides.  If it's going to stay in the diorama, maybe those scuffs on the lowers could be addressed.  The seller has a full-length walkaround – here – which shows off the construction at the very least.  Notes from the eBay auction:
The Ducati 748-998 is one of the most iconic and attractive modern motorcycles.  This example is in near perfect condition, easily a 9.9/10 example.  There are absolutely no modifications whatsoever on this 748.  This is an investment grade condition example that would look appropriate in a showroom, on display, or as a premium condition example to ride and enjoy.  Please view the extensive details provided including a 16 minute video showing the 748 with commentary, 140 photos, and the below description.  This 748 has a clean title in my name.

I acquired this 748 from the original owner.  He purchased it new from a Ducati dealer.  It is an original monoposto model. He was a mature adult at the time of purchase and babied the bike.  He never had it out in the rain.  He was exceptionally careful with it as the bike has no notable wear or marks on it and has never been down!  He rode it sparingly as evidenced by the very low 1,700 correct miles.  Around 2008 he decided to put the bike on static display inside his house.  Prior to this he had it prepped at the Ducati dealer with having the fuel drained, cylinders fogged, battery removed, and other tasks performed.
The yellow over gold frame and wheels shows very well at least on this 748, though the usual 1/4-turn fairing fasteners were value-engineered into less expensive clip-nuts.  More isn't always better, and some reviewers found the 748 better suited real life than the superbike.  This particular bike will likely miss out on any more road miles, though it sounds like the previous owner prepared it properly for show, so stock it would be a great display of how it was constructed.
-donn