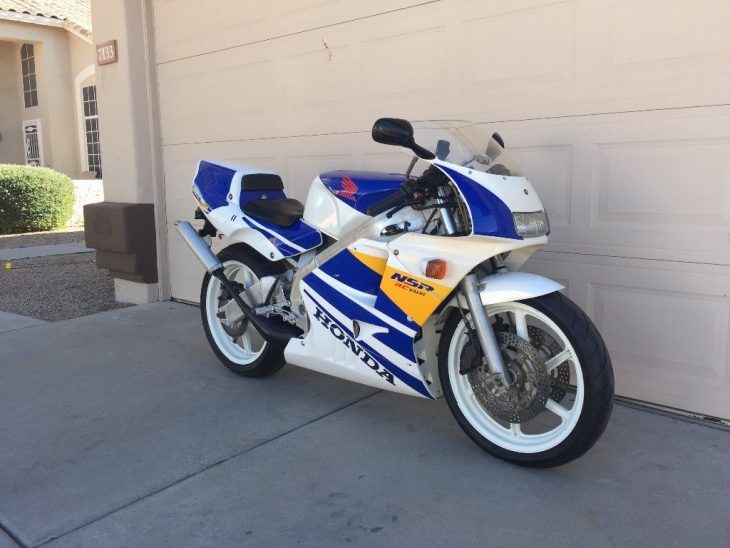 The MC21 was the third generation of Honda's lithe NSR250R, their entry into the quarter-liter two-stroke class that had been hotly contested by the major Japanese manufacturers since the mid 1980s. Power was modest, at least in stock form, but handling was cutting-edge, and the bike was packed with the usual wealth of Honda tech: PGM-III electronic ignition that used a three-dimensional ignition map for each cylinder and RC "Revolution Control" powervalve technology.
The NSR250R was motivated by a 90° liquid-cooled 249cc v-twin backed up with a six-speed cassette gearbox for bench-racing bragging rights and quick gearing changes at the track. From the factory, these were limited to 45hp by Japanese regulations, but more power is available from de-restricted bikes and today's machine is claimed to have a full compliment of horses. Triple disc brakes quickly brought the 300lb machine to a stop and both front and rear wheels were now 17″ [earlier MC16 and MC18s had 18″ rears] for modern looks and a slightly wider selection of modern rubber.
From the original eBay listing: 1990 Honda NSR250R for Sale
Up for auction is a beautiful 1990 Honda NSR 250 "R" model with only 8610 miles. The bike was legally imported into the United States.The bike has a clear US title with the proper 11 digit VIN number (title and frame number match). The bike has been de-restricted for full power. Bike starts first kick every time and idols perfect with no oil leaks. The bike is all original minus stainless steel brake lines, gas cap, rear set, and clutch and brake levers. Please view all the images as there are few scratches and scuff's throughout the bike. Also please keep in mind that this is all OEM factory Honda fairings and not the cheaper aftermarket stuff. All the electronics including horn, turn signals,high and low beam, and killswitch all work as they should. The carbs were recently cleaned as well as brand-new spark plugs and all fresh fluids. The bike also has a new battery and tires with less than 150 miles on them.  This bike is being sold locally and I encourage all bidders to come down and view the bike in person or send a local mechanic on your behalf to view for you. Rare vintage Japanese bikes don't come up often and this is a beautiful example with no disappointment.  I'd also like to note that the bike can be titled in any state other than California. I do know that some NSR's are titled in the state but do not know the loopholes to get the bike titled in California. All other states are fine to be titled for street use.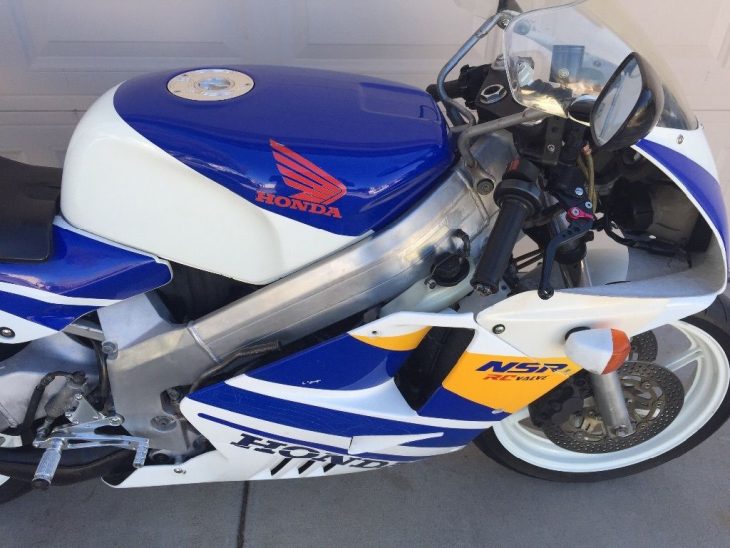 The seller also includes a nice startup/walkaround video so you can feel a bit better about taking a chance on this particular two-stroke. Bidding is up just over $6,100 with the Reserve Not Yet Met and several days left on the auction. It's not in perfect shape, with a few scrapes, scratches, and missing fasteners, but there is very little corrosion or discoloration on the aluminum parts, and the seller claims those are the original fairings.
-tad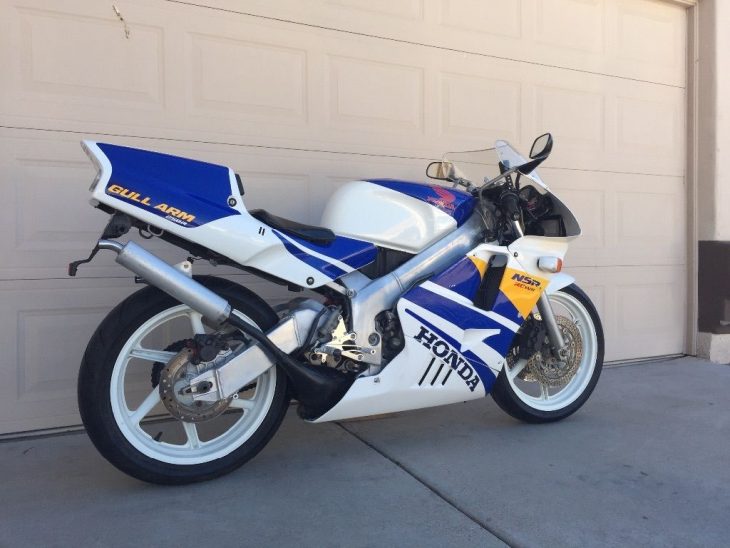 5 Responses.