Warning!
This post is in our archives. Links in this post have been updated to point to similar bikes available to bid on eBay.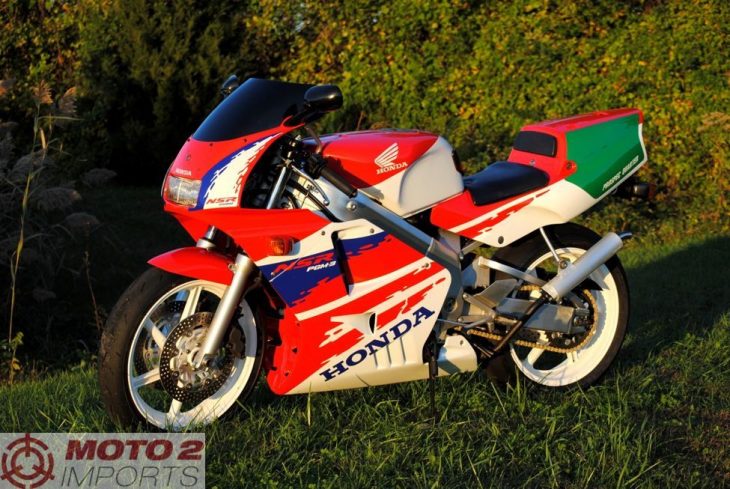 It's a good time to be a two-stroke enthusiast here in the USA. Bikes like today's Honda NSR250R that were long considered nearly unobtainable are being shipped over by enterprising individuals and companies, now that some of them are old enough to make that a viable option.
The NSR250R featured a 90° liquid-cooled 249cc v-twin with a trick, six-speed cassette gearbox that made for rapid ratio changes trackside.This MC21 was a pretty serious ground-up redesign for the bike, compared to the previous MC18 version. That curved "gull-arm" swingarm is a distinctive feature, and was intended to allow the right-side expansion chamber to tuck in close and maximize cornering clearance. It was heavier than the older unit, but the advantages outweighed the increased heft. Dry weight was still a shade under 300lbs, so it's still a very light machine and 17″ wheels at both ends make tire choice for modern riders a bit easier than the earlier 18″ rear.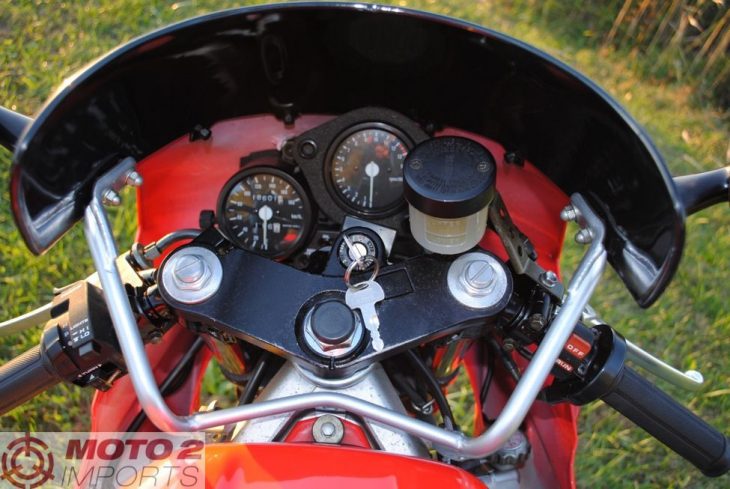 Fuel was delivered by carburetors, but the NSR250 used Honda's sophisticated PGM-III that used throttle-position, revs, and gear-selection to control ignition. Power was limited to 45 by Japanese legislation, but the bike can be de-restricted to free up some additional horses, as has been done  with today's bike.
From the original eBay listing: 1990 Honda NSR250R for Sale
The Honda NSR250 stands at the pinnacle of two-stroke sport bike technology. Derived directly from Honda's legendary NSR500 racebike, the NSR250 is the purest example of a MotoGP bike for the street. And now is your chance to own this stunning example. Immaculate inside and out!

Fully restored by Moto2 Imports, this NSR250 "R" model has been stripped down to the frame and completely re-built by professional mechanics. The engine has been de-restricted for a 10+hp increase over stock (see dyno picture). All gaskets have been inspected and engine compression & leak down tests were performed with no issues. Carburetors cleaned, rebuilt and re-jetted. Fuel, oil and coolant systems drained, flushed, & refilled. New Yuasa battery, EBC brake pads, NGK spark plugs & RK chain. New high performance Dunlop Alpha 13 tires. All other mechanical & electrical systems checked and operating properly. High quality, ABS injection molded fairing. Tinted windscreen; clear windscreen also available.

This bike was purchased in Japan earlier this year and imported in full compliance with all US Customs, DOT & EPA laws. The bike was properly titled by the Washington, DC DMV with the correct frame VIN on the title. The buyer will receive copies of all international shipping, Customs, DOT/EPA, and DMV paperwork, as well as a copy of the original Japanese title. Buy it Now $8,499. We accept cash, credit card & PayPal.

Additional modifications, upgrades, & spare parts available upon customer request.
The seller also helpfully includes a brief video of bike on their dyno. The listing does specifically mention that the bike cannot be titled in California so, unless you "know a guy," plan to track the bike, or just want to display it, you'd should probably steer clear if you live there. The Buy It Now price is $8,499 which seems pretty on-the-money for a nice NSR250 these days, and this one has been gone through mechanically, de-restricted, and has had import paperwork taken care of. If you live in a state where this can be legally registered, this one is worth a look.
-tad