For Sale: 1986 SUZUKI GSX-R 400
The 400cc class is a very interesting one for RSBFS staff. If its not an import smoker, then a micro-light four stroke is the next best thing. And while we see the CB-1, NC27 and FZR400 relatively often, the GSX-R 400 is a little bit more rare.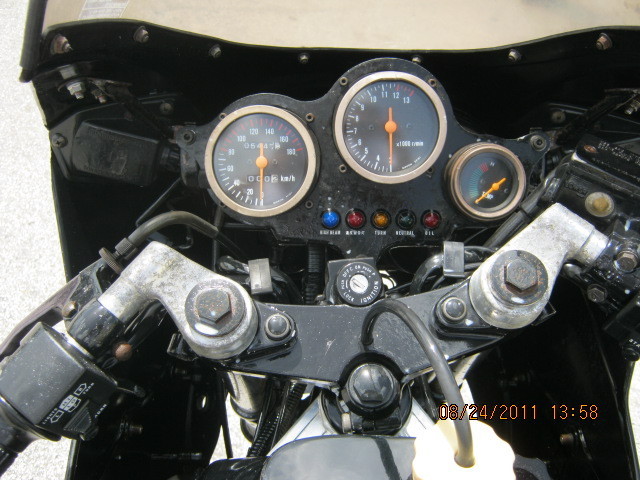 This bike looks suspiciously like this one posted by Ian on RSBFS last year. As such, I will quote liberally from our resident mini-Gixxer scholar:
In a perfect world I like more info on grey market imports but you have to work with what you have. I said project earlier because this bike will really take a good looking over and probably some amount of disassembly to make sure everything is cool. Would you ride on a bike that old without seeing everything with your own eyes? Once it is broken down it will take a little work to track down the needed parts. I personally enjoy this detective work during rebuilds. You will head into the garage in the Fall and emerge in the Spring with a nice unique little bike. There might not be too many willing to take that sort of project on so you might catch a deal on the auction (depending if a reserve is set of course).
From the seller:
THIS I A VERY RARE RUNNING BUT NEED CARB CLEAN SITTING FOR SIX MONTHS GSXR 400 86
Things too look for on a baby GXR-R: Corrosion is the big fly in the ointment with many Japanese import bikes- and the 400cc Gixxer is no exception. Expect to find rampant deterioration on engine cases and cockpit area (triple clamps, instrument cluster, etc.). Carbs are another source of annoyance; there are multiple rubber pieces in each carb, and these tend to decay over time. As the bits of rubber make their way into the intricate passages of the carb, the bike will begin to run poorly – and then not at all. For a bike like this that has been sitting, a complete carb rebuild (not a simple clean-out) is a must.
This bike definitely has some needs – new tires are mandatory, as is a carb rebuild and some new plastics. For the effort you will end up with a striking machine that is rare and unique; perfect for the street (if titled) or track days (get ready for jealous looks from all those pitted nearby). The seller is asking $2,800 OBO on this one, and if you are willing to do a little work there might be a Gixxer on the cheap for your collection. Good luck!
MI