Shingle Springs, CA – 12,400mi – $6,500 BIN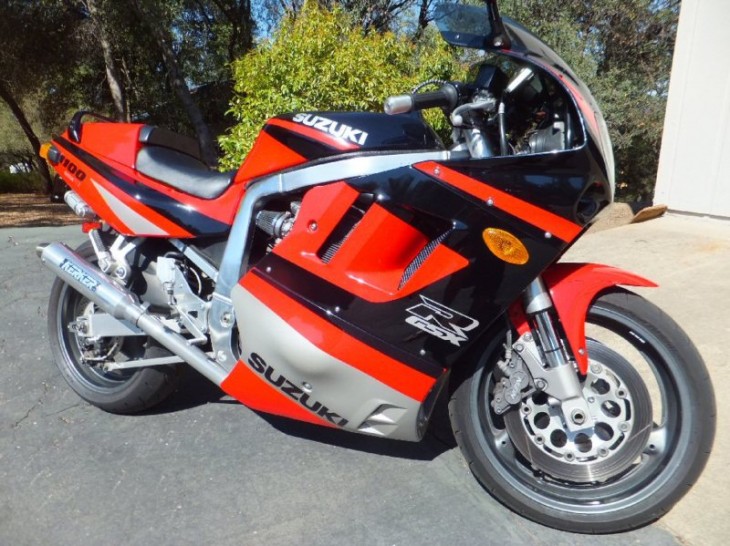 It is no doubt that the "GSX-R" is one of the most iconic names in sport bike history and is should be as the name has been around for over 25 years. Suzuki is a tiny company compared to the like of Honda and Yamaha, but one this it has managed to consistently produce competitive and fantastic street machines. This iteration of the 1100 is less raw than the first 1100, which means the chassis was more suited for the 150hp beast of an engine that was inside this machine in '91. It may not have the immediate appeal as the first generation has now, but it is a friendlier bike to ride.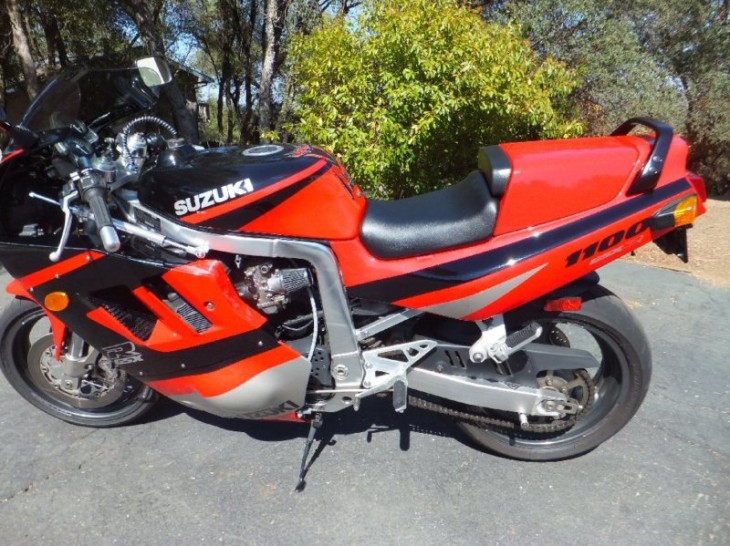 This bike has only traveled a total of 12k miles in its now 22-year-old life. No need to grab the calculator, that's roughly 560 miles a year. It's not completely stock and aftermarket items include signals, carbs, and a sweet Kerker exhaust. The fairing look straight and free from major damage, and the bike seems to have been given proper maintenance for something its age.
From the seller:
This listing is for a rare, hard to find, low mileage 1991 GSXR 1100. It is red and black and is in excellent condition. I am the 3rd owner and it only has just over 12k original miles. Everything on the bike is original with the exception of the seat cowl, (the original rear seat comes with the bike), aftermarket turn signals, (One original set is included with the sale), Mikuni Side Draft Carbs, (the original carbs are included) and the exhaust. I do not have the original exhaust. All paint is original and in very nice condition. As you can tell from the pictures, it has a great shine. Everything on the bike is working. The valve adjustment and other sevice items were completed last year. It is ready to enjoy and ride and it will obviously increase in value. As you probably know, it is very difficult to find a GSXR-1100 with such low miles. There are just one or two very minor blemishes. It is in amazing condition for a 22 year old bike. I still ride this bike several times a month, so the mileage will change slightly. Please ask any questions prior to bidding. Please feel free to inspect the bike prior to purchase. Buyer is responsible for all shipping activities. I will load the bike and take a bunch of pictures prior to tranportation. Thanks
Always good to see a clean GSX-R1100 up for grabs and to see a bike of this age cared for. These may not be seen as major collector's pieces like the first-gen gixxer is quickly becoming, but as those become unobtanium, these will follow. Check the market for second-gen M3's or late 60's Stratocasters and you can see what will happen. These weren't as sought after as their older counterparts back in the day, but they are now. Having said that, the asking price of $6,500 is on the high side of where we have seen these models go. But I bet in a couple of years that might seem like a bargain. You can check out the auction here and place your bid today!
-JS