Parts Bin:  Just A  2000-03 Suzuki GSXR750 WSB Spec Engine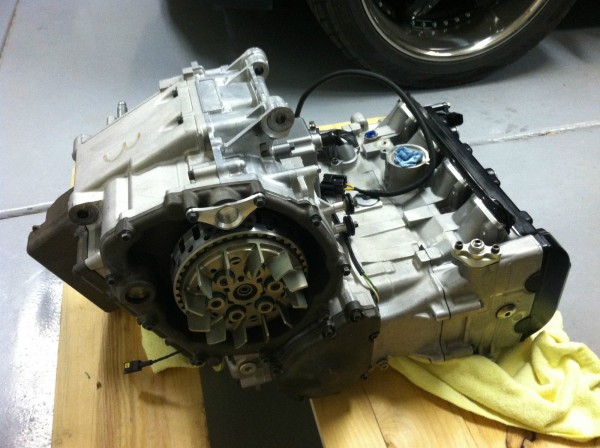 Oh my!  This is what dreams are made of and what shrinks wallets.  I want to know what RSBFS reader doesn't dream about putting some exotic,  one off parts on his/her bike.  Well,  how about a whole WSB spec,  Suzuki GSXR750 engine?  I am a mere amateur at identifying  works parts but have seen a few featured on various sites.  The reason I mention that is that this engine has an XRC engine code stamped on it and that is a new parts code to me.  XRO  generally designates Suzuki works parts and  ERO being the identifier for kit parts.  Experts please chime in here, what exactly do we have here with an XRC code stamped on it?  My amateur eye says that it  is a works engine and not one composed of kit parts.
LAST MINUTE UPDATE
I spoke with one Speedy Sie ( screen name from the PerformanceBikeForum), who is a UK based Suzuki fanatic who is the most knowledgeable person I know on Suzuki works parts.  To sum up what he told me:  this is the real deal, it is extremely rare and very, very reasonably priced.  The XRC code is the code used on the last engines produced before Suzuki went to 1000cc.  Perspective buyers, he also added he knows of someone in North America with some works throttle bodies they might be willing to part with!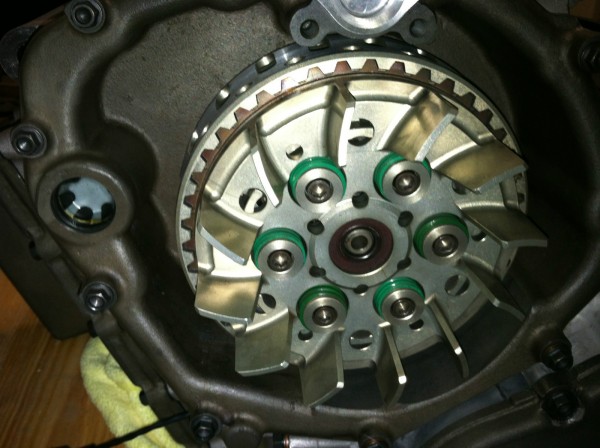 I know there are some boys in the UK that can ID this stuff.  I wouldn't say they are abundant but you sure see more works parts make it to the masses there than most places.  I do know the clutch can be an identifier to the actual spec of the engine.
Here is the story from the lucky seller.  Why is he lucky?  He has two of the damn things!
SUZUKI 2000-2003 SUPERBIKE GSXR750 WSB Spec Motor Complete.  XRO, ERO. XRC

Yes, this is an A spec Top tier factory team fully built GSXR750 XRC race motor.  170bhp, with all the factory bits installed.  Nearly impossible to find.  This engine was bought from the U.K. this way already to go and was assembled by the Factory Suzuki Team.  If you opened it up it would contain the following for example:

Lightened crank,
Titanium Connecting Rods
Titanium Valves
Worked Head, with factory only adjustable intake runners.  Shown as Blue anodized in the pic.
Custom Cams with 14:1+ Compression
Dry Clutch
Magnesium Deep Sump oil pan
Magnesium Starter cover delete.

Cost for these individual motors cost in the $80k-$100k range per engine depending on who you talk to.

This motor would be great for any Superbike collector, and or yes it could be installed to a street bike with some modification's done to make it work.  Not for the faint hearted!!  Or you could complete a ground up Superbike replica.  Please note this is not your average GSXR750 motor, so reserve is set accordingly.  If you want a $400 GSXR motor go look elsewhere.

We will ship overseas, but buyer is responsible for actual shipping cost, which will be calculated after purchase.  We may end listing early so don't wait!  It is listed elsewhere..

Once again this engine was not assembled by us!  It came this way from Suzuki.  Thanks for looking and any questions are welcome.
The secret codes.  Alstare was running Suzuki's WSB program back in 2000-03 so I assume these engines would have come to the UK via Italy.  The riders back then were Chili and Lavilla.   Is there a possibility this an engine from a Suzuki BSB team?
Some Ti goodness hiding in there.  As cool as it would be to have this engine where do you find  something to squirt fuel in there?  It would be a fun search though.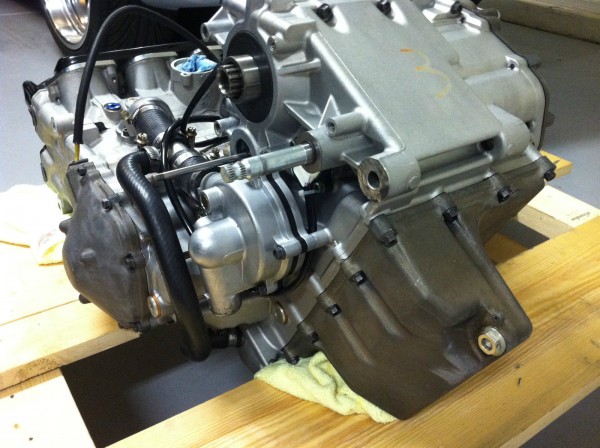 I'm taking a pass on price because, well, I haven't bought a WSB spec engine lately.  Chime in guys, what is it worth to you?  The seller has an auction running with a BIN of $8,500.  I think the main problem is that it would be a crime to stuff that into your otherwise standard bike.  This would in turn lead to a long, expensive but fascinating journey to track down the rest of the works bike.  Think it can't be done?  Do a little investigating and you'll find several enthusiasts are doing just that.
SECOND LAST MINUTE UPDATE
Speedy Sie also mentioned the last Suzuki works engine he saw sell, sold for approximately $14,500 in Germany.  Check that BIN quickly!
Ian