Small-displacement, entry-level sportbikes are a tough sell here in the USA. With an emphasis on big bikes, no licensing limitations, and lots of cheap used machines available, there's little incentive for new riders to pick up something like today's Honda CBR250RR. Which explains why they were never sold here in the first place, although examples have recently been finding their way over here, mixed in with the other, formerly unobtainable two-stroke exotica that often features on this site.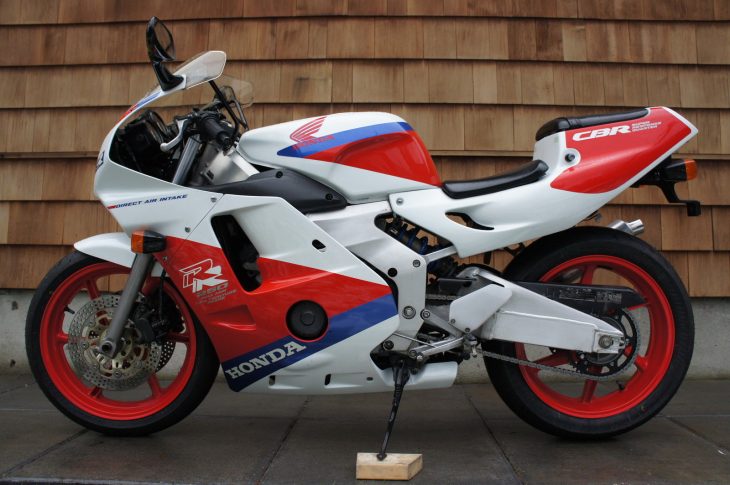 Produced between 1986 and 1996, the CBR250RR was intended mainly for the Japanese market, although some found their way to other countries as grey market imports, obviously in places where someone might spend the premium required for such a relatively sophisticated machine.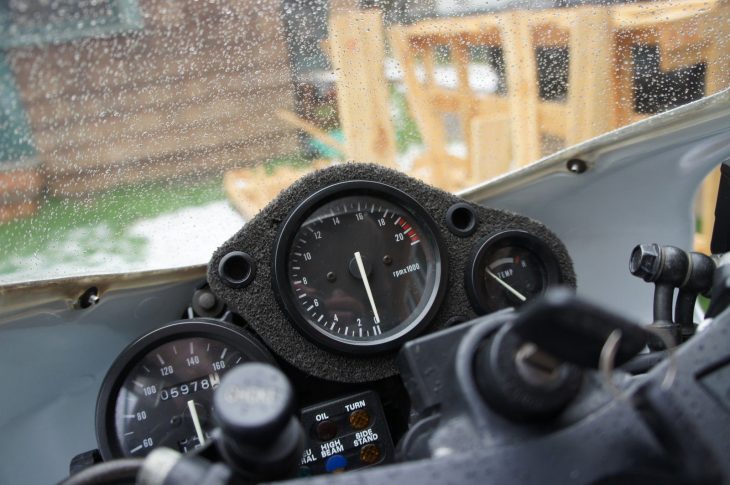 The spec sheet reads like a much bigger bike, with four tiny pistons and sixteen valves operated by gear-driven cams, with a six-speed gearbox putting 40hp to the rear wheel. The wet weight of 350lbs isn't quite as light as one of the better-known 250cc two-strokes, but you do get that sophisticated metallic shriek as the bike winds around to 19,000rpm and the bike has excellent handling.
From the original eBay listing: 1990 Honda CBR250RR for Sale
The 1992 Honda CBR250RR MC22 is from a golden era of sportbikes. With a water cooled 4 valve per cylinder inline 4 with dual overhead gear driven cams that redlines at 19,000rpms. I cannot think of any modern small displacement bike that comes with an engineering feet such as these bikes. Honda was at the top of their game in this era. Not only does the bike rev to 19,000rpms  but it is the linear progression and feel when you're doing it that is truly unreal.  few bikes that share the sensation of riding this bike. I'm always amazed when I look down at the tach and see I have 10,000 more rpms before I hit redline. Haha. Weighing just above 300lbs and having 45hp it is actually lighter and has more power than a brand new CBR300. I have a few friends who claim they are only about 10 of these bikes in the states. I don't know if that's true but I only know of about 8 of them. Most in private collections. 

The bike in the auction was legally imported from Japan and is currently registered in my name. When I got this bike the fork tubes were pitted and the seals were shot. I purchased brand new fork tubes from GF Racing and the forks were completely rebuilt with all new seals and bushings. All the fluids were flushed and replaced…..brakes bled, oil and coolant changed and etc. New tires were installed and the carbs were cleaned. Brand new battery. Brand new chain and sprockets.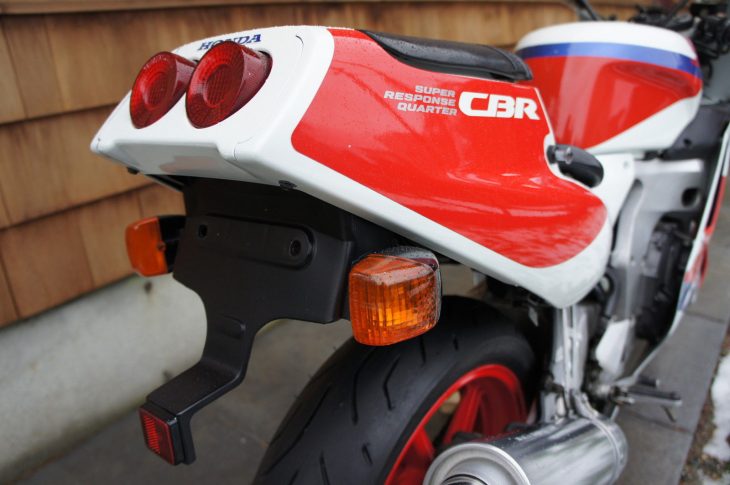 The seller also includes a video of the bike being started and running. This particular CBR250RR looks to be very clean, with less than 4,000 miles on the odometer and just a few minor scuffs and bits of surface corrosion. The problem with the little CBR is one of value for the money: for all that sophistication and complexity, you're still looking at a 250cc four-stroke so power is predictably modest, even given the bike's light weight. Here in the US, it's a very sweet little novelty bike that's probably a lot of fun to thrash, with that stratospheric redline and cam-gear whine but, as asking prices have crept up, they make less and less sense. Obviously, not everyone agrees with me on this: bidding is very active on this bike, and up north of $6,000 with just about 24 hours left on the auction.
-tad