Warning!
This post is in our archives. Links in this post have been updated to point to similar bikes available to bid on eBay.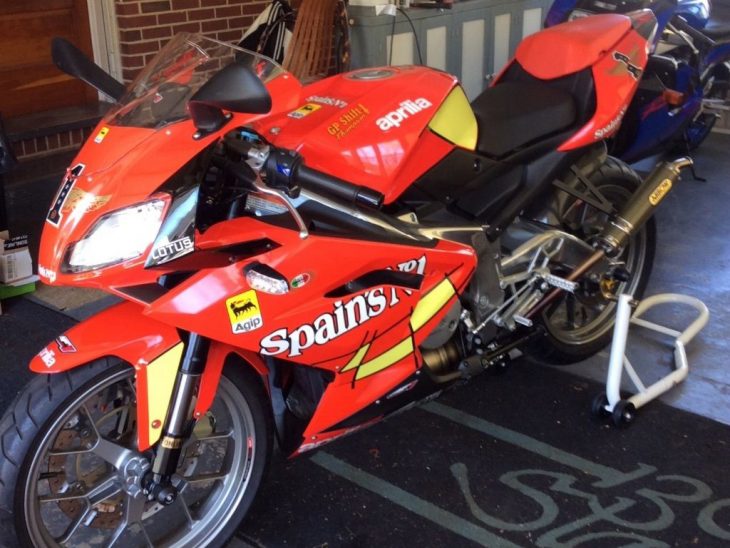 Back when two-strokes ruled the entry-level sportbike class in Europe, Aprilia's RS125 was designed to appeal to new riders who wanted something sporty, but were limited in terms of displacement and outright power by strict licensing laws that prevented the purchase of bikes that in the USA would be considered "learner bikes." Sponsor logos and race-replica paint jobs were the order of the day and, made between 1992 and 2012, the RS125 had a pretty long and successful run. Details and styling varied throughout production, according to tastes of the period, but spec was similar: a 124.8cc two-stroke, single cylinder and six-speed gearbox, aluminum beam frame, racy big-bike looks, and a sub-300lb dry weight.
This version of the RS125 is clearly meant to resemble Aprilia's range-topping RSV1000, with those angular, cat's-eye headlights and stealth-fighter angles, although it shares those traits with the RSV4 that followed as well. Ultimately, the RS125 was superseded by the RS4 that more closely matched the look of the bigger RSV4 and was powered by a four-stroke single to meet today's more stringent emissions requirements. It's a perfectly competent machine and looks very sharp, but it lacks the pop and fizz of a manic two-stroke, and is far less tunable to boot.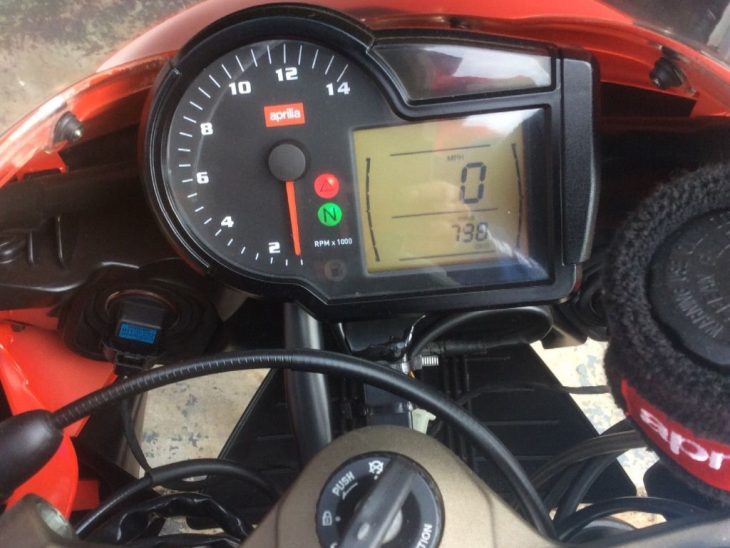 The RS125 were never officially imported to the USA for road use, but some made it here "for offroad use only" and they do come up for sale from time to time. Unfortunately, the sleek little RS125 has two problems: one, you can't just call it an "RS125" or people might not be clear what bike you're talking about. Did you mean the Aprilia or the Honda's entry-level race bike? Two, and obviously more significantly, the same titling and registration issues that affect all grey-market two-strokes apply here. If you live in a state with a liberal DMV, you may be able to find a way to make one road-legal without too much trouble: titled examples like this one have shown up on this site before. If not, you're stuck with a handsome display piece or a very slow track day bike. If I was looking for a display bike, I'd probably want a bit of genuine racing machinery or something truly historic…
Fortunately, this example is ready for road use, at least in Pennsylvania…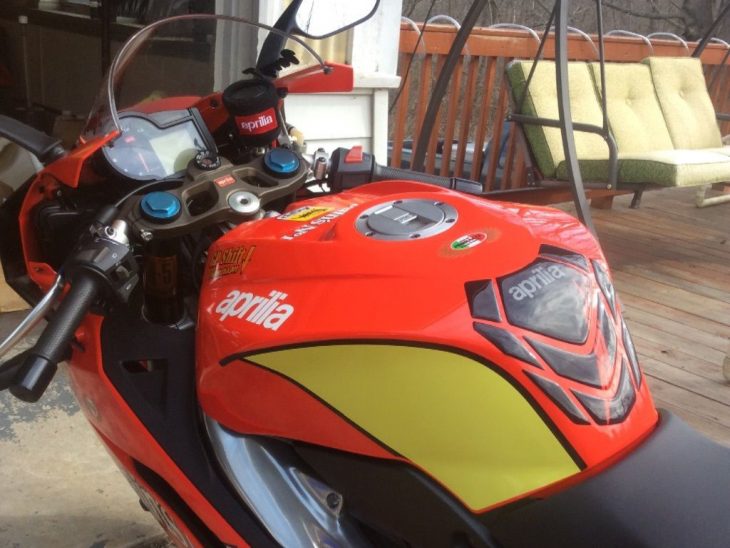 From the original eBay listing: 2009 Aprilia RS125 for Sale
For Sale-York, PA. 2009 Aprilia RS 125 2 stroke. Clean and clear title. 798 miles. 34mm DeLorto carb, V-Force 3 reeds, pinned TPS, pipercross OEM style air filter, Arrow exhaust, Tyga carbon fiber rear hugger, chain guard and engine cover, Rhinomoto front and rear axle sliders, Driven Racing swingarm spools, R&G tail tidy, Evotech exhaust hanger, Woodcraft rearsets w/ GP shift, Aprilia OEM European ECU and harness to allow lighting, factory signals, mirrors and TS relay, Ohlins front fork springs, many replaced OEM parts included, Dyno tuned by Eraldo Ferracci of Fast By Ferracci. It comes with the factory Aprilia parts book and service manual. This was $5499 new in 2009 when only 150 were imported for racing only. It came derestricted with no lighting. Considering the amount of kit put on this bike and the rarity of this bike I think it is a more than fair price. I reserve the right to end this auction as the bike is also for sale locally. Serious bidders can contact me for more pictures or information. I will not ship this motorcycle so it will have to be picked up. Bike will have to be picked up within two weeks of auction end or deposit will be forfeited. You must have at least a 95% positive feedback rating to bid and at least 20 positive feedbacks. Deposit can be made through PayPal but the balance must be paid in cash.***It is currently tagged, titled, inspected and insured in York County, PA. It is titled as a regular motorcycle.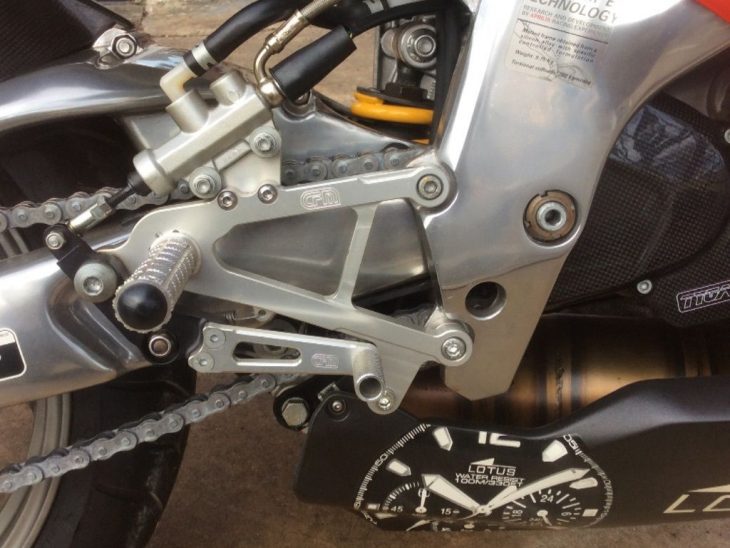 So what's it worth? Well this seller has set the starting bid at $6,000 and there are no takers yet so he may be aiming a bit high. Certainly this one has that road-legal status, very low miles, and has been thoughtfully modified using quality parts and tuned by the famous owner of Fast by Ferracci. Eraldo had his hands on my Ducati Monster when I had it in to be rejetted and I was pretty happy with the results, so that'd certainly be a selling point for me. If you're in the market for a little two-stroke sportbike you can thrash the living daylights out of without tripling the national speed limit and live somewhere it can be titled, this one might be worth a look.
-tad