Here is a 2004 Honda RC51. What's so special about a Honda you might say? Well, this is a not just a standard RC51 – it is a 2004 Honda RC51 Nicky Hayden Edition signed by its namesake. If you may recall, Nicky Hayden won the 2002 AMA Superbike Championship aboard a RC51 prior to being promoted to MotoGP (and went on to when the MotoGP Championship in 2006).
What else is special besides this dude's signature? According to Wikipedia, the Nicky Hayden differs "from previous models by a polished aluminum frame and swing arm, a sticker kit, and white number plates on the front upper fairing and tail fairing."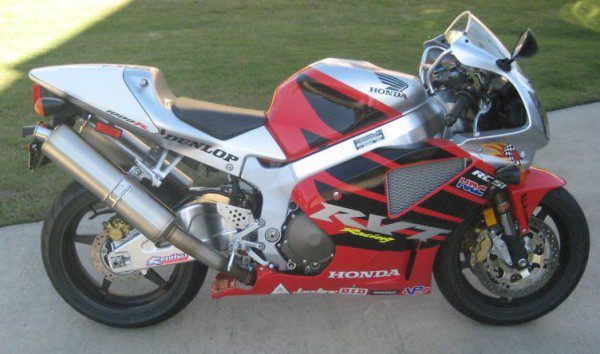 Additional information form the ebay listing:
You are bidding on a 2004 Honda RC51 Nicky Hayden Edition that has only 2135 miles on it. I am listing this bike for a good friend of mine. This bike is perfect and is new in every way, never any accidents or laid down in any way. Honda did not make that many of the Hayden bikes, so here is your chance to own one. The bike needs nothing and is ready for the road……….it comes with a matching helmet and back seat.
I do not know where the reserve is set but this is an almost new example down to the rear fender and reflectors. Not that I have ever owned a RC51, I do wish Honda would have continued development of their V-Twin sportbikes. Same with Suzuki's TL1000R…