Location: West Hampton, New Jersey
Mileage: 19,000
Price: Auction, with a reserve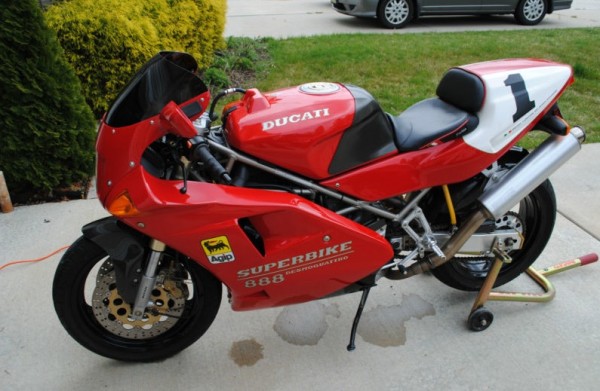 I find most all sportbikes cool looking in their own way. I've made it no secret that even the 90's super graphics on many a Japanese bike appeal to me. But for pure looks, Ducati is hard to beat. And in the world of sexy bikes, the 851/888 bikes are about as good as it gets. This SPO is simply stunning. Bike art in my book. A total living room piece.
However, this bike doesn't just stop at looks. You like limited edition, homologated specials? Okay, here you go. Ducati brought this four valve liquid-cooled bike for AMA purposes. So you also got an Ohlins rear shock and awesome solo seat.
From the seller-
1993 Ducati 888 SPO

One of a kind – probably one of the nicest condition Ducati 888 out there… 

I am the original owner, and this bike has been babied since I got it new in 1993.

Runs Great, Sounds Superb and looks red hot!   I've posted a short YouTube video of the bike, so please check it out …  

Bike has/had …

New Timing Belts
New Barnett Clutch
New Front/Rear Tires
New battery just installed 4/2012
Custom Corbin Seat
Carbon Fiber Front/Rear Fenders
Carbon Finder – Instrument Panel
Tinted Windshield

 Bike will come with …

Rear Pit-Bull Stand; a must for sport bikes.
Original front/rear fenders
2 sets of keys
All service paperwork and original manual

Bike is located in New Jersey. Local pickup preferred, but will ship and will run around $600-$700.
And the pics-
This bike certainly looks clean and the seller includes the original fenders for those who like all stock. These are collectible bikes, so stock parts are important. At 19,000 miles, the bike has been ridden. But if maintenance has been done that shouldn't be a huge issue. The seller also includes a Pitbull stand, which is a nice addition.
These are beautiful bikes. Who knows where the reserve is, but I would guess a bike like this would likely approach the $10k mark. I  would also guess that these bikes will hold their value over time. So if you have the means, here's a investment you can ride (well, occasionally). Anyway, if you're interested, go check this auction out.
-RN