If you're a sportbike fan, bikes like the Ducati 748R might seem like the poor cousin to the 916/996/998, a bike you only bought because your funds wouldn't stretch to the more expensive, larger-displacement version. But no "R" model Ducati really takes a back seat to anything: they were homologation specials, and the 748R was designed to allow the smaller-engined v-twin to compete in World Supersport racing.
The higher-spec powerplant in the 748R used lightweight titanium valves and connecting rods, fed by shower-type fuel injectors made possible by a two-part carbon fiber airbox. Space for the larger airbox necessitated a lightweight version of the 996 World Superbike's frame, and the result was a real-world 106hp and midrange torque 600cc inline four rivals could only dream of, with additional power waiting to be unleashed by race teams unconcerned by trivialities like "longevity."
The carbon airbox served two purposes: in addition to providing more air and fuel at the higher revs made possible by the lightweight internals, it also helped stiffen the frame for improved handling. Adjustable triple clamps and Öhlins suspension front and rear refined the 748's already impressive handling: purists actually claim the 748 is a better handling machine than the 916, with less weight and increased agility, no doubt helped by the narrower 180-section rear tire.
From the original eBay listing: 2001 Ducati 748R for Sale
Time to make some room in my garage so I'm going to part with this rare beast. Its an original 2001 Ducati 748R.  No. 711. Not many of these around anymore and this one's good some nice goodies. it has 11k miles (I do ride it here and there so there may be some more)

I am the second owner and the previous owner did all of the upgrades. The bike is in very good shape, not mint there are a couple light scratches on the tank, a small scuff mark on the right fairing and the foam around the instrument panel is a bit melted from the sun. (I think this was due in party to the double bubble windscreen magnifying it). The paint is in amazing shape. It has much more power than a regular 748 and the R has a more unique sound due to the differences in the motors. Maintained at Munroe Motors Ducati in San Francisco. Head were checked at 10,000 miles and rockers/valves had no signs of issues.

Heres a list of some of the upgrades (I'm probably leaving some things out)

Heads by Guy Martin (he makes some of the toughest and durable heads for Ducatis, they also increase power about 15-20%)  http://www.mbpducati.ca/
CycleCat fully adjustable rearsets
CycleCat fully adjustable clip ons
CRG adjustable brake and clutch lever
BrakeTech AXIS Cobra Stainless Steel Series Wave rotors
BrakeTech pads
STM Slipper Clutch
STM Clutch Slave
Gubellini Steering damper
Fast by Ferracci 54mm full exhaust (ceramic coated) sounds amazing!
Carbon Fiber exhaust shield
Marchesini forged wheels
Pirelli corsas
Carbon fiber intake cover (larger and smoother bore than the stock ones
Zero Gravity Windscreen
Sargent seat
Ohlins shock
Ohlins fork
Carbon keyless gas cap/filler

Tech Specs: The top of the range model was now the 748R, Ducati's racing homologation model produced only in very limited numbers. This engine was again a derivative of the SPS model but with more tuning. The main difference is that the R model has an overhead shower-injector arrangement compared to the 748E and S model's traditional throttle bodies, titanium connecting rods, titanium valves and more extreme valve timing.

As such, the 748R has a larger, two-part airbox and thus the frame was also different in order to accommodate this. The suspension choice was Ohlins for both the rear shock and front forks, although the very first models in 2000 used Showa titanium nitride (TiN) front forks and a Showa shock absorber. The engine included a very basic slipper clutch to ensure that this would then be homologated for use in racing, as well as an oil cooler.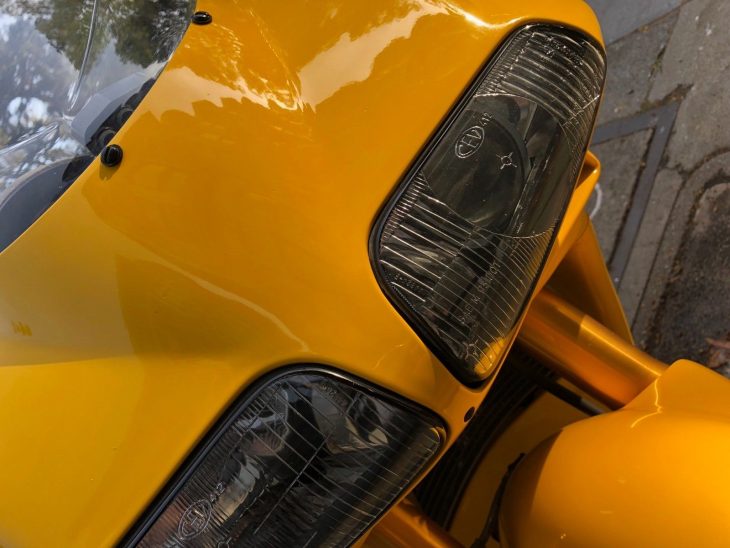 The starting bid is $7,500 with no takers yet. That's a great deal for a 748R, but this one is no garage queen and collectors might turn up their noses at things like the aftermarket turn signals. The miles are still pretty low and the bike comes equipped with some choice components: the 748R was available from the factory with some nice parts, but it's a Ducati, so you can always find nicer ones to fit any budget, no matter how large. This one probably isn't for the collectors, given the clean, but well-used condition and highly-functional, but non-stock configuration. This is one for the riders, for folks looking for a bike they can take to the track and not worry too much about adding a few more scuffs and battle scars.
-tad