For Sale: 1984 Moto Morini 500 Sei V
Quick: Name an Italian manufacturer of classic vee-twin sportbikes. Chances are that your first response was Ducati. There might have even been some fringe folks who sprung Moto Guzzi to mind. MV Agusta might have been another Italian guess. But how many of you thought of Moto Morini? I'll bet not too many, mainly because we don't see them in the US. When we do, it is usually the 3 1/2 (350cc) Sport.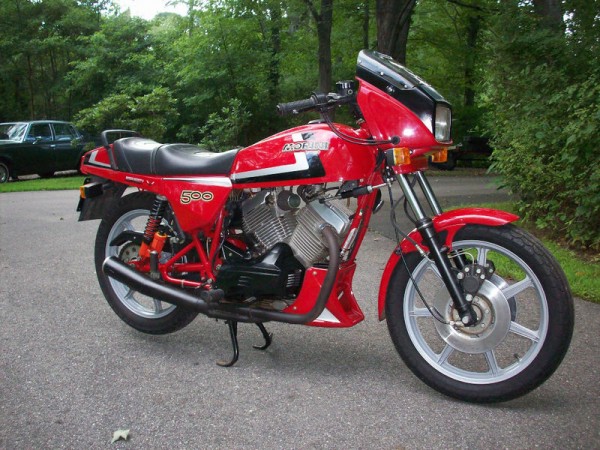 This Moto Morini is a classy, Italian steed. The 500cc, air cooled vee twin is good for 45-50 horsepower. Componentry on Moto Morini motorcycles is generally considered to be well above average for the period – which made the MM expensive compared to other brands. Ceriani and Marzocchi suspension units were used, rear and front respectively. Borani spoked wheels were used on the initial 350cc bikes, later to be replaced by cast hoops. Grimeca disc brakes were fitted front and rear. Veglia instrumentation was fitted standard. The end result was a very high-spec motorcycle, which continues to be an enjoyable mount to this day.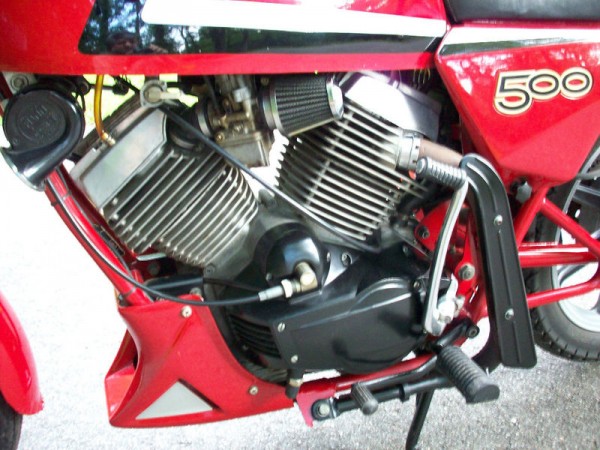 From the seller:
Untouched, all-original Moto Morini 500 Sei-V…down to its Pirelli tires. V-twin, six-speed transmission. Owned since 1999, last registered in 2002. Performance exhaust, 4,777 miles, Owners Manual.

Only blemishes are slight paint bubbling on bottom of front fender, headers could use a black paint touch-up, tachometer is a little loose in its rubber housing, gas stain beneath carb. bowl on engine case.

Recently photographed for inclusion in an upcoming 2012 European Motorcycle Calendar.
The fate of Moto Morini is a long and varied one. From its family origins in 1937, the company was responsible for some very memorable motorcycles and race bikes. Following financial hardship, MM was sold to Cagiva in the mid 1980s. It changed hands again when it was purchased by the Texas Pacific Group (alongside Ducati) in the 1990s. In 1999 Moto Morini fell back into family hands when it was purchased by a company founded by Morini's nephew (Morini Franco Motori spa). The hard times continued, however, and that company went into bankrupcy and liquidation in 2010. Is this the end of an icon? There is yet another attempt to pull Moto Morini from the ashes as of July 2011; the company was sold to Eagle Bike, a newly formed company that is run by two Italian entrepreneurs. Keep your fingers crossed for this historic brand – we may see new Moto Morini bikes again yet!
The 500cc version of the pre-Cagiva Moto Morini is relatively rare. As stated at the beginning of this post, one tends to find the smaller (350cc) bikes more readily than the 500cc variant. For example, we have posted several 350s over the years (here, here and here), but only one 500cc machine. Like most Moto Morinis we see, this one is clean and well cared for. Mileage is very low, and in general this looks to be in fantastic condition.
Your chance to own a classic Italian vee-twin sportbike is here! For more information, specifications and pictures, click on the link and jump over to the auction. Good luck!
MI