If I asked you to name a famous Italian motorcycle maker, who springs to mind? Laverda, Moto Guzzi, Ducati, Aprilia, Bimota? One of the gems that you may not have remembered in that impressive list is Moto Morini. Famous for popular v-twin sport designs in the 1970s – 1990s, Moto Morini history goes way back to the 1930s. Even the famed Giacomo Agostini started his racing career on a Moto Morini. With a fair number of ups and downs throughout their business history, Moto Morini was once owned by Cagiva, has gone through liquidation and receivership, and today exists as a private company still producing v-twin machinery. Today's find, a pristine little 3 1/2, is the perfect example of what Moto Morini was capable of, and what they did best. Read on!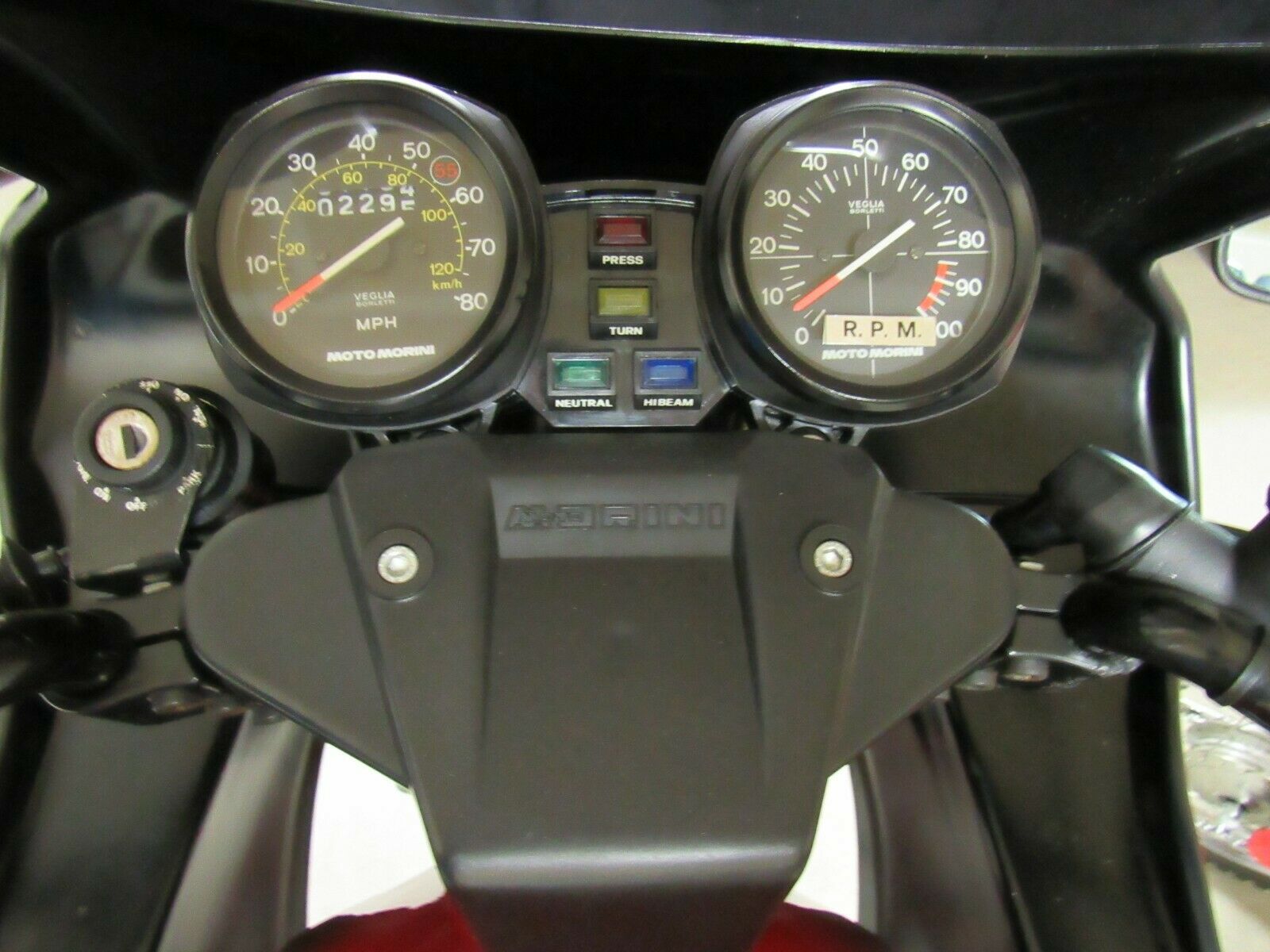 An early take on today's lightweight "entry level" bikes, the 3 1/2 was nearly 350cc (344 to be exact) of air cooled, 72 degree v-twin goodness. There is not a lot of high tech here, with pushrods and carbs, but there is a toothed rubber belt driving the cams, and the heads are novel in that most of the flame front is captured within the dome of the piston. With a whopping 35 horsepower you are not going to win any drag races, but you will be about on par with the current crop of like-sized machines. So too, the 330 lbs weight – again, right in the ballpark with contemporaries. Coupled with a six-speed gearbox, a narrow frame set and spiffy bodywork, the 350 K2 was a neat model that proved to be a rather popular seller for Moto Morini.
From the seller:
This is the finest looking, lowest mileage original Moto Morini 350 K2 I have ever seen. There are a few in the states, but this bike was never sold in the USA. It's predecessor, the Moto Morini 3 1/2 (meaning 350cc) was sold in the USA.

This bike originated from a collector in Japan, then was bought and shipped to New York to it's new owner, Alan Wilzig, owner of the Wilzig Racing Manor. He is a collector of an enormous display of fine Italian sports bikes, sports cars, and has them displayed in his personal museum. He's also a semi-professional race car driver and philanthropist, well known in New York State. Look him up. A fine and honest man.

Alan sells very few of his bikes, but he did have few on ebay about one year ago, and I couldn't resist this one when it came up. I'm a perfectionist when it comes to my vehicles and bikes, and this was above my standards and expectations. The bike is an amazing piece of rolling art. When I received it, it had been idle as a collector/museum show piece for nearly all it's life, so I decided to have everything gone over to make it a rider, even though my plan was to show it. I put over $1,700. into it, and I have all the receipts. Carbs, brakes, brake lines, fluids, new Perelli tires, tune-up, etc. All of the receipts can be provided upon request.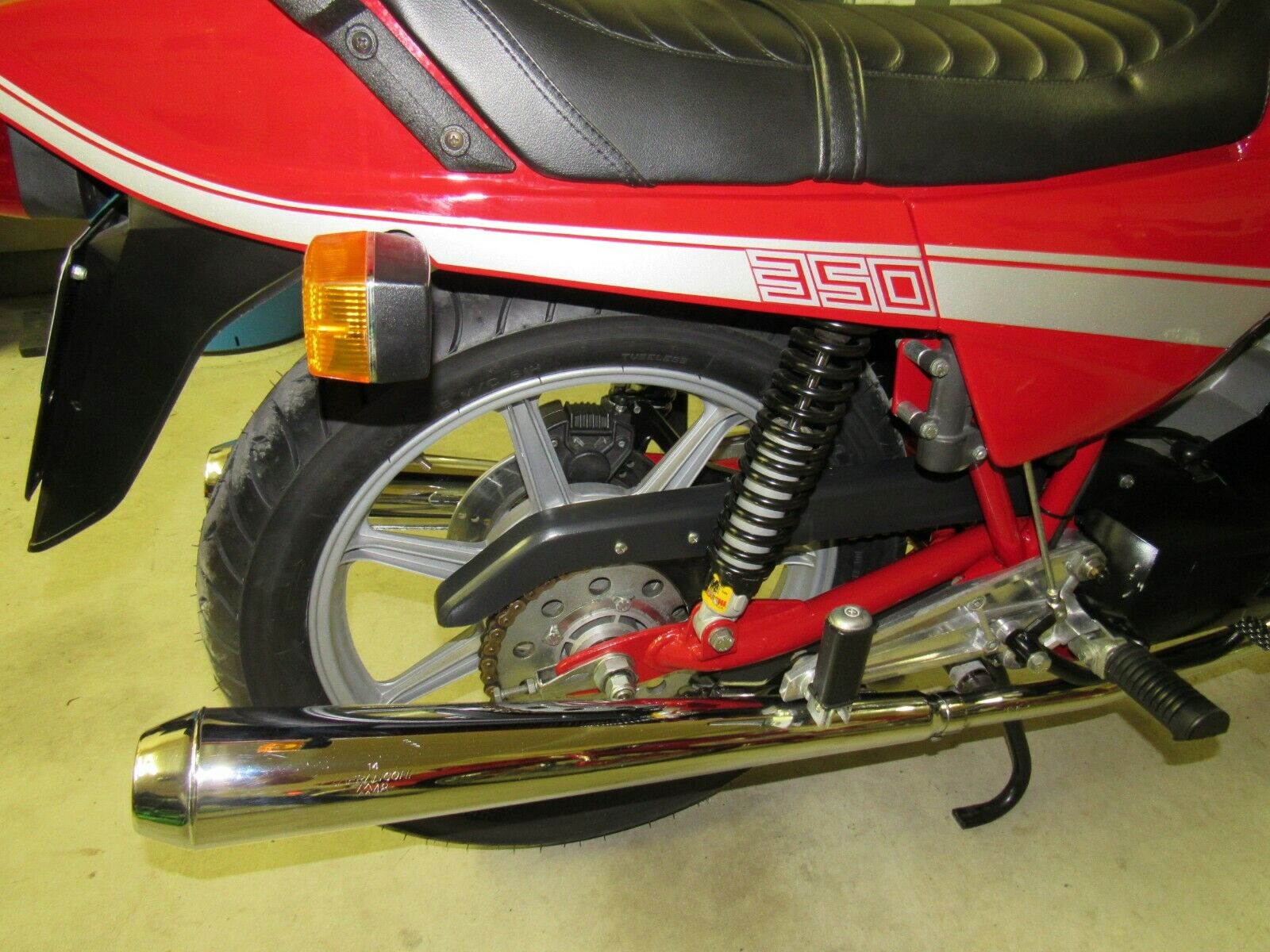 More from the seller:
Everything on this bike operates as it should other than the original gas cap which will not lock, although it does secure properly. The inside of the fuel tank did not require cleaning. It mostly shiny metal with very minimal and shallow patina speckled throughout. The swing arm once had small rock chips on it where the rear tire tossed road debris against it during the 2K miles on it's clock. I wanted it perfect, so I had the swing arm removed, media-blasted, and professionally color match powder coated. I did the same thing with a very small black metal piece forward of the plastic chain guard, which had some light corrosion.

The bike starts with either the electric start or kick start, and runs, shifts and brakes just as it should. I test rode it once. Amazing bike for it's time. 350cc V-twin, six speeds, with a maximum speed rated at 106 MPH. No, I never tried coming close to that. I'm too old. 🙂

My plans have changed. I'm getting into vintage cars, so I'm selling all three of my vintage, low-mile bikes, the most unique and rare first. Parts are not an easy find for this Moto Morini if you need them, but may be sourced easier in Europe. This bike needs nothing. It comes with the original owner's manual (sorry, but it's printed in Italian), very cool factory key fob, bike cover, and all pertaining paperwork.

I've received many "Oooos and Ahhhs" as well as "What is it?" over this bike. You will too. Man/Woman cave show-piece or ride. She's a beauty!

I'm an ethical seller, and have disclosed everything about this bike that can think of. I'll gladly entertain inspections, and will share additional photos if requested.
This is just about the cleanest M.M. 350 we have seen on these pages. With fewer than 2,500 miles, it is also the least traveled example. that shows in the photos – the bodywork is clean and the metalwork is untarnished and devoid of obvious hard use. Flat out, this is about the best I've seen – and I love these little bikes. Part of the problem here is that these are generally not very popular bikes with collectors or riders (they are a bit niche), and prices have generally been low. The opening ask for this gorgeous one is higher than the average sale price for most that we see, and the Buy It Now is nearly double. That may well be worth it given the condition that we find this bike in, but in general for the model this would be a trend setter. Check it out here if you wish to watch it along. These are wonderful motorcycles from a storied manufacturer, and depending on the outcome of this auction they just might be appreciating as well. Good Luck!!
MI