Update 7.22.2022: Seller has confirmed this bike has SOLD! Auction ended at $13,850CAD, or roughly $10,750USD. Congratulations to buyer and seller! -dc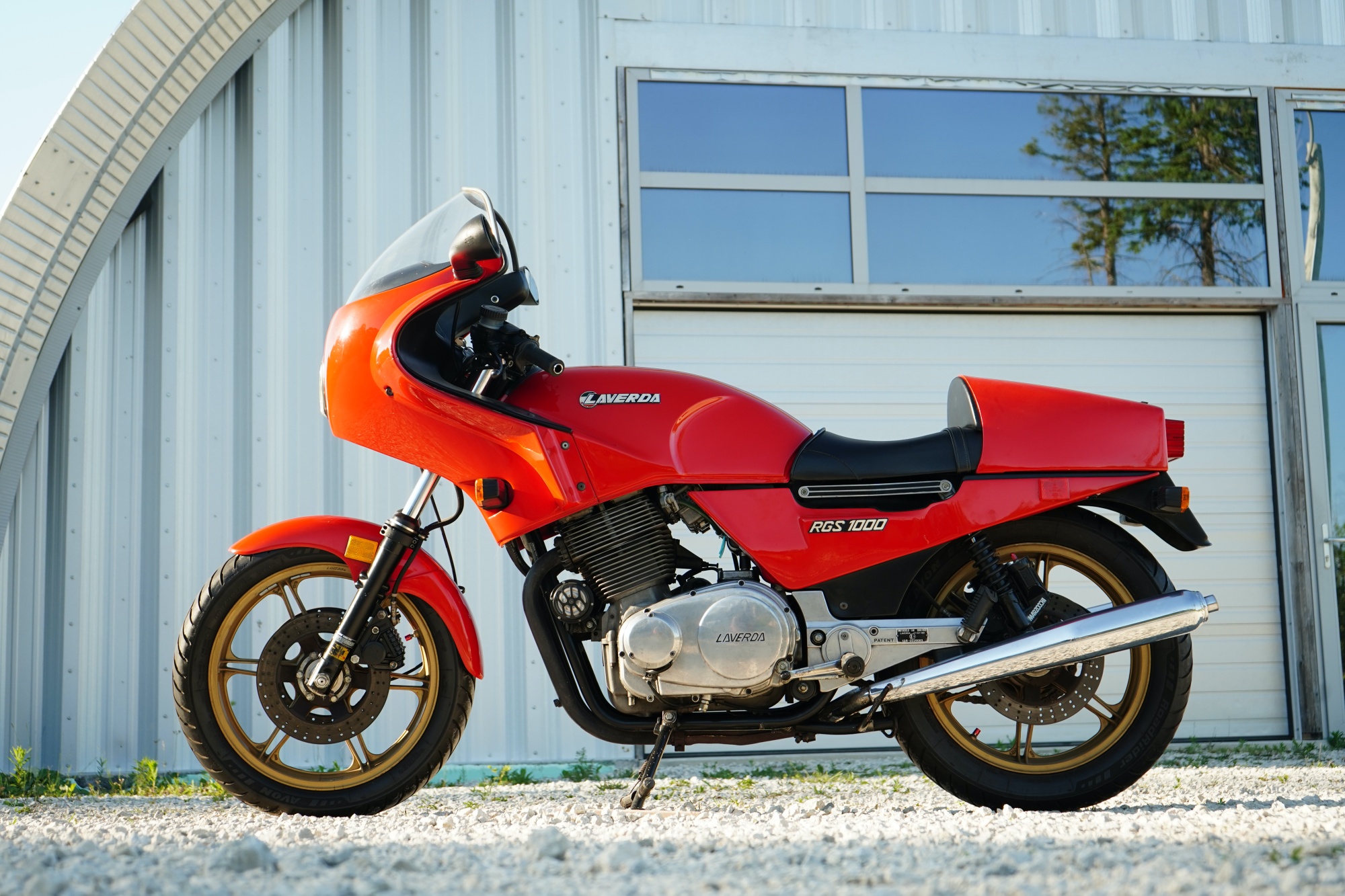 The epitome of Italian speed and style, the Laverda RGS has been an underrated darling for too long. Revered by riders in the know for its legendary 3 cylinder power, comfort, and relaxed attitude at higher speeds, the RGS brings with it a taste of the exotic and rare in a world filled with plastic scooters and me too bikes.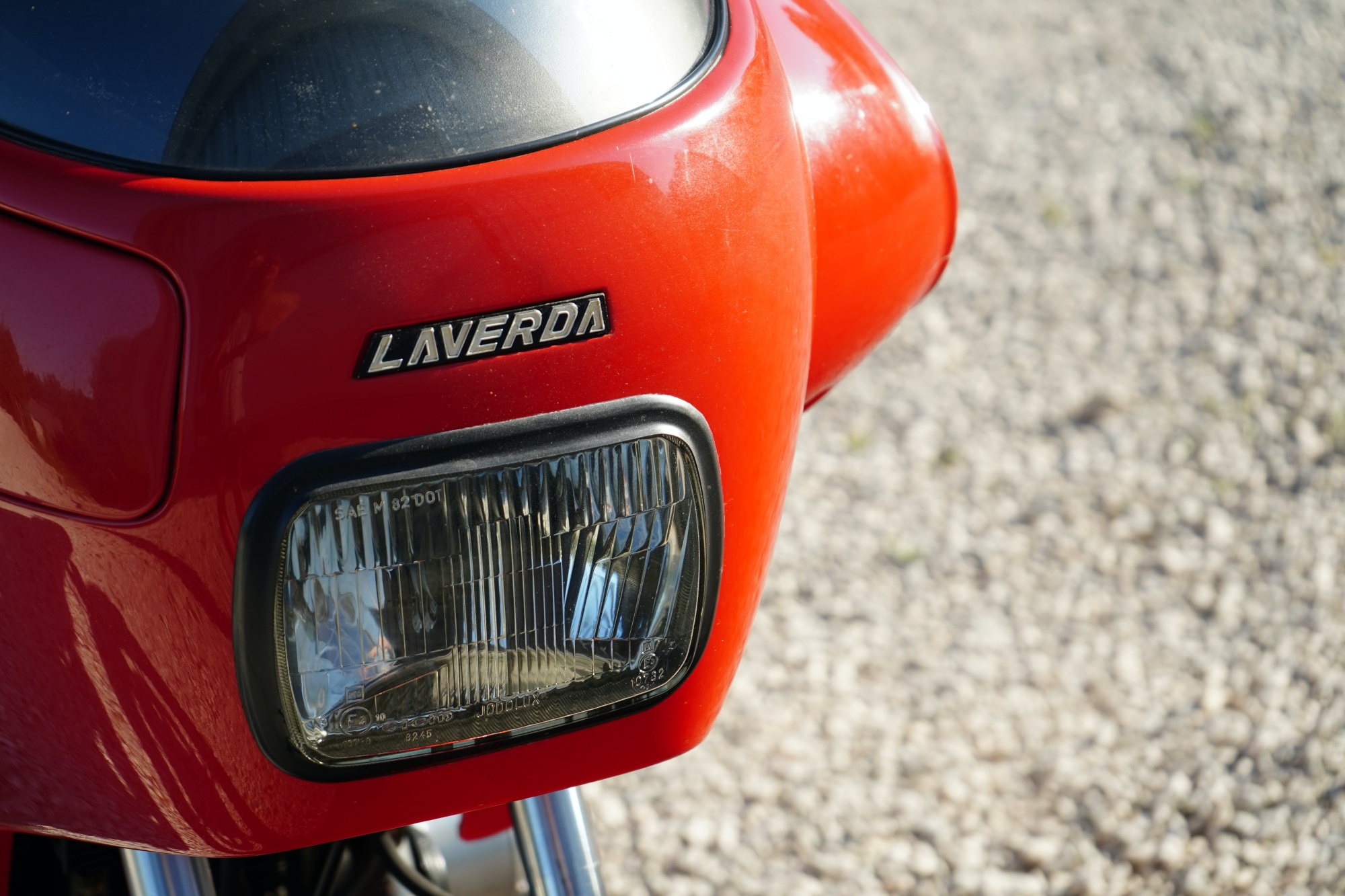 The heart of the beast is a relatively simple air-cooled triple displacing an actual 981cc. The heads are of two-valve per cylinder design, breathing through a tri-power of Dell'Orto carbs. Crank throws are evenly spaced at 120 degrees, which was a departure from the earlier Jota's 180. The result was a smoother, more even power delivery befitting high velocity travel. Exhaust gasses flow through a svelte 3-into-two system, offering just the right amount of civilized noise. The bodywork is classic Italian – flowing and sensuous, yet purposeful The tank cover is devoid of fuel cap, as the fairing incorporates a slick automotive style door and fill mechanism that is much cleaner than traditional designs. The rest of the components exude class, including the Brembo binders and Marzocchi air-assistend forks and air-adjustable rear shocks. The Laverda RGS was built as a quality machine, taking on the world not via outright performance, but by doing everything well – and looking good in the process.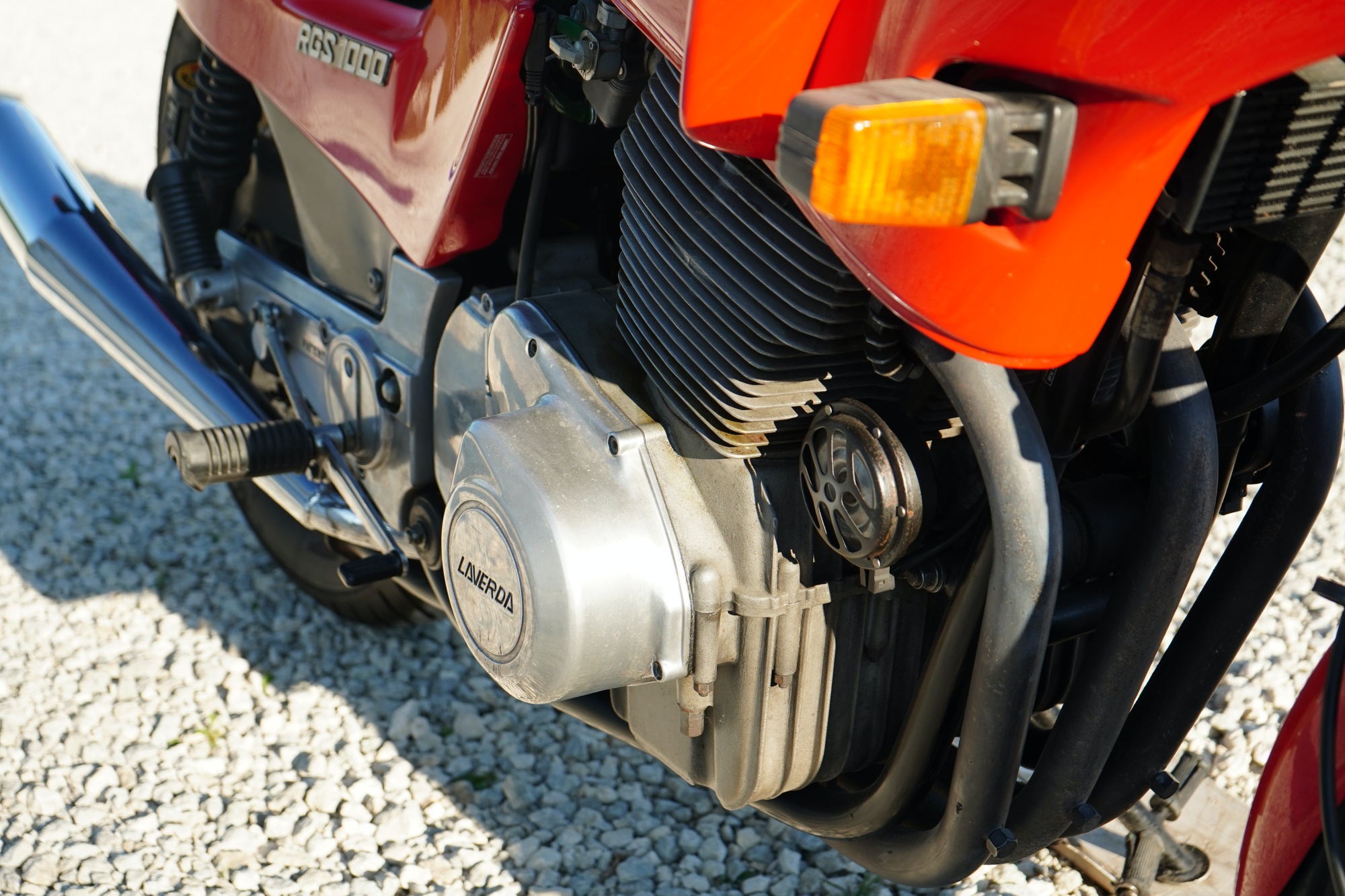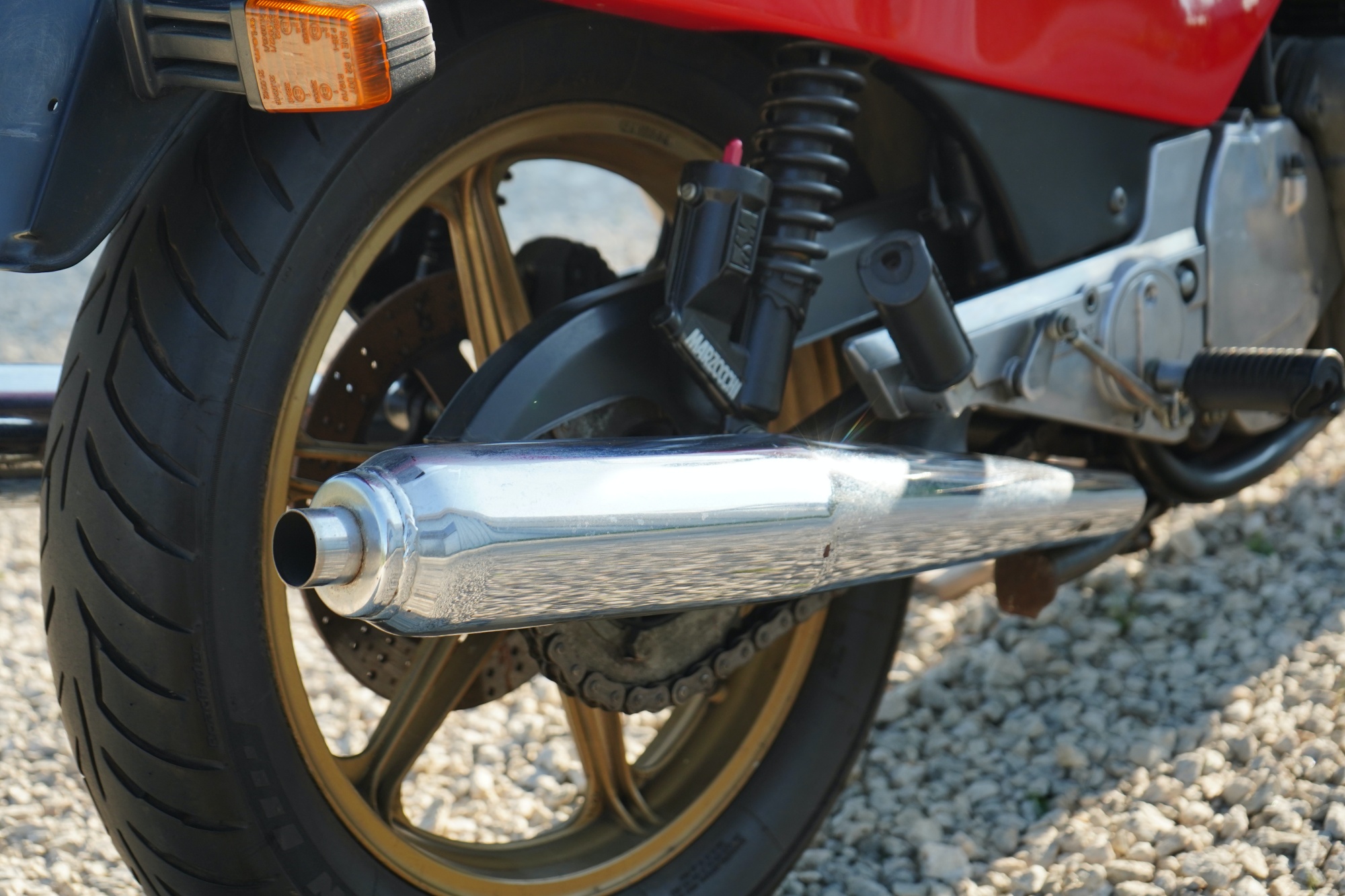 From the seller:
1983 LAVERDA RGS 1000
A rarely seen Italian touring motorcycle, fitted with a handful of well-chosen upgrades for greater everyday usability. It is powered by a 981cc DOHC triple, delivering 90bhp through a five-speed transmission.
This 1983 Laverda RGS 1000 is said to have been owned by enthusiasts and members of the Canadian Vintage Motorcycle Association from new, has been displayed at several shows, and was invited to the Cobble Beach Concours event.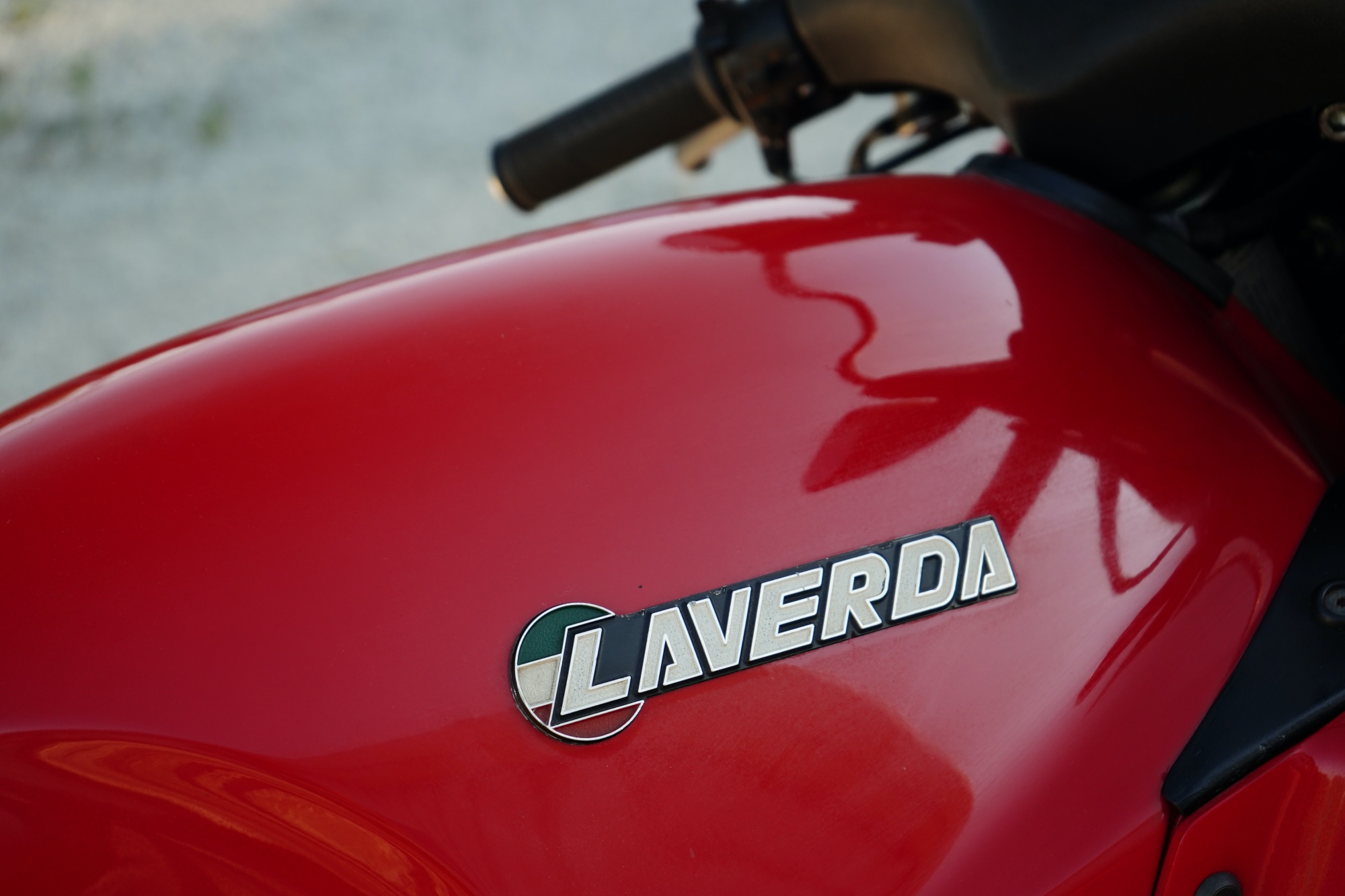 More from the seller:
This RGS 1000 is finished in Laverda Red with gold wheels and a black seat. It has been fitted with Executive fairing extensions, a DMC electronic ignition system, and Oxford heated handlebar grips, but is reported to retain its original exhaust. The bike also features the original Brembo disc brakes, original Marzocchi adjustable shock absorbers, Dell'Orto carburettors, and original Bayflex moulded bodywork and Perspex front screen. A number of spare parts are included, including a front sprocket, clutch lever, and carburettor crossover pipe and fasteners.

Also accompanying the sale is the electronic ignition manual, Laverda Ricambi spare parts catalogue, two Laverda caps, a Laverda T-shirt, Laverda hoodie, display signage, and a leather and enamel Laverda keyring, made in England.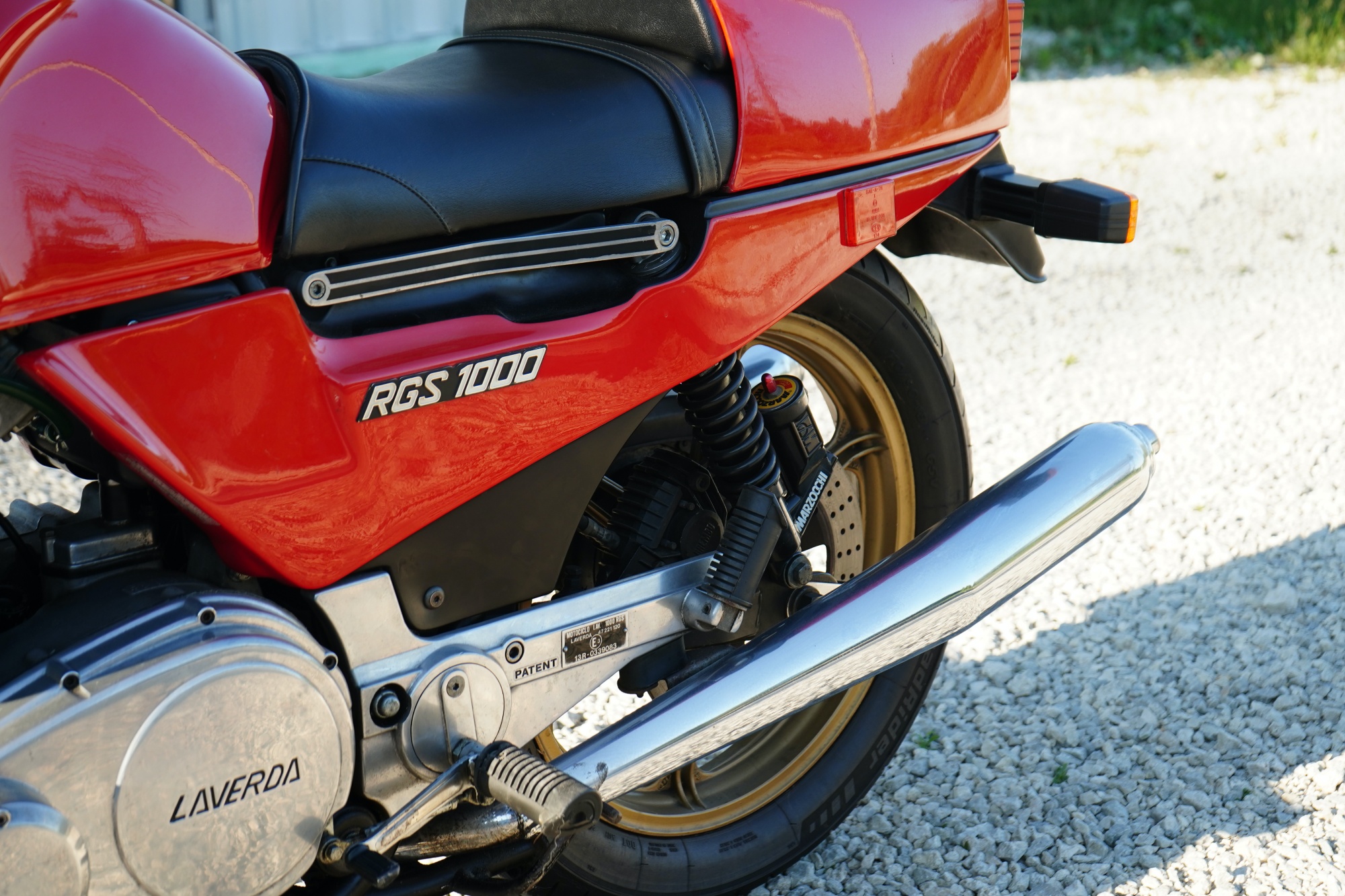 More from the seller:
There is no known bodywork or frame damage. The Laverda Red paintwork is in excellent overall condition, save for some small cracks and chips on the fairing extensions, wear at the bottom of the pillion seat, and general age-related 'patina' on the front forks. No mechanical or electrical faults have been detected.

The seller reports that this RGS 1000 underwent an oil change and carburettor service at approximately 17,500 miles by the previous owner, who was an Italian motorcycle collector. The bike has been stored inside the seller's home and has been connected to a battery charger during his year-long ownership.
First displayed in dealer showrooms in 1982 and gone by 1985, the Laverda RGS had a short, underappreciated run. With only an estimated 2,500 units built worldwide (and only 250 officially imported in the US), the RGS is rare, rare, rare anywhere you can find one. Die hard collectors tend to gravitate to the earlier Jota or the latter SFC and write the RGS off as too civilized. But that is *exactly* what makes the RGS so great.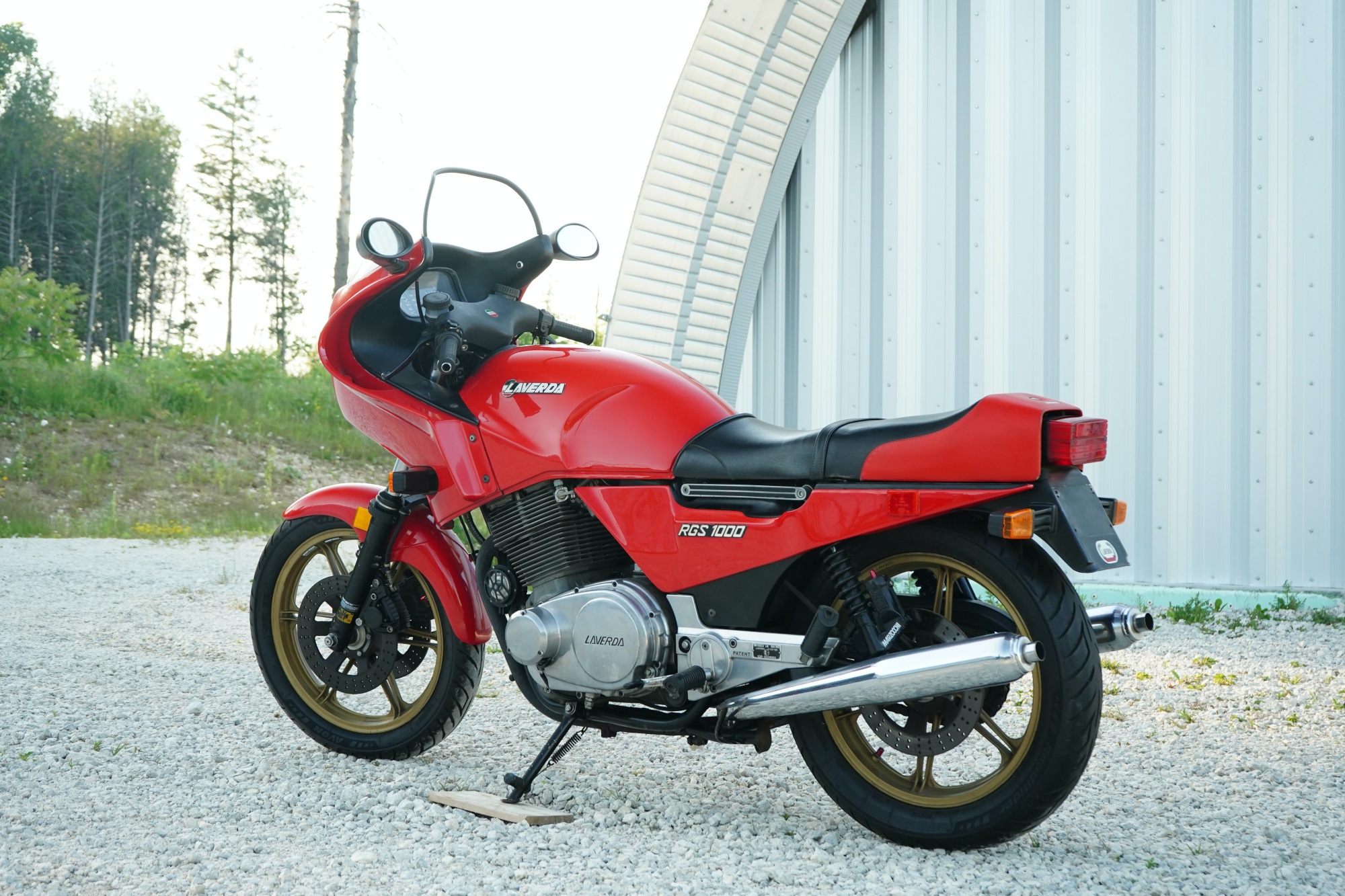 Here is your chance to snag this beautiful example of a 1983 Laverda RGS with tasteful enhancements in a NO RESERVE auction. The overall condition looks great, and the mileage is reasonably low for the age. This bike is located in Ontario Canada, and most certainly qualifies for the "over 25" exemption for used motorcycles in most states. Check out the details here, including the 130+ quality pictures of this beauty. Good Luck!!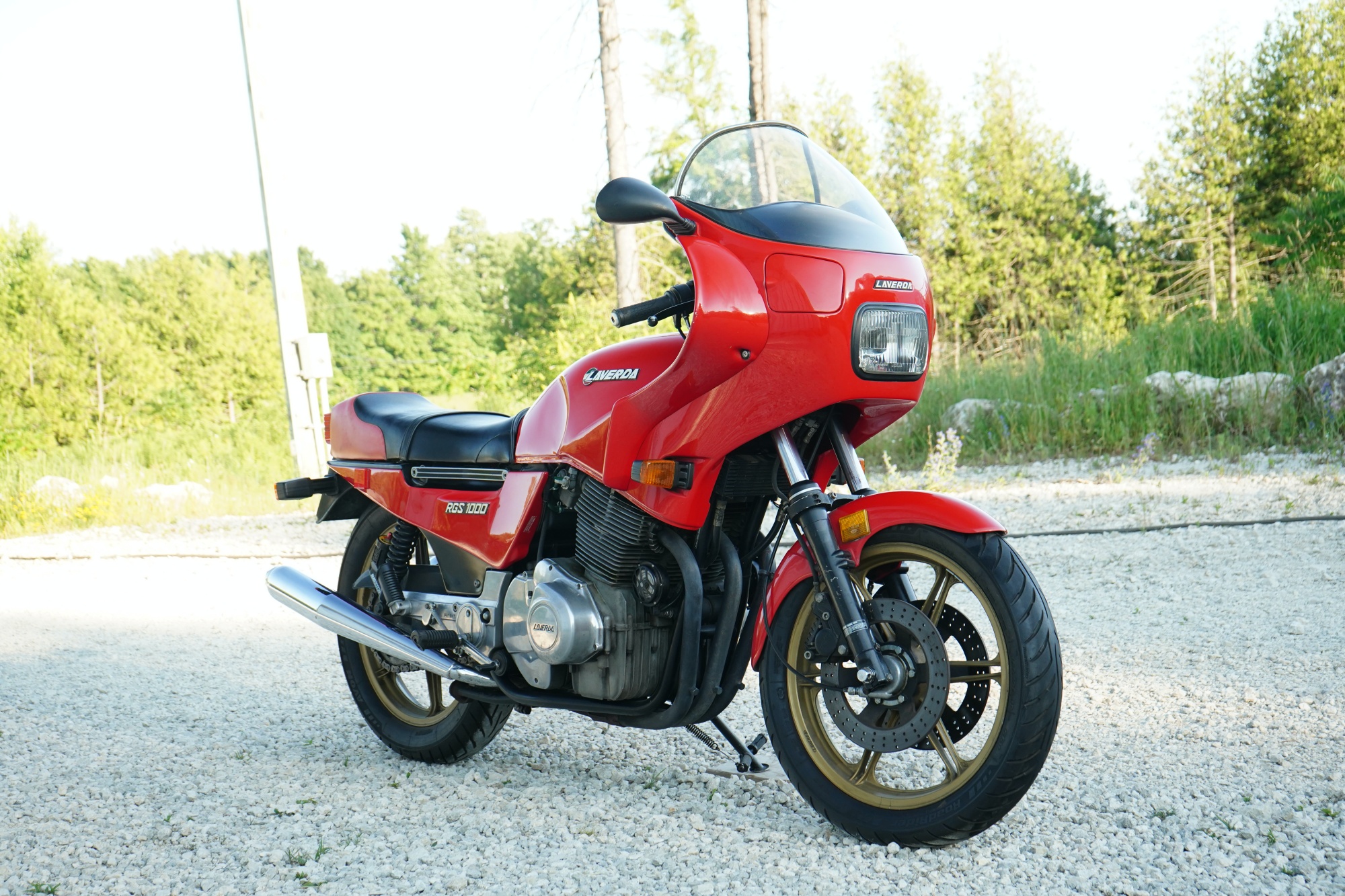 MI