Early on, Bimota sold kits to incorporate the buyer's own drivetrain into their chassis and fairing designs.  This unicorn was professionally prepared and has only seen the light of day for 1,800 miles since.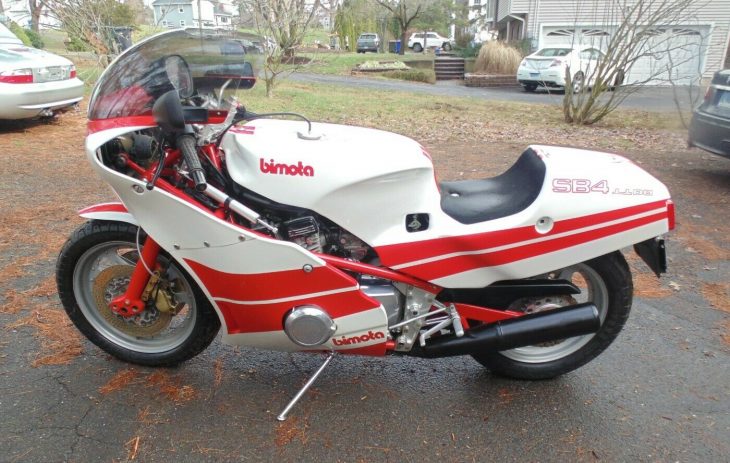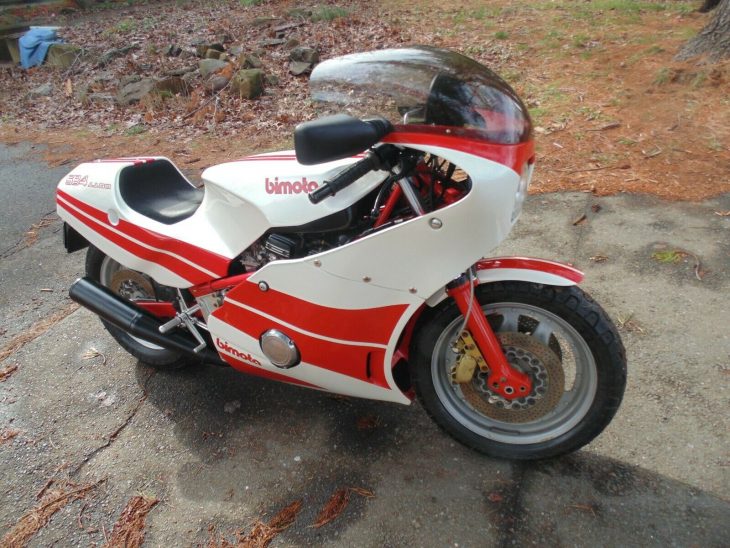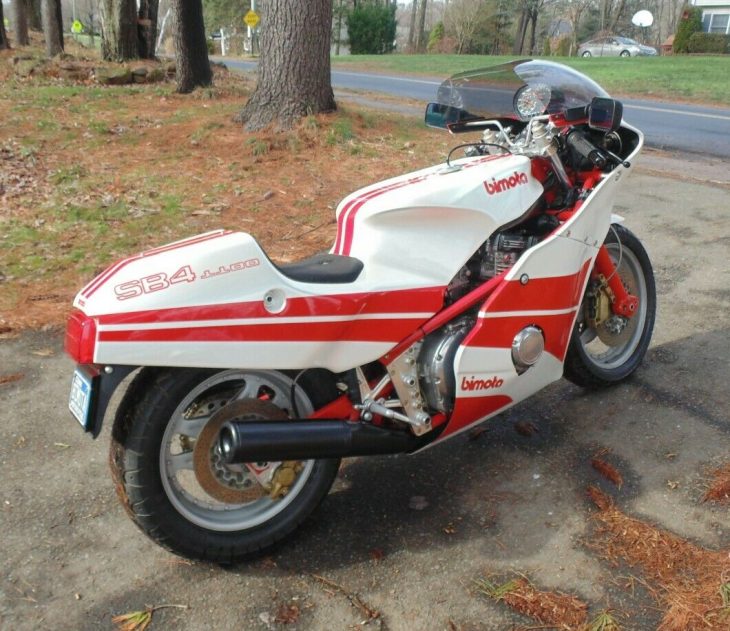 Bimota specified the 1075cc air-cooled engine from the GSX-1100, and shares its formidable 112 hp.  Rimini made their own four-into-two exhaust, and of course their chromoly semi-cradle chassis, with billet aluminum sideplates.  Components are a history lesson of their own, with Ceriani forks and DeCarbon monoshock.  Looking bigger in the 16-inch wheels, brakes are all 280mm disks, with four-piston calipers up front.  Lightweight fiberglass is stretched over the hippy package, baring only the three-piece alloy wheels.
Showing clean but maybe not museum storage, this SB4S appears original right down to the tires, and complete.  The GSX engine was evidently blueprinted before sliding it into the Bimota kit.  A slick detail and maybe re-finish the front fender and it might look more like the rarity it is.  Comments from the eBay auction:
This bike is super rare, with only 100 or so of the S versions with the full fairing being made. The other 200 or so SB4 models had a 2/3 fairing that did not go under the engine.

This is one of the last (Chromoly) steel framed Bimota made before going to aluminum frames. It is also one of the last kit bikes they sold. This particular bike was ordered and assembled by The Performance Works of Canoga Park, CA. The original build sheet is included with the bike. Details include:

Brand new Suzuki GS1100 engine as a starting point
Yoshimura pistons, 2mm oversize

Vance & Hines clutch basket
Welded crank
Heavy duty cam chain
Carb work
Only 1,800 miles!

This bike has just been serviced with new Mobil 1 oil change, OEM oil filter, NGK plugs, and a new battery. It fires right up and sounds great.

Along with the original build sheet, there is the factory sales flyer and a copy of the parts list for the entire bike. The VIN for this bike is SB400127 (#127 out of the 300 or so SB4 and SB4S total bikes built).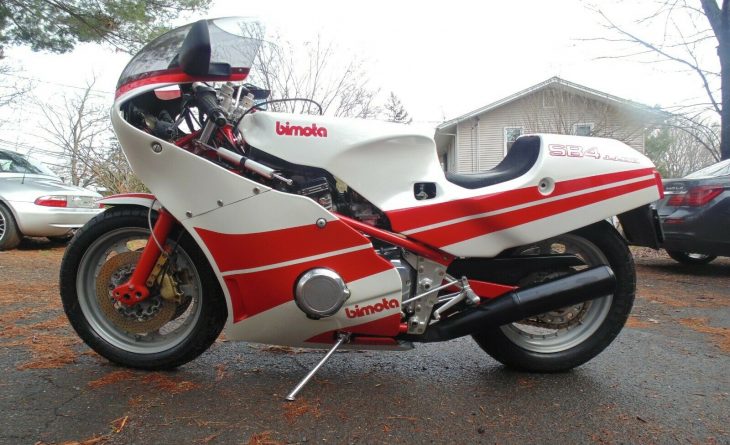 So close I could be there in a half hour, but 'tis no longer the season for a test ride.  No worries about getting out of the air stream, any rider under six feet will be stretched out on the tank just to reach the clip-ons.  Geared tall and set up for higher speeds, wide open two-lane would be a lot more fun than errands around town.  Not that this collectible is liable to see a whole lot more of either.
-donn