In the wild world of rare bikes, there is always an interesting streak of never seeing a particular model for many months – usually followed by multiple examples coming up at the same time. Such is the case with the rare and underrated Moto Morini brand. Usually clumped into the "other" category when it comes to famous Italian supermodels, these eclectic vee twins offer yet another view into the fascinating world of Italian motoring. The brand may be known world wide, but the bikes have had a rather limited and modest distribution making actual examples exceedingly rare in the United States.
Just like the last month's example, today's find is a 500cc model. It seems that the Moto Morini 3 1/2 (i.e. 350cc) models are more available, but the 500 models do come up now and again. The 72 degree vee twin shares many parts with the 350, which in turn shares many parts with the smaller 125cc model. Moto Morini was never large enough to create a bike from scratch; rather, they modified and evolved from existing platforms, sharing parts wherever possible. Thus, most of the chassis components and many of the engine pieces share the same design, if not the same actual pieces, between different sized bikes. The single camshaft, pushrod operated overhead valve engine is simple, reliable, and oozes a mechanical character that is far different than a Guzzi or Duc. It is more laid back in many ways, yet demands the rider to provide input.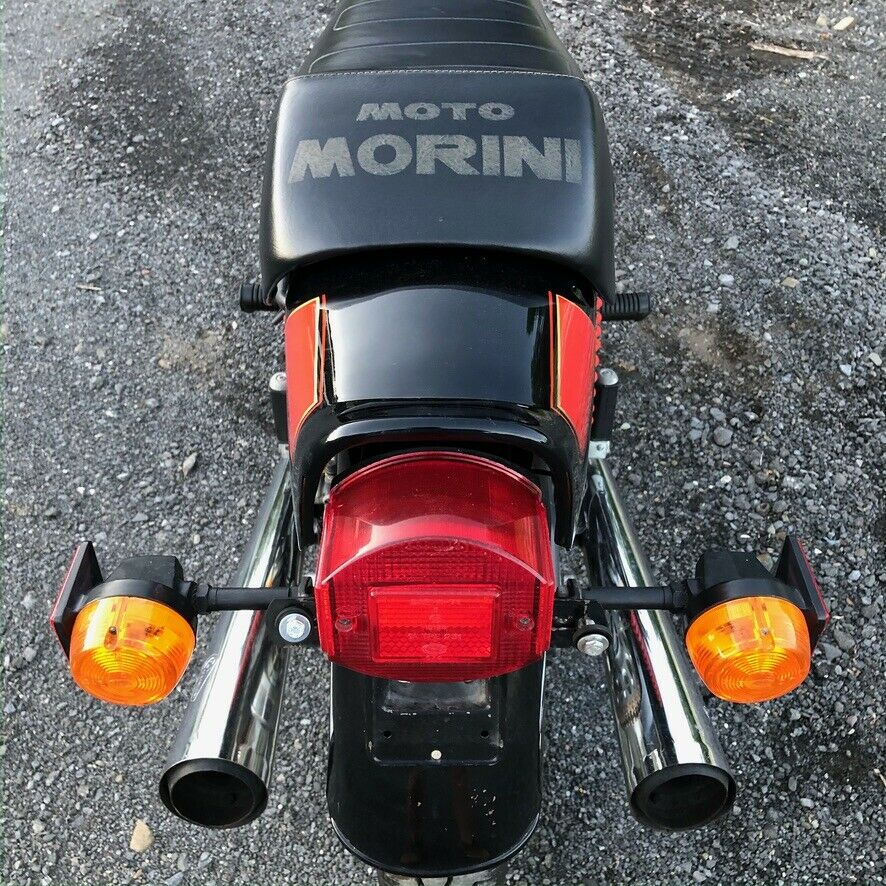 From the seller:
Very nice, original, and correct Moto Morini 500 Sport. Possibly original paint. Runs well. Kick and electric start. Rare chin fairing.Tool kit. Floating front disk. Original rotors included. CRG mirrors. Some paperwork from previous owner. These aren't getting any easier to find, especially in this condition.
I can connect you with a shipper for most parts of the country.
Sold on Maine transferable registration in previous owners name.
The seller has included a brief video of the bike in question here:
While we have posted Moto Morini 350s in various states of dress, this is the first 500cc machine we have seen with full bodywork. The fairing and chin spoiler are neat bits that make the bike stand out. The paintwork has been noted as possibly original, but it is definitely an original color scheme (and far more jaunty than the basic red livery). Overall this looks to be a good looking, rider quality machine that is ready to be enjoyed. Zero bids with a $4,500 USD opening ask, the starting price for this one is definitely in the low end of the spectrum. Interest is relatively low on these under appreciated machines, but those in the know enjoy the no-frills, unique experience that is Moto Morini. Check out all of the details here, and Good Luck!!
MI