Warning!
This post is in our archives. Links in this post have been updated to point to similar bikes available to bid on eBay.
Getting your hands on this bike will land you in a rarefied class normally reserved for the likes of the Barber Motorsports Museum and a few (very) well-heeled collectors. Once again, it comes from our friends at Iconic Motorbikes, whose collection of killer, historic bikes is both for sale and display. At present, though, this thing takes the cake as their premier offering. Even their perfect RC30 can't touch it.
This bike is a zero-mile example of a piece of race bike history that you just will not get another chance at. If you have the means, move quickly. If you haven't … Well, join the club. Needless to say, it is entirely flawless, from the tacked on lights to the rough-edged sand cast engine cases and undisguised oil lines.
Harley made these things in an effort to find legitimacy as a roadracing manufacturer after their rebirth in the mid-1980s. Being that Harley-Davidson had been long absent from any sort of twisty-track competition, building a from-scratch competitive racer became something of a millstone. Eventually, the VR1000 was born, with a 1,000cc v-twin that was almost unrecognizable next to their normal fare, save its narrow-angle layout. It put down close to 150 horsepower by the time it saw a racetrack.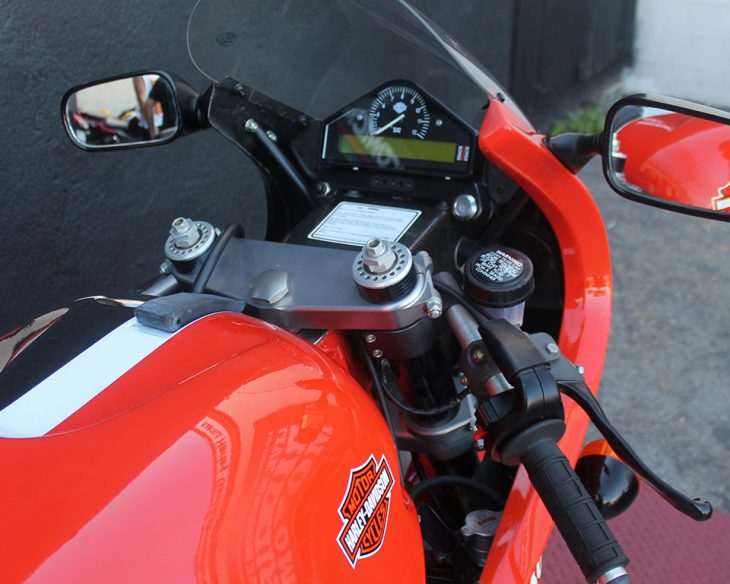 To be legal for AMA Superbike, the Harley needed to build at least 25 VRs and get them made legal somewhere in the world. Eventually, they got one plated in Germany, which satisfied the AMA. The rest were sold with factory paperwork and little else, with paint so thin the carbon weave showed through and lights and blinkers as an absolute afterthought. After all those years of effort, the bikes turned up to racetracks with about 10 fewer horsepower than the competition, which hadn't waited for them to catch up. Still, rider Miguel Duhamel declared the orange-and-black Milwaukee native to be the best handling race bike he had ridden. He switched to Honda in '95.
From the seller:
1994 Harley Davidson VR1000 – 1 of 25 street / 1 of 50 ever produced
We are over the moon to have this amazing, rare, Iconic Motorbike in our Dealership / Museum and up for sale.

Harley Davidson only made 50 of these amazing bikes in total and our research shows about half of them were equipped with headlights and such. This particular one has ZERO MILES!!!

The VR1000 is loaded with Carbon Fiber, Ohlins Forks, a dry clutch and when we're rolling it around the museum, it feels incredibly light! Don't miss this opportunity to add this gorgeous beast to your collection as you'll NEVER find another!

Bike does not include a title but we do have the Official letter from Harley Davidson confirming the manufacturing of this particular bike. We can supply a bill of sale as well. We have the FULL FACTORY TOOL KIT which is brand new and packed from the factory.

These HD's were built so that they could compete in World Superbike Homologation and as such were classified as off road machines, for that reason, MSO's were not issued or made available.

You must come see this bike in person, you may not get another chance!
The asking price is $80,000. It's worth it. Even if you never ride it, which, given the bike we're talking about is advisable, this thing will cap any collection, and will make an incredible display piece for years to come.