Beside being Evel Kneivel's choice, the simplicity and light weight of the H-D XR-750 has made it a regular at flat track podiums since 1970.  This street-registered example is faithful to the legend and its owner / ex-racer's dream.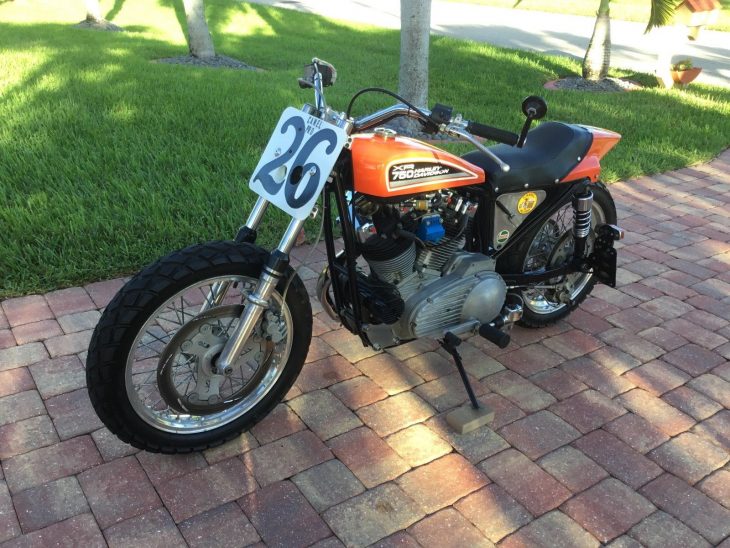 Harley was given an offer they couldn't refuse in 1969 - develop an overhead-valve race engine since the dispensation given to flatheads was fading into the sunset.  They de-stroked their 883cc twin to 748cc's and had 82 hp to send to the 4-speed trans.  The lightweight downtube frame had the engine bolted directly in, helping keep the total weight around 300 lbs.  Period suspension was Ceriani front and Girling rear, with the front brake ( useless to a flat track racer ) conspicuously absent.  Megaphone exhausts went left since the left-turning oval kept the near side open.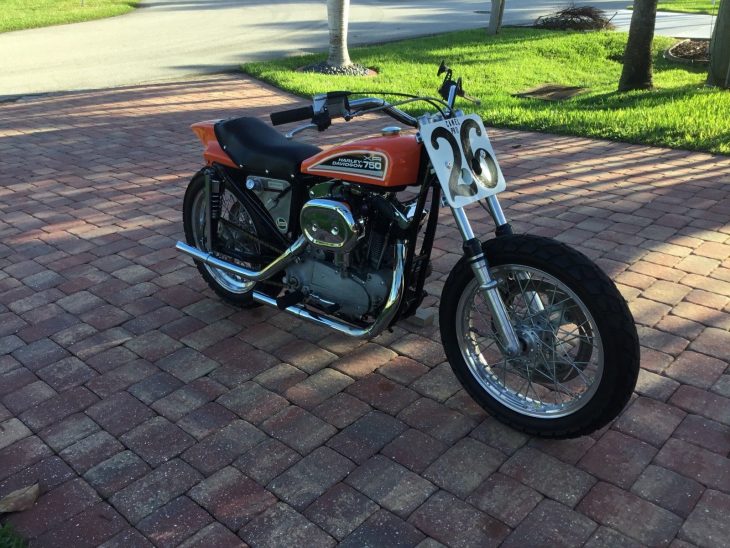 This owner's dream was realized via a 1969 XLH Sportster, with a race-prepared engine ( bumped to 1000cc ) and overall faithful presentation.  Along with the genuine XR750 tank, seat, and Akront laced alloys, there some are nods to the road such as the front disk brake, electric start, and progressive rear springs.  Notes from the eBay auction:
This XR 750 is a fresh build of an iron XR 750 replica using a 1969 XLH engine with electric start and rare Jerry Branch racing heads. It was a complete nut and bolt rebuild on the engine.  The frame is XR style with neck and E conversion.  There are lots of fabricated, hand-made aluminum parts.  The lithium battery is mounted under the tail.  The bike was built by Don Rothwell, a mechanical engineer and Harley racer.  This was a blank check build with the best of everything used.  It has break in miles only.

Itemized List of what is in bike:

1.  Rare branch racing heads

2.  Rare branch flow metric air cleaner

3.  Lithium life pro battery

4.  Cycle electric generator & regulator

5.  Trail tech headlights mounted in number plate

6.  Drag spec rear shocks (adjustable)

7.  XR 750 cam cover

8.  XLR Straight pipe (have baffles)

9.  Motion pro throttle and cables

10. XR 750 tank and seat

11.  Polished front and rear Akront flat track racing wheels

12.  Electric start

13.  XR 750 oil tank

14.  Stainless spokes and hubs

15.  Wiring Master sheet

16.  Itemized build sheet with costs for everything

17.  Hand build center stand included, but not on the bike at this time

18.  Period decals
While one could've purchased an actual XR750 homologation special from the Harley dealer, chances of street registration would've been slim and none.  For a fan of the grass-roots AMA series ( which is having a bit of a revival ) a Sportster-based rep is a nice compromise.  This one is professionally done and has just "dealer" miles - could be a hit in the paddock...
-donn