Update January 2020: This bike sold this past December. Congratulations to buyer and seller! -dc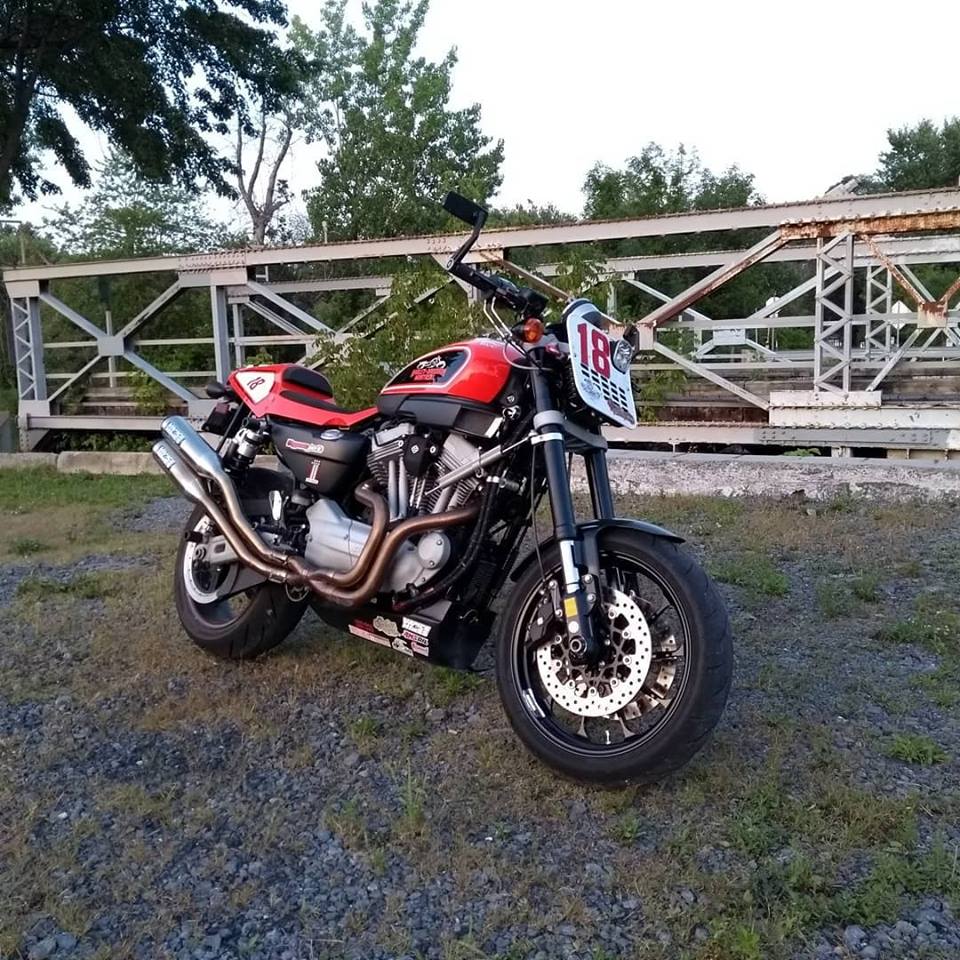 In the wild world of rare sport bikes, we don't often feature items from The American Motor Company. Sure, we post the occasional Buell or EBR sportbike, but few H-D offerings really meet the category of RSBFS standards. That is why I am happy to share this wonderful XR1200 with readers. While the stock XR1200 is not all that exciting to the knee dragging set, this particular XR was a Cup bike, and retained all of its hot rodding and rowdiness even though it has been converted back into a street bike. Possibly the ultimate bike nite ride, commuter, canyon carver, track day weapon and conversation piece, this 2009 Harley Davidson XR1200 converted XR Cup machine is looking for a new home.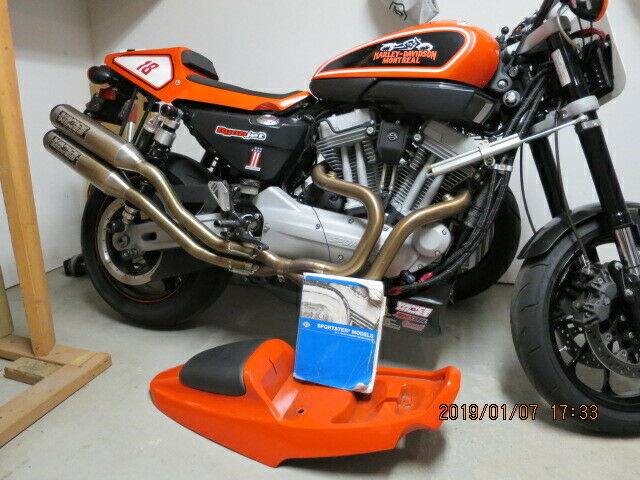 The XR Cup (officially known as the Vance and Hines XR1200 class) was an American one-design series meant to offer aspiring racers an affordable and approachable package and allow them to showcase their talents at a national level. The rulebook was simple and comprehensive. Take one stone stock XR1200. Remove lights and other DOT required safety items. Apply the XR Cup modification kit ($3,500, sold via V&H racing), which comprised the only allowable performance modifications. Upon inspection engines were sealed to prevent further modifications. Spoon on some sticky rubber and go racing. Figure about 530 pounds and 80-ish HP race ready. From 2010 until 2015 fans were thrilled by relatively full grids, tight racing, and amazing racecraft. Hearing a full field of XR1200s roar down a main straight – each rider trying to draft, jostle or otherwise elbow his way past – was truly a sight to see. In the end it was a successful foray; the fields were big, the crowds saw a great show, and some truly outstanding talent learned their craft.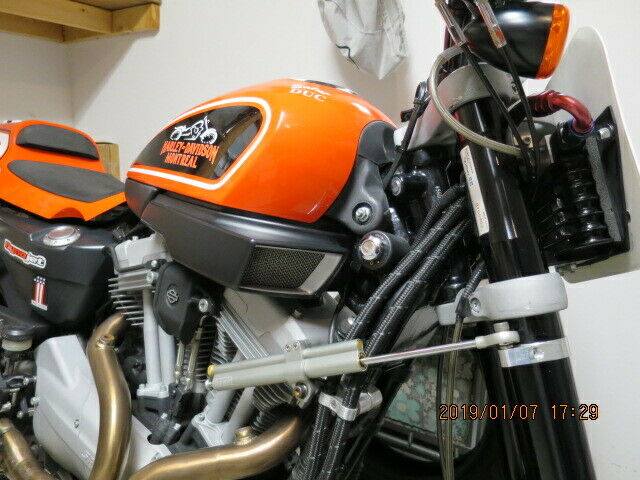 From the seller:
2009 Harley Davidson XR1200 11200 km (6960 miles)
EX-CSBK / EX-AMA XR cup.

Bike was bought new in 2009 to compete in the Canadian XR-cup.

Bike have compete in 2010-11-12-13 canadian XC-cup and some AMA XR-cup races. I have some races results.
Never been crash severely. Engine still have the XC-cup seal. From 2014 to 2017, the bike have run a few times on track for track days and track school.

Bike is registered and located in the province of Quebec, Canada (Montreal area). It's on the road since 2017.

(Simon)
Price: $8,000 USD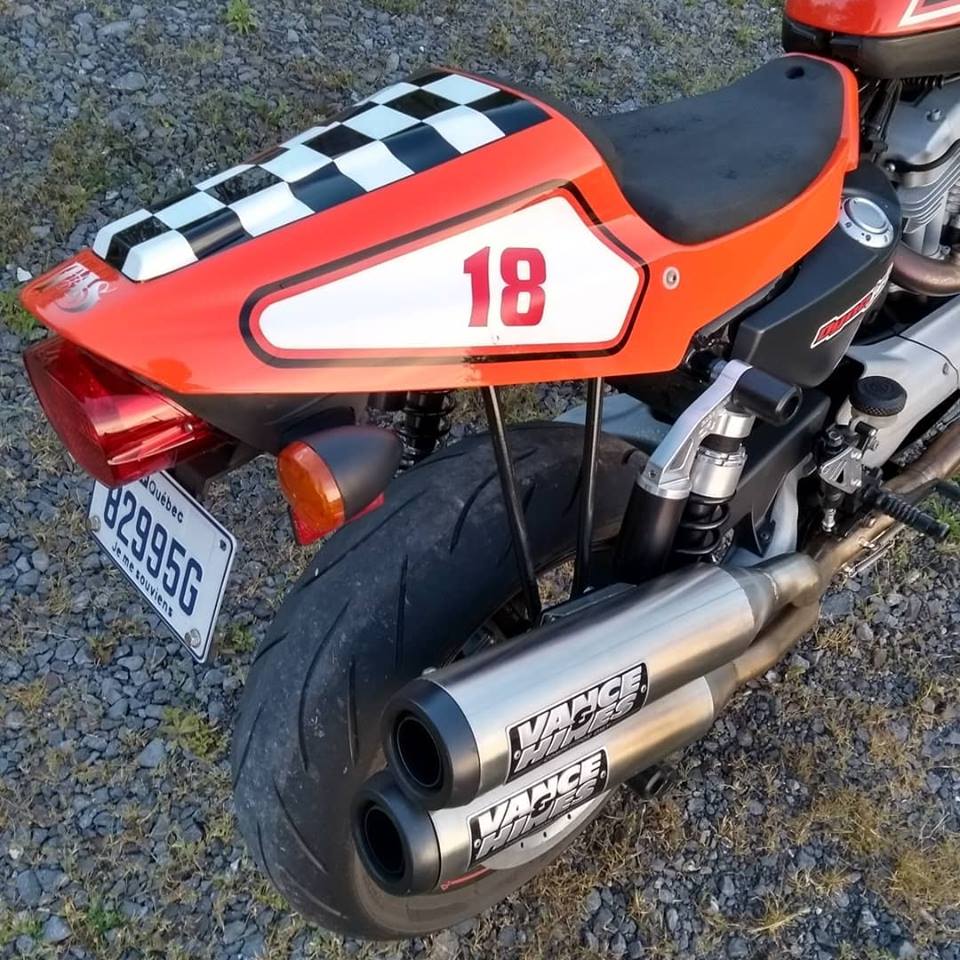 More from the seller:
Full Vance & Hines race kit
Fiberglass belly pan (modified to fit kick stand)
Ohlins steering damper
Performance Machine 17″ front wheel
Fiberglass front fender
Number plate
Fiberglass rear section
Vance & Hines fuel pack
Vance & Hines exhaust
O2 delete kit
Oil cooler relocation bracket
More from the seller:
Gilles adjustable rear set
Biltwell handlebar
Biltwell grips
Bikemaster wideview mirrors
Bridgestone S21R tires (XR cup sizing)
Final ratio have been change for more top speed
Headlight : Baja Design LED Sqadron (with Skene smart dimmer)
Safety wire everywhere that need safety wire
DNA air filter
Lithium battery
Short levers
Custom paint job
full floating front discs
Suspensions: Racetech (front : G2R cartridge with 1.0 kg spring / Rear G3S with 2.2 kg springs)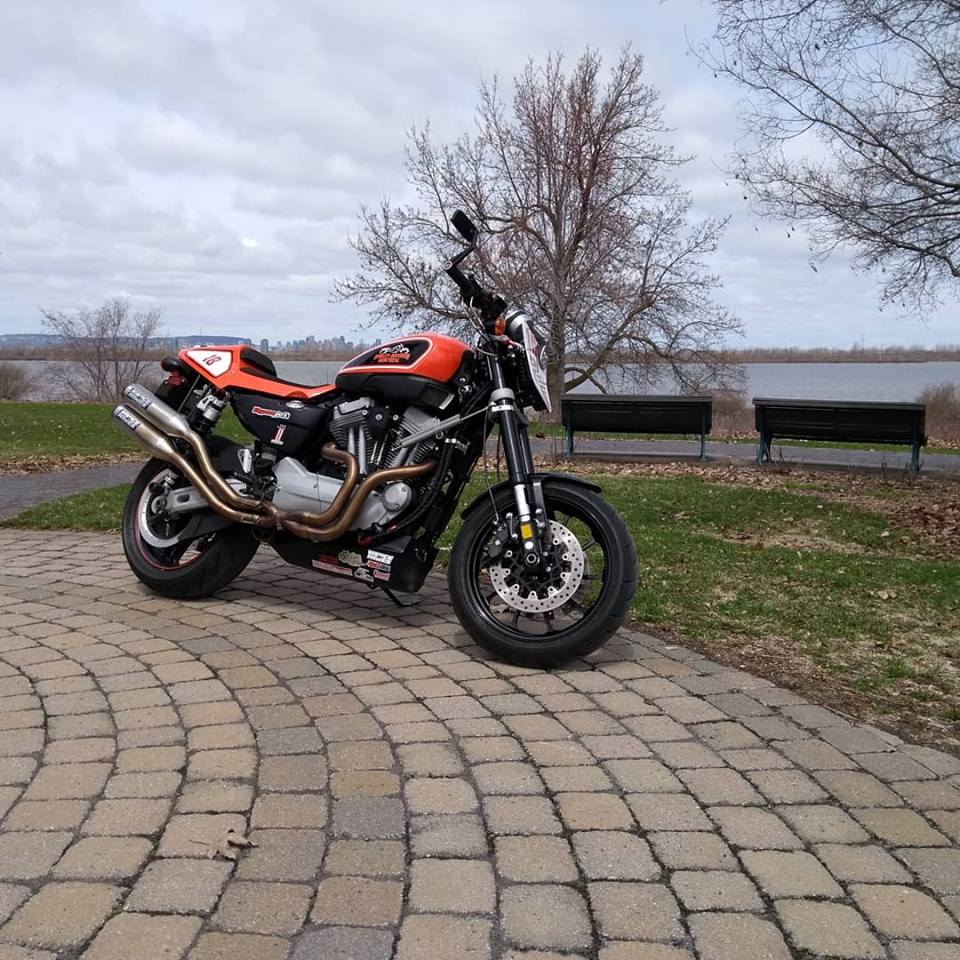 More from the seller:
Spare parts / Extras
Final belt drive (new)
OEM front 18'' wheel
3 different handlebars
OEM mirrors
OEM front fork cartridge
OEM exhaust system
O2 sensors
OEM tail section with seats
OEM passenger foot pegs
OEM headlight
OEM front fender
Shop manual
Brake pads
Amsoil 20W50 oil
OEM oil filter
The XR1200 series attracted both newer riders as well as some old hands. Unknowns competed alongside more featured names. Danny Eslick won the inaugural championship in 2010 before moving onwards and upwards. Participating in this series made stars out of riders; they were approachable, brave and heroic. Here is a video of the seller being interviewed in his native Canada. While not all of our readers can speak and understand French, enjoy the shots of the bike:
This is a pretty neat find and unlike many of the offerings you might find on RSBFS. This is a race bike with some history, while also being able to serve double duty as a street bike. It looks fantastic, will handle better than any stock HD you run across in your travels, and will out-handle many other motorcycles on the road, provided you are willing to give strong leverage to the wide bars, keep your momentum up, and avoid dragging hard parts. I can't imagine having more fun at a track day, or getting more attention from fellow riders. Good Luck!!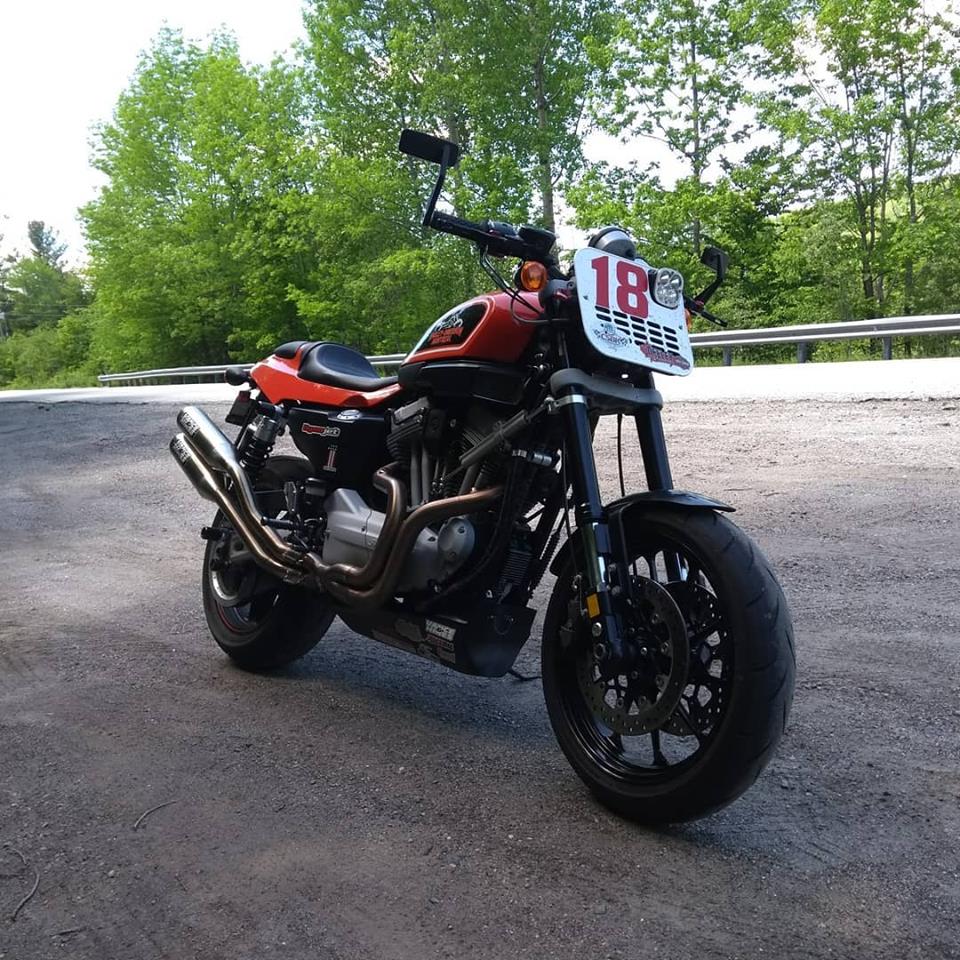 MI