Warning!
This post is in our archives. Links in this post have been updated to point to similar bikes available to bid on eBay.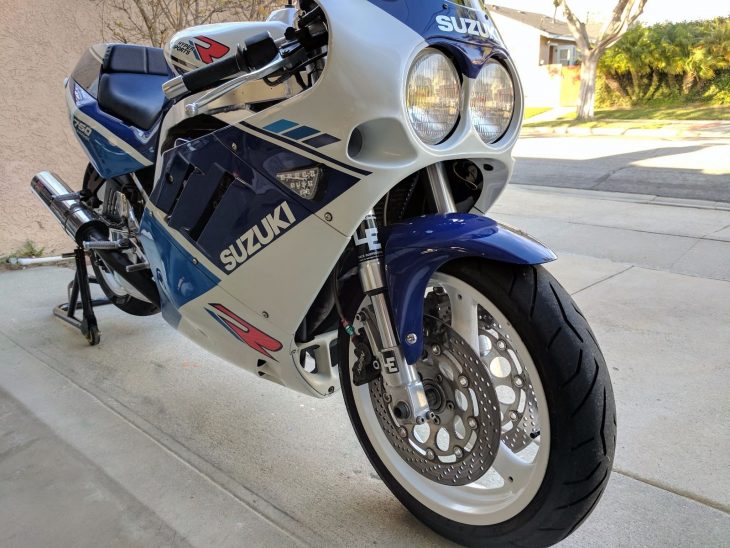 Suzuki's original GSX-R750 is arguably one of the most influential sportbikes of all time. Other bikes may have incorporated some of its design and performance elements, but none were able to combine them all into such an affordable package, or were able to capture the public's imagination in the same way. Every iteration of the Gixxer was made by the bucketload, but the bike's reliability and ubiquity meant that they were used and abused, and then discarded, making pristine examples like this one both desirable and very hard to come by. The early "Slabbie" has already reached collector status,  but the second-generation "Slingshot" GSX-R750 models are steadily increasing in value as well and offer more modern performance and handling, compared to the slightly vintage original.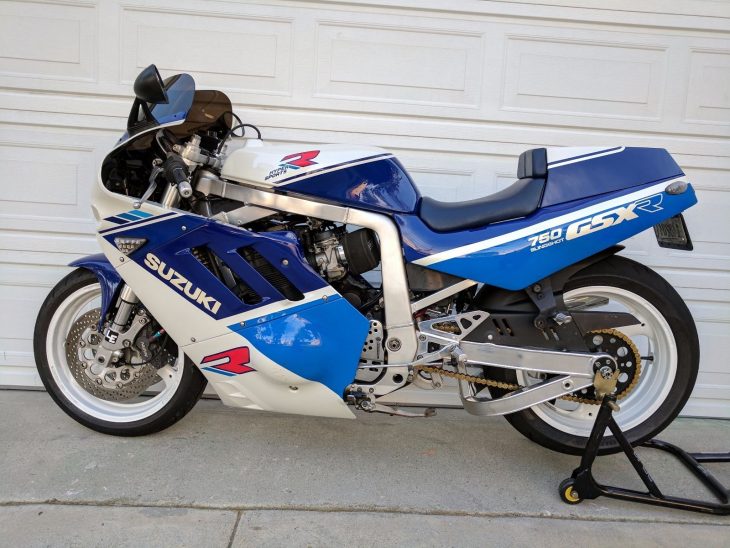 Looking at the slab-sided design, it's pretty easy to see where the Slabbie GSX-R got its nickname, but the Slingshot is named for the 38mm semi-flatslide Mikuni "Slingshot" carburetors that fed the 748cc inline four cylinder engine. Suzuki's original GSX-R was designed with simplicity and light weight in mind and, as a result, the bike was oil instead of water-cooled. But the significant cooling demands of a high-performance sportbike meant the Gixxer needed a sophisticated, high-capacity oil pump and associated cooling and filtration system known as Suzuki Advanced Cooling System or "SACS" to keep temperatures under control. SACS was used on the GSX-R750 and 1100 up until 1992 when Suzuki bowed to convention and switched to water cooling for subsequent generations of the bike.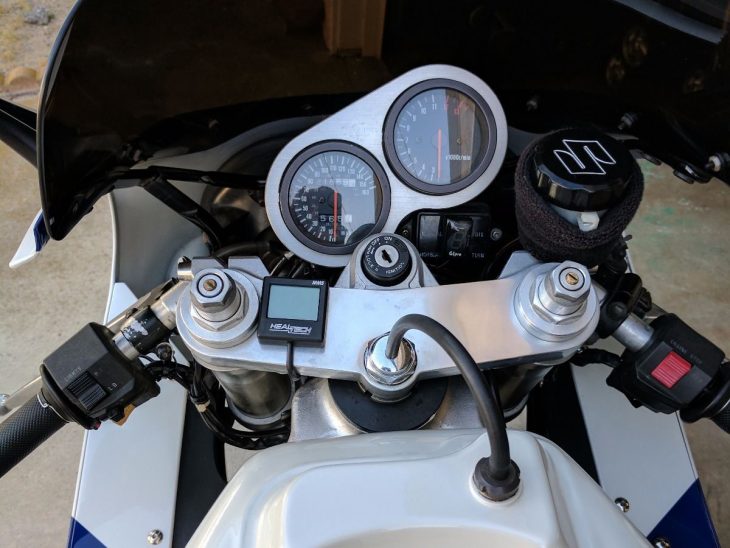 This particular example appears to be in excellent condition and has obviously been enthusiast-owned and lovingly maintained. It isn't just some well-maintained survivor though: it includes some very tasty modifications like that Metmachex swingarm, a very desirable bit and the suspension has been more than just "overhauled," as the original bike didn't have upside-down forks until 1991. The LED signals are probably not to everyone's taste, but they're reliable, improve visibility, and are, as the seller mentions, easily changed.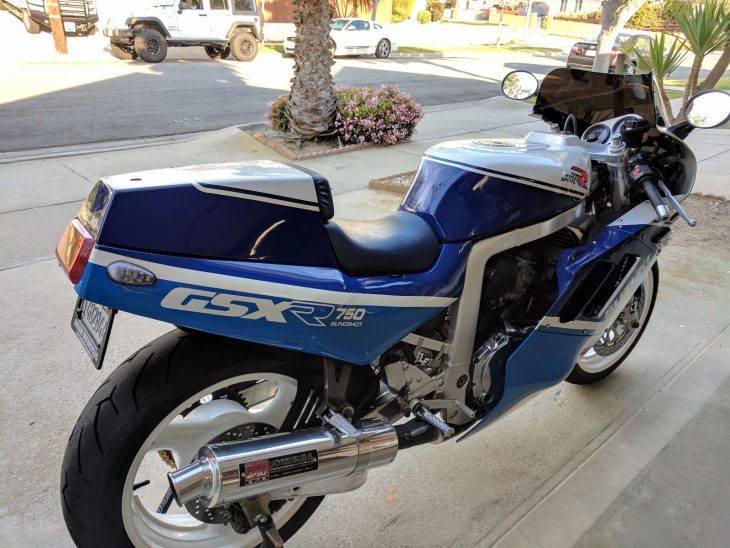 From the original eBay listing: 1988 Suzuki GSX-R750 for Sale
You are bidding on a 1988 Suzuki GSXR-750 first year, 2nd Gen. model GSXR-J aka Slingshot in Suzuki's traditional blue & white paint scheme that is very sought after. This is one of the lightest and fastest oil cooled GSXR of its time. This particular bike is mostly original condition with the exception of a few upgrades which I'll list later on in the description. Some of the OEM parts  I still have (I'll notate) and can be sold with the bike, if you are interested in going back to stock.

The exhaust is a Yoshimura pipe ceramic coated and aluminium canister. The Mikuni 36mm flat slide carburetors has a Stage 3 jet kit, these both were ideal performance mods for this motor. The blinkers have been replaced with modern LEDs but you can easily go back to stock since all the wiring and connectors are intact. Also, the windscreen was switched out to a tinted by the previous owner. The suspension has had a major upgraded since the stock GSX-R were notoriously known to have a low ground clearance with only a slim margin of error. Both the front and rear have been completely rebuilt by Lindemann Engineering. The rear swingarm is ultra-rare Metmachex (equal to JMC) braced and with eccentric adjusters. This is the style of the endurance racers used back in the late 80's since the stock was shown to have flex. I do have the original OEM swing arm available upon request. The original speedo and tach have been replaced due to the needles falling off. I replaced them with an 1100 model of that year since it's was close to the miles but I do have the original for the new owner and I am basing the miles on the original speedo/tach cluster.  
 
All of the body panels are original and in good condition, no cracks or brittle spots. There are some scratches from general wear and tear which I'll try and capture in the photos. The wheels are in great shape, paint is excellent and no sizable chips. Cosmetically, I would claim this motorcycle is an 8 out of 10.  Mechanically it is flawless, runs perfect, shifts smooth, pulls hard and easy to ride. All of the electrics work as they should; blinkers, horn, lights, speedo, tach, are properly functioning. The bike just had a full detailed service and tune up, all fluids were flushed, and mechanically everything was inspected and replaced if necessary. The Battery and tires are less than a year old.  

This GSX-R750 was well-taken care of and adult own, and I am the 3rd owner. It was never abused or down to my knowledge.  Please feel free to ask any questions, do not hesitate to contact me. If you need any additional pictures or have any additional questions,  feel free to message me or call me here 424-225-2028. Also, I'm including with the sale, are the OEM passenger seat, and tank bra. Service manual and receipts for all maintenance and upgrades.
There is plenty of time left on this auction, but bidding is already pretty active. This particular version of the GSX-R was only produced for a couple of years and doesn't seem to have been particularly well-regarded when it was new but, with all due respect to the original "Slabbie" I think it's far and away the best-looking GSX-R ever made and if I had space in my garage, I'd really want to find a nice one.
-tad