Toward the end of the air/oil-cooled era, Suzuki took one last stab at a higher torque engine, with lightness helping the pistons and rods survive the 13,000 rpm redline.  Set up for racing with a newly built engine and suspension updates, this GSX-R750 appears ready to take it to the track.
The "long stroke" 749cc still quite oversquare, the GSX-R750 had a wider torque band than than previous model and accessed 115 hp.  Four 38mm Mikuni carburettors handle fuel delivery.  Everywhere but America the legacy perimeter frame held 41mm upside-down forks, but these have been updated to those from a 1994 model.  Brakes are dual 310mm disks with 280 mm rear.  The race fairing is a pretty good silhouette of the factory bodywork, with no lights or pillion.
Presented by an Arizona parts manufacturer, this race bike looks newly commissioned and super clean.  The large Hagon decals are puzzling with the claimed RaceTech forks and Öhlins monoshock, but it wouldn't be the first time a sponsor appeared only on the outside.  From the eBay auction:
1990 Suzuki GSX-R750. Was built in 2016 for AHRMA next generation superbike racing. The motor was rebuilt with new rods, pistons, valve springs. Has 1994 forks, all Race Tech parts. Ohlins rear shock, Mikuni 38 flat side carbs, and much more.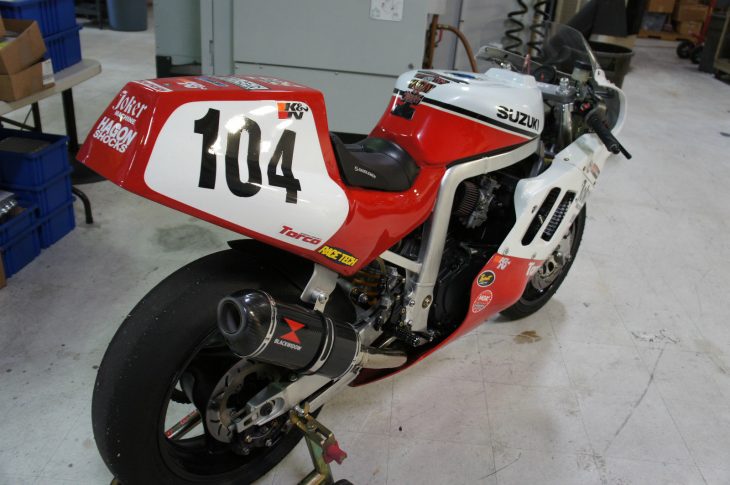 One of the first 750's into the 10-second 1/4-mile bracket, the 1990 machine was also a serious handler requiring an authoritative rider.  Historics can be some of the most fun race weekends ever, with the competition in a long perspective, and the focus on the hardware.  With the inherent simplicity of air/oil cooling, this GSX-R can show them how it was done.
-donn