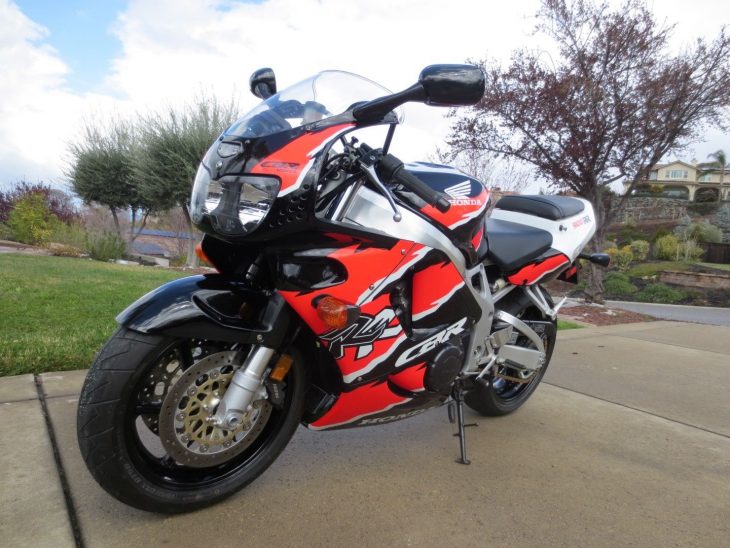 The Honda CBR900RR is a bucketlist bike for me. Everything about the machine speaks to me, from its status as a genre-definer to the styling and panache that come from being built when Honda was still an innovative powerhouse.
The '90s were still heady times for Big Red, as the marque spat out mind blowing racing machines and sold facsimilies thereof to the general public. When the CBR900RR came along, it didn't betray the family tradition, bringing 600 supersport size and literbike power.
This 1996 Honda CBR900RR wears the iconic Erion Racing livery, celebrating the team's success aboard race-kitted versions. It still has its original Bridgestone tires on, and the torque marks on the rear axle show the tires have never been off. If you want one of these for your collection, this is your machine.
From the eBay listing:
I'll tell you right up front, It's a pretty good bet that this is the most original, lowest mileage CBR900RR in the US. Others may say it, but this IS THE REAL DEAL. It's in unbelievable condition on top of being graced with the highly desirable Erion Racing scheme of US Honda's 90's racing dynasty. It was a dream bike for me after having a 1995 new back in '95, and just months later wishing I had waited a few months after they released the Erion scheme with the larger motor of the '96.

Completely original and never molested! This is as close to the condition it left the factory in December 1995 as you may ever find in your life time. While others may glaze over their mileage, aftermarket exhausts or modifications, there will none of that. No tricks like professional studio type photos or 100+ hours of complete disassembly and detailing to make up for what it cant offer.

Having only 2,905 miles helps cut through the smoke and mirrors of elaborate photographic and detailing exercises. Zero incidents, no tip-overs, just an honest bike in unbelievable condition. No excuses…you WILL NOT find a nicer original bike than the one I am offering to you today.

You can know this bike has only seen 2,905 miles since it's still on it's original Bridgestone BT56 Battleaxe tires Honda installed in Japan when it was built in December 1995. Note the tire picture showing the 1995 date codes (9501 = first week of 1995) as well as it still having unbroken axle torque proof marks from when they were installed at the factory. While the tires are not something you would want to hit the road on, they go to the bikes authenticity so you can feel 100% confident this is a true survivor and the mileage is legitimate. If plan to collect and to store / display her, you are golden.

Other rarely seen items you may note in the photos of this gorgeous bike outside its obvious condition which speak to originality:

It's factory exhaust
Full fender with matching VIN decal
All warning decals.

Essentially you are looking at a time capsule from the mid 90's heyday of sportbikes when the CBR was king of hill. It turns heads today like it did over 20 years ago. I have been asked more than once if it's new from those unfamiliar with the 900rr's.

I'm the third owner and have had it for several years. All owners were older. Now that several years have past, health and age have changed, so I have to be honest that my original plan to have it forever is not realistic for my situation. As hard as it is, I hope someone else will enjoy the opportunity to get that dream CBR they've always wanted.

Disclaimers:
Please ask questions, and If you are local, feel free to set up a time to see her in person. It shows beautifully in the photos, though its nicer in person due to using a standard older camera. I hesitate to say mint as its so over used, but its pretty darn close. The only flaw I am aware of is a pinhead chip in in the small red decal on the front fairing and small scratch in the white 'o' decal that is part of the 'Honda' name on the bottom fairing. It comes with an original correct OEM Honda red upper decal should someone wanted to change it (few minutes). I did not in order to present it as authentically, but I bought it years ago just in case they ever stopped being available. The tank pad is a Honda original accessory applied by the dealer in 1996 at the request of the original buyer.

The bike may be offered locally, I reserve the right to terminate the auction for local sale.

The reserve has been met at $5,400, so this bike will sell. If the bidding stays anywhere near that price, this CBR will be a cheap, high-pedigree addition to someone's collection.