Though Arturo Magni's company made road bikes as well, they were virtually all for homolagation of the racing machines with purpose built frames and fairings.  Rarely seen stateside, this Magni is still in race trim and spectacular.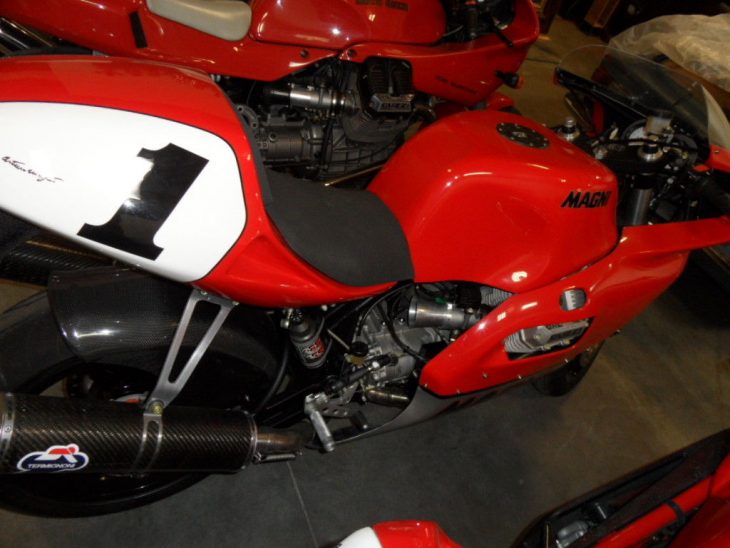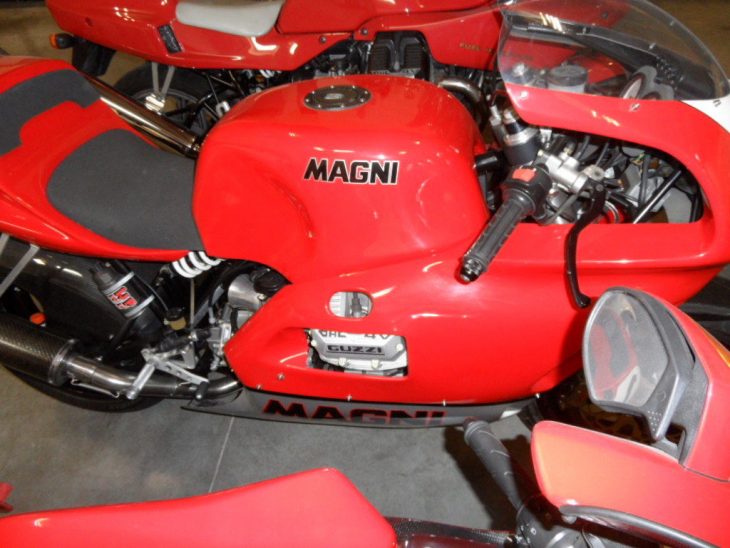 Magni started out at Gilera, and worked with Count Agusta at MV until the founder's death in 1976.  He and his sons then founded their own firm and began work with Honda and BMW-based sportbikes, but started the dynasty with Moto-Guzzi engines in 1984.  Developed with an eye toward the Battle of Twins racing around the world, the bikes did well down under, and led to the Australia sport bike.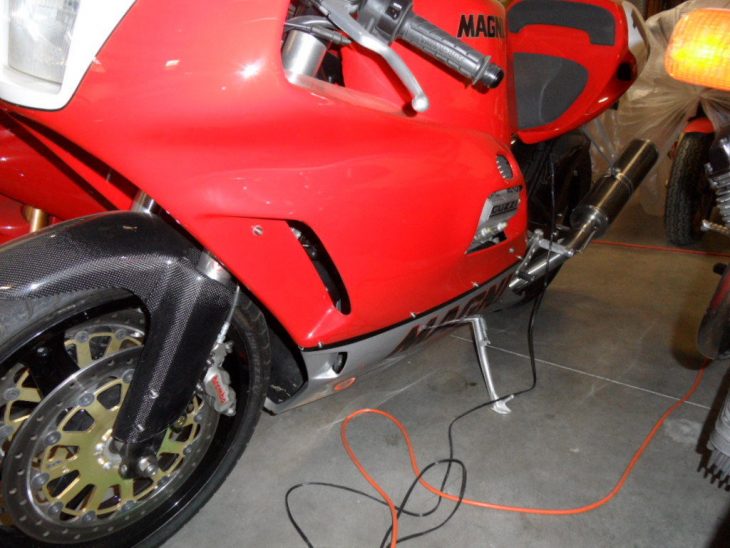 Using the 4-valve Moto Guzzi 992 cc engine, the Australia had 102 hp available in road trim, and the race bikes also used Weber-Marelli fuel injection.  Magni designed their own chro-moly frame, and had developed the Parallelogrammo shaft drive rear suspension.  Dampers were Forcelle-Italia inverted forks and WP monoshock, both fully adjustable.  Brembo 320mm disks are found up front with 4-piston calipers, and a 230mm rear brake.  17-inch wheels are under carbon-fiber mudguards, with full endurance fairing and monoposto seat.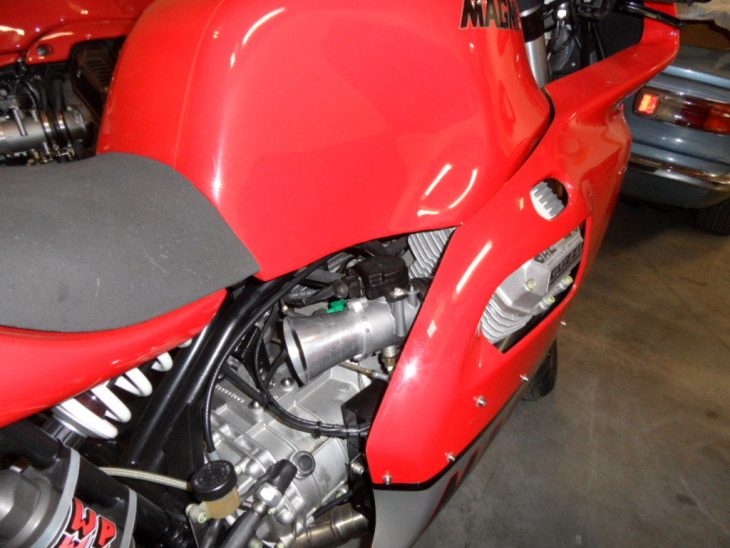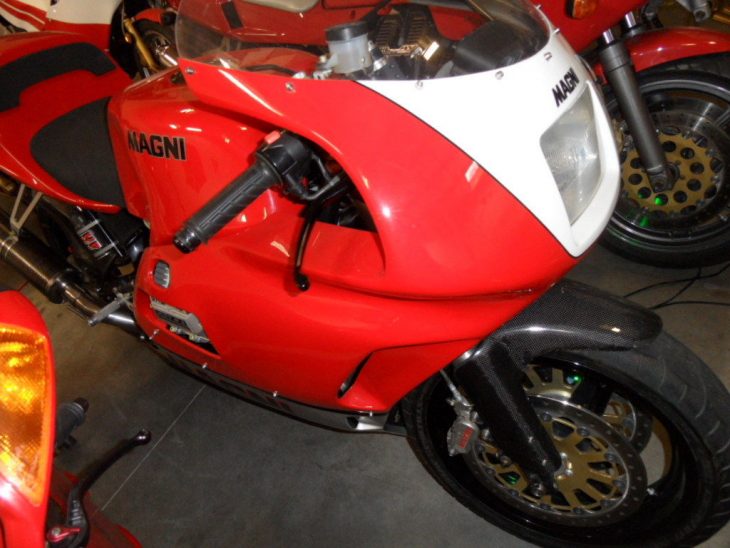 Presented by a SoCal specialty shop, this Magni has open intakes and Termignoni carbon mufflers, and appears to have escaped the eventualities of actual racing.  The binnacle shows just 3,000 miles, and the eBay auction states clear title –
1994 MAGNI GUZZI RACING BIKE AUSTRALIA MODEL, VERY VERY RARE  MINT CONDITION, 4838 KILOMETERS FROM NEW TERMIGNONI EXHAUST, CLEAN CALIFORNIA TITLE, THESE BIKES NEVER EVER COME UP FOR SALE BEYOND RARE AND EXCLUSIVE, DON'T MISS THIS OPPORTUNITY !!! BIKE NEEDS NOTHING READY TO RACE OR BLAST DOWN THE STREET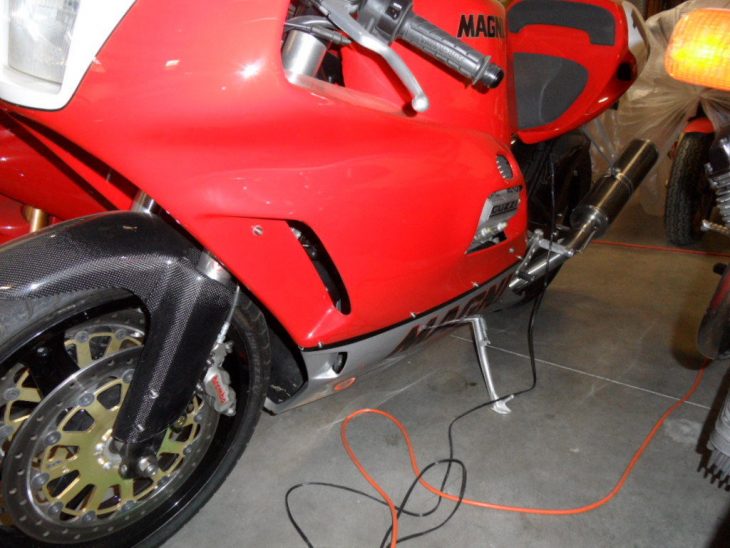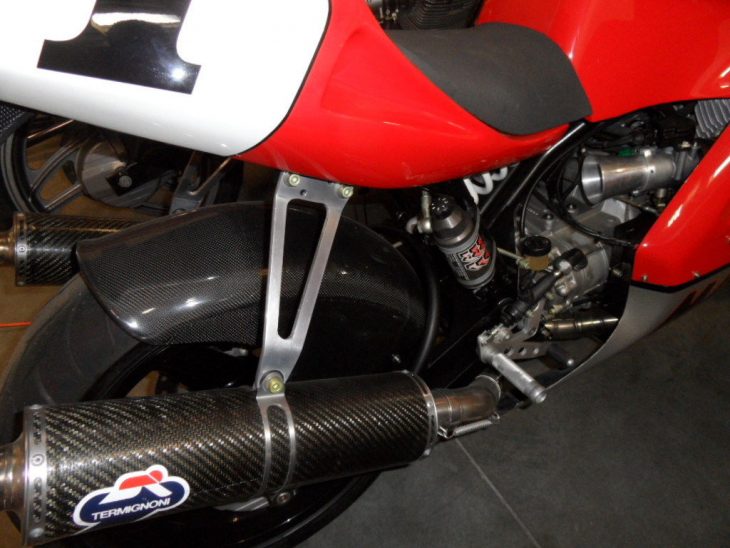 Though the rarity of this machine is off the charts, Magni's sons continue to design and fabricate Guzzi and MV-based bikes.  Bulletproof mechanicals and still-available special parts are a nice combination.  A new owner could take the Australia for track days or vintage races without undue worry.  Or set it up for DMV inspection and have a great Sunday…
-donn