Magnificent Magni:  1994 Magni Australia (Moto Guzzi)
A couple of weeks ago I'd never heard of Magni and now I have a second chance to spend more money that I don't have on one of their gems.  Up for auction is 1994 Magni Australia with an assist on power from Moto Guzzi.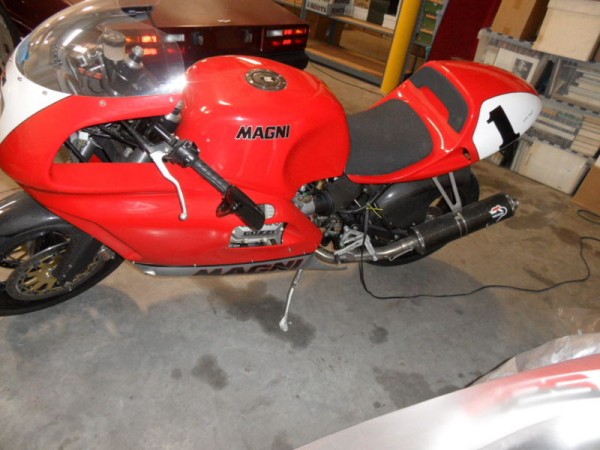 The MV Agusta like red and silver paint may not be a coincidence as Arturo Magni was an engineer for MV at the beginning of his career.  The Australia is actually a development out of a  bike Magni raced down under with great success.  Click here for the bikes specs (98 model) directly from Magni itself and keep clicking  as someone scanned an Australian test of the bike and posted it on a forum.  If you like what you see I also recommend doing a Google image search for "Magni Australia".  You will be rewarded with lots of pictures.
Just a little from the seller:
1994 MAGNI AUSTRALIA ,ULTRA RARE SUPER BIKE 4800 KILOMETERS FROM NEW ,MINT CONDTION ,NO ISSUES ,RUNS PERFECT ,ALL ORIGINAL ,4 VALVE MOTO GUZZI DAYTONA ENGINE ,FUEL INJECTION ,VERY FAST ,95 HP ,CLEAN CALIFORNIA TITLE ,WE AT BUYERS EXPENSE CAN SHIP WORLDWIDE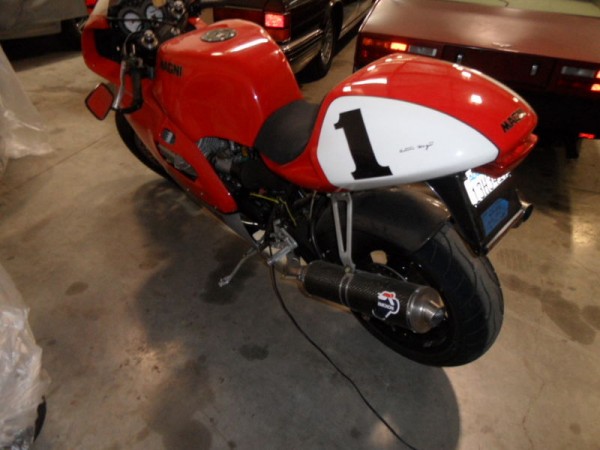 At first glance I thought the Termignoni exhaust was not original but I've seen plenty of pictures with them on other Australia's.  Magni's can be made to order and it sounds like you can mix and match parts so I'd expect slight differences in each bike.
Nice and simple and race like from the top.  Although this picture does not show it, the Australia has Magni's unique Parallelogrammo rear suspension.
I came up empty on any solid numbers for a price of a Magni Australia.  The guess of $20,000 to $25,000 was popular tough.  Can any RSBFS readers give some insight here?  As of this writing the bike had hit $12,000 and the reserve had yet to be met.
Here is a little treat for your eyes and ears from Japan
Ian