Warning!
This post is in our archives. Links in this post have been updated to point to similar bikes available to bid on eBay.

Update 3.20.2017: Back on eBay after first being on RSBFS in August 2014 for $11k. Current bid is just under $7k reserve not met. Links updated. -dc

I've always loved the look of the Aprilia RS 250, but I'm only a recent convert to the stink and rattle of two-strokes. Well, technically, I'm a hypothetical convert, since I've yet to actually ride one. For many riders, their very first experiences on two wheels involved quasi-legal antics on dirt bikes, but I'm the only gear-head in the family, and bikes were strictly verboten growing up. I'm also biased against them: after spending years in LA working late-night jobs, there's nothing I hate more than the tinny wail of a leaf blower at 8am so I sure didn't want my motorcycles to sound related to those hateful things.
But while I still don't think they make a very pretty noise, the light weight and tinny, chainsaw shriek of bikes like the RGV and Gamma have become increasingly intriguing for me. There's something strange and exotic about them, and I'm pretty sure the RS250 would be a great place to start.
Aprilia's little road and track bike used a modified version of Suzuki's RGV250 motor boosted to 60hp and featured classy, generally subdued race-replica paint schemes that have aged very well. Although those 60 ponies come on in a typical two-stroke rush that keeps you dancing on the shift lever, the bike's very light weight and amazing handling make that a joy, rather than a chore.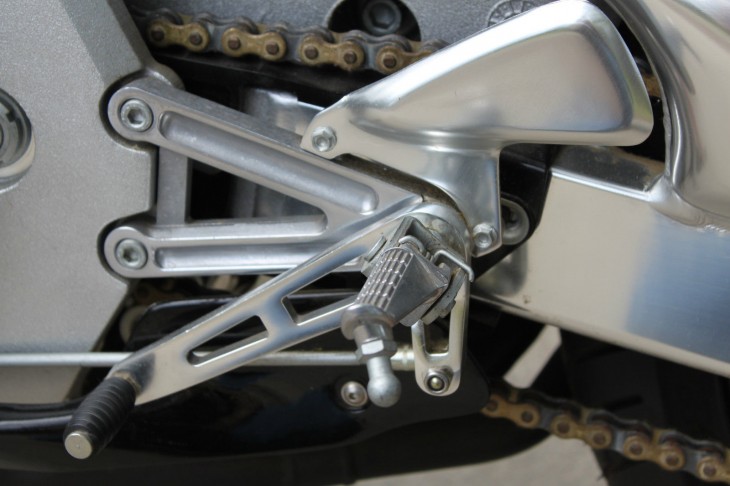 From the original eBay listing: 2004 Aprilia RS250 Challenge for Sale
Brand new, zero miles, mint condition from the factory. I bought the bike for my collection. It has been properly stored and the engine has been fogged once a year with CRC Marine engine fog. It should be noted that this bike is not street legal. It has no turn signals, brake lights, or headlight. THIS IS A RACEBIKE THROUGH AND THROUGH. It would make a great addition for a serious collector, or perfect for your local track day. This bike may be the last of the great two stroke RS250s with zero miles. The bike comes with the very detailed factory manual and the factory spring tuning kit.
This bike presents a bit of a problem. The RS250 Challenge is a tool for going fast, a full-on track-rat race bike. So what do you do with this one? Seems a shame to abuse it on the track, but what else to do with such a focused motorcycle? Display it? They're great-looking machines, but they're meant to be ridden, and with no title, making it street-legal is not an option without some serious DMV shenanigans. And then there's that whole "zero miles" thing again…
For collectors, it won't get any better than this: a hermetically-sealed time capsule limited-edition bike that actually runs. For riders? Well, we'll probably go sniffing around elsewhere for a bike we won't feel guilty about thrashing.
-tad