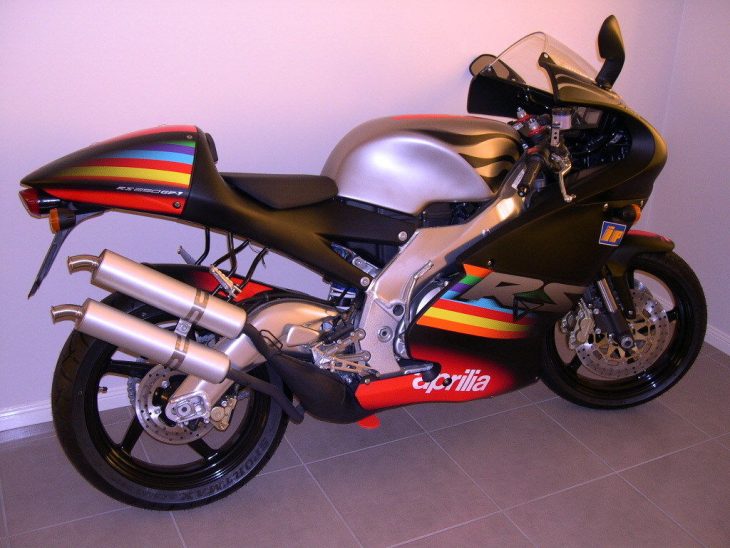 Update 7.3.2018: Last seen in November of 2016, this 0 mile 2004 Aprilia RS250 is available for sale again on eBay with a buy-it-now of $14k. The previous auction ended and as commentors on this post noted it was for sale elsewhere for $15k at that time. Good luck to buyers and seller in 2018! Links are updated.
Have a great 4th of July everyone!
-dc
What is there to say about the Aprilia RS250 that hasn't already been said? After other manufacturers had ceased building their quarter-liter race-replicas, Aprilia persisted, and this particular bike is one of the very last examples available: the model was discontinued in 2004, the year this bike was built.

Powered by a revised version of Suzuki's RGV250 engine, the RS250's version of the little water-cooled, two-stroke v-twin produced power on par with the rest of the class, with an added dose of Italian style: the aluminum beam frame looks similar to the Japanese offerings on paper, but is far more sculptural and it's a shame it's partly hidden behind the fairing.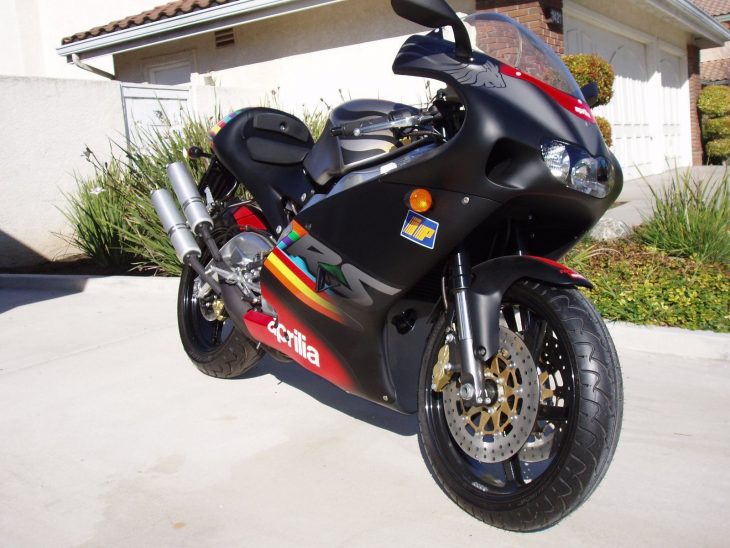 The "GP-1" on the rainbow-hued tailsection and in the listing actually refers to the second-generation RS250 introduced in 1998: it's not a limited collectors-edition as far as I know. This particular example may not be road-legal here in the USA, but it's basically a time-capsule machine that's ready for display in your collection.
From the original eBay listing: 2004 Aprilia RS250 GP-1 for Sale
Once in a lifetime opportunity to buy a brand new, old stock Aprilia RS250 GP-1 0 miles. You now have the chance to move even closer to the former world of two-stroke MotoGP with this last release of he 2004 Aprilia GP-1, the final version of the famous RS 250 GP replica motorcycle. This bike is sporting official Colin Edwards and Nori Haga team decals, the colors and graphics add to the bike that represents GP racing at its finest.

The unique look of the 2004 RS250 is dominated by its wrap-around fairing, designed and tested in a wind tunnel. The front mudguard blends perfectly with the fairing, and enhances the Aprilia RS 250's streamlined looks, the characteristic aerodynamic tail completes the Aprilia RS 250's racing image.

The bike was only sold in Europe and Australia.   I am the original owner and it has been on display within my home for several years.   The bike has completed it's new vehicle dealer delivery and prep so the bike has been started prior to my purchase and has 0 miles.  The tires are original as is every part on this bike.   It is untitled for the street as it was intended solely for my collection. The CLEAR title stated above applies to Australia only along with Australian Import Approval plate. I do not know about your state's requirements.  I have huge amounts of dealer promotional material for the bike.

In addition, this bike was judged the best European Two-Stroke bike at Motocarrera's famous Two Stroke Extravaganza held in 2005 in Los Angeles, California. This event was the largest gathering of two-stroke vehicles in America when it was held.  The bike was also displayed at the famous Quail Lodge Motorcycle Gathering Carmel, California in May 2016.
This bike is clearly a museum piece: with zero miles, you'd destroy some of the collector value riding it. It'd be highly unlikely you could register this for the street in most places anyway, and if you're looking for a track or race RS250, you'd be better off finding one with some miles and cosmetic wear on it. Bidding is active, and up to $7,100 with four days left on the auction and the reserve unsurprisingly not met.
-tad