Warning!
This post is in our archives. Links in this post have been updated to point to similar bikes available to bid on eBay.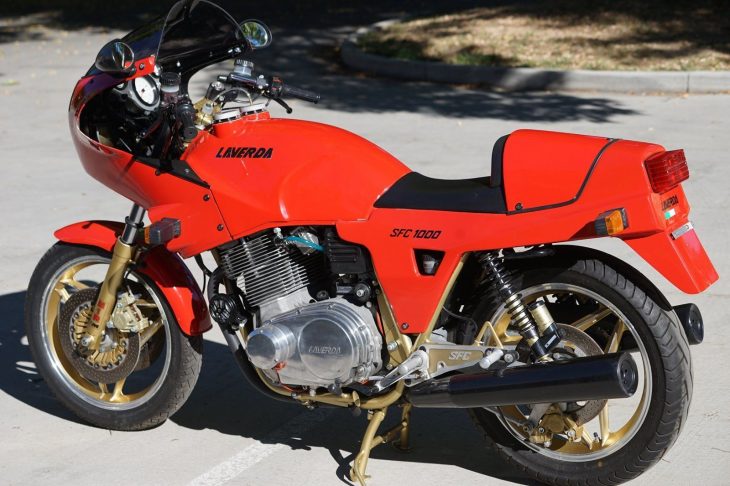 Considering I can comb eBay for months on end and not see a single Laverda for sale, it's crazy that we've seen not just one but three worthy examples representing a couple different eras recently. From the 1990s Formula that might be more familiar to our readers, to the more vintage 1984 Jota and today's Laverda SFC1000, fans of the Breganze Bruisers have been spoiled for choice of late. The RGS1000 SFC was a bit of a last gasp for the original Laverdas before their death and subsequent resurrection during the Zane-era, a technological dinosaur that had been continually updated since the early 1970s to keep up with the ever increasing pace of sportbike development. Laverda knew they were falling behind the curve, as were all of the European brands, and they recast themselves as purveyors of elegant sportbike alternatives for distinguished gentlemen to help justify high prices, outdated technology, and "classic" styling. And even though the RGS wasn't a sportbike in the high-revving, light-weight idiom, it was still a blood-and-thunder brute with high-quality suspension, stability, and very real road-going performance.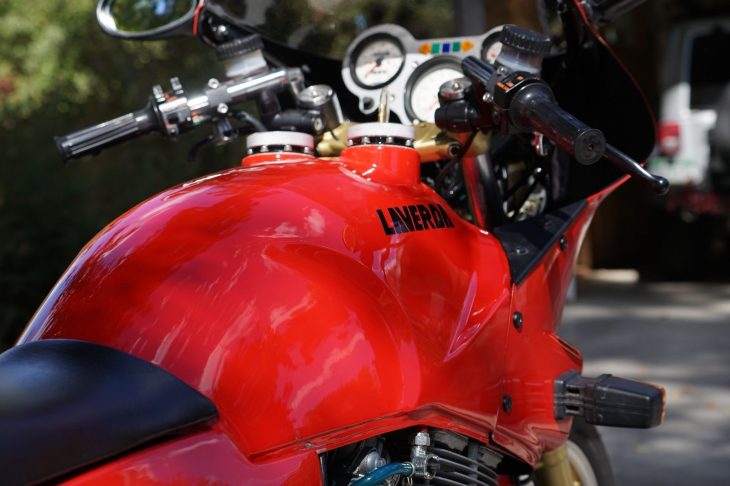 Certainly, the "SFC" name of this very exclusive RGS variant was a bit of a cheat: produced in very limited quantities, the original SFC was based around Laverda's parallel-twin and was a barely-disguised racebike with lights stuck onto it to make it "street-legal" in the loosest sense of the phrase. Obviously, laws regarding that kind of thing were much simpler back then… SFC was an acronym for "Super Freni Competizione" which translates to "super braking competition"  and referred to the huge aluminum drum brake found on the original bikes. Later machines used a pair of discs as seen here, which provided less sexy but more reliable stopping power.
The engine was Laverda's long-serving and very charismatic three-cylinder 981cc engine, here with a 120° crankshaft that made for smoother running, along with high-performance cams and other assorted go-fast bits to raise the power from 85 to 95hp. Early examples of the Jota, Laverda's original, hairy-chested three-cylinder sportbike, used a 180° crankshaft that basically ran like a four-cylinder with a miss. It was good for power, but vibrated excessively and was eventually replaced with a smoother-running 120° crank. Even though the revised crank is considered a bit of an abomination by some Laverda purists, condemned of the sin of being "too civilized," if you've ever heard one of the 120° bikes, "civilized" isn't the first thing that springs to mind… It's raw and very Italian, and sounds like a Stradivarius violin crossed with a chainsaw being used to cut down a tree made of silk, dark chocolate, and truffles, or some other equally ludicrous simile. Basically, if you're expecting the soft whir and refined yowl of a modern Triumph triple, you'll be sexually aroused, pleasantly surprised, or horrified, depending on your feelings about earplugs.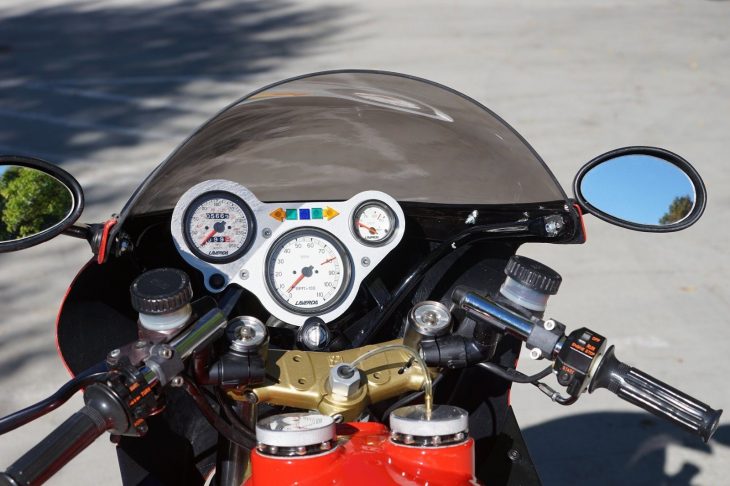 So even though this was intended as a high-performance motorcycle, it was a bit behind the times when it was new. But if calling this an "SFC" is technically a bit of a stretch and merely a calculated dip into past glories to paint a moribund package a brighter shade of orange, this is still a very special motorcycle, as can be seen from the description below.
From the original eBay listing: 1985 Laverda RGS1000 SFC for Sale
This unique SFC 1000 – one of a tiny number made – is in great original shape. It is a perfect runner receiving all it needs in the past four years to operate as new. The serial number shown is correct…0001.  Here's the story behind it:

This bike was built for Alexander Claren, a Cologne architect who designed Ewe Witt's dealership (the German importer of Laverdas).  Claren saw the prototype bike at the Cologne motorcycle show and had to have one. He persuaded Witt to order one – requesting number 0001 – from the factory for immediate delivery and thus it was built ahead of the production line. The first production bike was number 1001, following Laverda's usual numbering protocol. There are a series of letters from Piero Laverda in the file that accompanies the bike confirming the numbering.

SFC 1000 production ran alongside the RGS, RGS Corsa and various RGAs from 1985 through 1989 but few were made. SFC 1000 specifications changed only in detail as tiny batches of bikes were constructed. The most important visual differences were the color – red or black – and the wheels – three-spoke Oscam cast wheels or Akront wire spoke rims. The engine in all SFC's starting with this bike was to Corsa specification – that is 95bhp at 8000rpm – 5-speed, Marzocchi forks and rear shocks, Brembo Gold Line brakes, and either Smiths or Veglia instruments. All top quality components.

Two additional sets of factory exhausts and silencers come with the bike.  These are: a set of three into two in chrome (some SFC's had black, some had chrome) and a rare set of three into one.  The ignition currently on the bike is a modern Sachse electronic with selectable advance curves, but the factory original unit also comes with the bike. Note:  mileage shown is in km.

These bikes are rare. Don't miss an opportunity to own this one.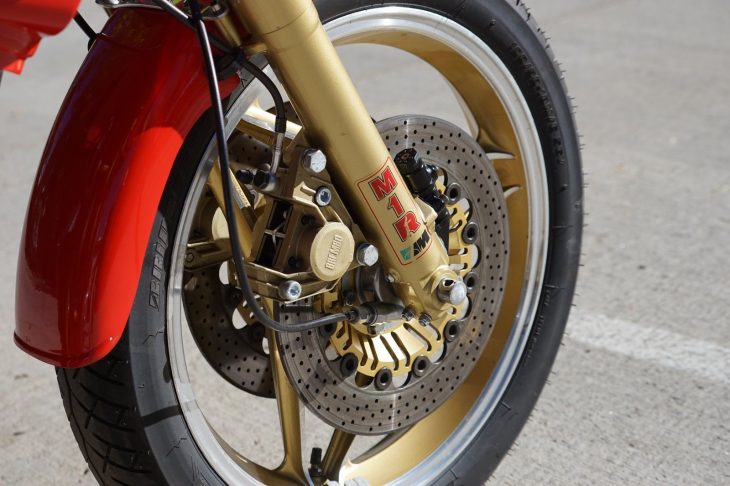 They were making these things, or titling them anyway, as late as 1988 by which point this machine would have been horribly outclassed by the latest generation of four-cylinder sportbikes from Japan. But while that might have mattered when the bike was new, it's pretty irrelevant now: it has classic looks you'd never confuse with a GSX-R or ZX or FZR or even FJ that would have mopped the floor with the RGS. And the bike's lardy 500lb dry weight was motivated by a stout 95hp so it's not exactly slow, even now.
So what's it worth? Well not much, unless you're an aficionado, so the $14,500 starting bid might seem outrageous if this is your first time clapping eyes on an SFC1000. But if you're a Laverda fan, that seems like a very reasonable place to start, considering what other rare Laverdas like the original Jota and even the standard RGS are going for these days.
-tad