This bike has SOLD! Congratulations to buyer and seller! -dc
In case you thought race replicas were a recent innovation, Laverda set the world on it's ear some 50 years ago, with its 750 Super Freni Competizione, first in endurance racing, and then on the road.  Presented by a Seattle area restorer, this 750 SFC has been restored to museum quality and is ready for its next display.
1974 Laverda 750 SFC for sale
A development of Laverda's 650cc parallel twin ( itself a template of Honda's 305 ), the 750 SFC immediately did well in competition, and was made in rather small lots from 1971-75.  For 1974, the factory blue-printed engine with two 36mm Dell'Orto carbs and 9.9-to-1 compression made a reliable 75 hp with Bosch electronic ignition.  The classic nickel plated chassis held the engine from above as a stressed member, stabilizing the 38mm forks with their Super Freni ( Super Brakes ) 280mm disks.  Orange was adopted as Laverda's competition color at some point in the early 1970's, and the small seat and long range tank on the SFC appear to have been the inspiration more than one generation of café racers.
Evidently a previous owner started the restoration using all factory Laverda parts, and Duncan has these notes about the SFC and this example in particular :
A Production Racer For Sale

Laverda 750 SFs achieved notable endurance racing success in 1970, including a win of the 500km of Monza, a 1-2-3 podium sweep at the 24 Hours of Oss in Holland, and a third and sixth in the Bol d'Or in France. These bikes improved incrementally, but so did the competition. By the end of the year, Massimo asked Luciano Zen to think about a production racer version of the Laverda 750 SF.

In May 1971, the Laverda 750 SFC, for (Super Freni Competizion) was launched. Compared to the 750 SF, the engine was extensively modified. The reworked cylinder head had bigger valves and a new cam profile (designated 2/C), rockers were polished and 36mm Amal concentric carbs replaced the 30mm Dell'Ortos. A close-ratio five-speed was fitted, and the crankshaft and rods were carefully balanced and polished. Power output was rated at 70hp, and each engine was dyno tested to ensure output. The frame was strengthened with gussets and the front brake was either standard Laverda item or an optional Ceriani four-leading-shoe unit. The bikes ran on Dunlop K81 TT100 tires.

Bodywork was also new, with a 23-liter (6.1 gallon) handmade aluminum gas tank, a single seat with fiberglass tail section and a half fairing, all painted in the now-famous bright orange, a color selected to make the bikes easy to spot on the track, especially at night. It was also chosen to please the Dutch importer, Jan Raymakers, orange being the national color of the Netherlands.

Laverda 750 SFC models were produced in small batches between 1971 and 1975. The first batch, built in May 1971, numbered about 20 bikes, all intended for factory competition. SFCs were hand built by a small team and with little regard to cost. They were built to meet exceptional standards of performance, and in particular were intended to excel in endurance races, where bulk and a relative lack of nimbleness would not be so much of a handicap and where their great strength and robustness would give them a competitive advantage.

In their first official race in 1971, the Six Hours of Zeltweg, SFCs finished first and second. That year, SFCs also placed first, third and fourth in the 24 Hours of Montjuic in Barcelona, first and third in the 24 Hours of Oss, and first in Vallelunga (Italy). They also placed second at the Bol d'Or in Le Mans, first and second at Imola, and finished first and second in the 500km of Modena. Not bad for the first year.

In November 1971, 80 more SFCs were produced, and some were sold to the public. The aluminum gas tank was now fiberglass (the alloy ones had a tendency to crack), and the bikes had revised gearbox ratios and exhaust systems. They also had a new Laverda drum brake, with the more effective Ceriani a popular option. Another batch of SFCs were produced in early 1972, with slight changes to the shape of the fairing and seat and a new exhaust with a crossover pipe.

By this time, the Japanese had made significant progress in the development of their machines, and while there were SFC victories in 1972, they did not match the stellar performance of 1971. Only three 750 SFCs were made in 1973, and these served as test beds for radical changes like magnesium crankcases, new cylinder head designs and even lighter crankshafts. The results were not impressive, the bikes becoming more fragile and difficult to ride.

1974 would see the largest single-year run of SFCs. For the first time, the Laverda 750 SFC was considered part of the normal product range offered to the public and was no longer reserved solely for racing. The SFC was promoted as a "Production Racer," similar to Ducati's 750SS or Norton's Commando-based production racers, and the changes were numerous. The bodywork was improved, and the zinc-plated frame was lowered and modified with revised steering geometry, larger front forks, and triple 280mm Brembo disc brakes. A new, strengthened close-ratio gearbox was fitted and the engine was enhanced by a lightened crankshaft, slim, polished connecting rods, a new camshaft (5/C), a higher capacity oil pump, new 36mm Dell'Orto carbs (without accelerator pumps), modified valves and valve springs, a new exhaust system and higher, 9.9:1 compression ratio. Power was now rated at 75hp at 7,500rpm.

A total of 222 SFCs were built in 1974, with slightly less than half of them going to the U.S. To comply with federal regulations, U.S. models had turn signals, bigger taillights, side reflectors, adjustable handlebars and Nippon-Denso speedometers and tachometers. Even though the bike was being sold to privateers in 1974, factory-prepared racers were performing well in the national production class races.

During the 5 year production run, a total of 549 were made. The SFC being offered is one of only 100 SFCs made for the North American market in 1974. According to well-known SFC expert Marnix van der Schalk (in correspondence with the previous owner), the factory records state it was shipped to the USA on July 8, 1974.

The last version of the SFC was the 1975 Laverda SFC Elettronica, its name reflecting its Bosch electronic ignition. It had a new cylinder head, revised valve angles, re-shaped combustion chambers and a new, optional high-lift cam with 10.5:1 compression ratio. A contemporary magazine test produced a 12.5 second quarter mile at 180kph (top speed over 220kph). A final batch of 33 SFC Elettronicas featuring five-spoke cast-alloy wheels were built in 1976.

The following is a list of much of the work commissioned by the previous owner and performed by Ron Small in 2002-2003, with the invoices totaling nearly $6,000.  Previous owner noted that all replacement parts used on the bike were authentic Laverda SFC parts purchased from Wolfgang Haerter at Columbia Car and Cycle in British Columbia, Canada (receipts totaling $1,000).

Motor:

Re-sleeved cylinders

bore and size cylinders

valve job

new valve springs

new valve guides

new cam chain

new cam tensioner

new guide wheel

new rings

blast and clean heads

Cam and timing set correct.

 

Other items:

new gas tank

sealed new tank 

paint new tank

new fork seals

new swing arm bushings

paint swing arm

rebuild brake master cylinders

new clutch cable

new throttle cables

new tires

new brakes

Subsequent to the work being completed at Maximum Effort, the previous owner only rode the bike 900 miles. The current owner has ridden it less than 100 miles. It has spent the past 13 years on display in a climate-controlled garage. 

There is no knowing if the 6753 miles showing on the odometer is the actual mileage, but the condition of the bike, combined with the minimal miles ridden by the current and previous owner in the past 20 years would lend credibility to that number. 

There is a small amount of surface rust on center stand.

Recently recommissioned for the road, it has a new battery, new fluids, top end adjust and inspection. Carburation adjustments and tune. Bike has had complete nut and bolt, safety inspection and test ridden. 

Tires are 15-20 years old.  They are not dry rotted, but if the bike is going to be ridden, changing them would be a good idea. 

For at least the past 20 years, this SFC has been adult owned, never down, always maintained by marquee knowledgeable technicians. Makes big noise and runs flawlessly.

Being offered at $49,950 $42,500 in US Funds. Will assist on Worldwide Shipping.
Duncan asks $49,950 $42,500 and reminds readers – This bike is absolutely correct, adult owned, never down, never abused, maintained by the best techs, riders in the business. Makes big noise and runs flawlessly.  He can be reached via email – here –.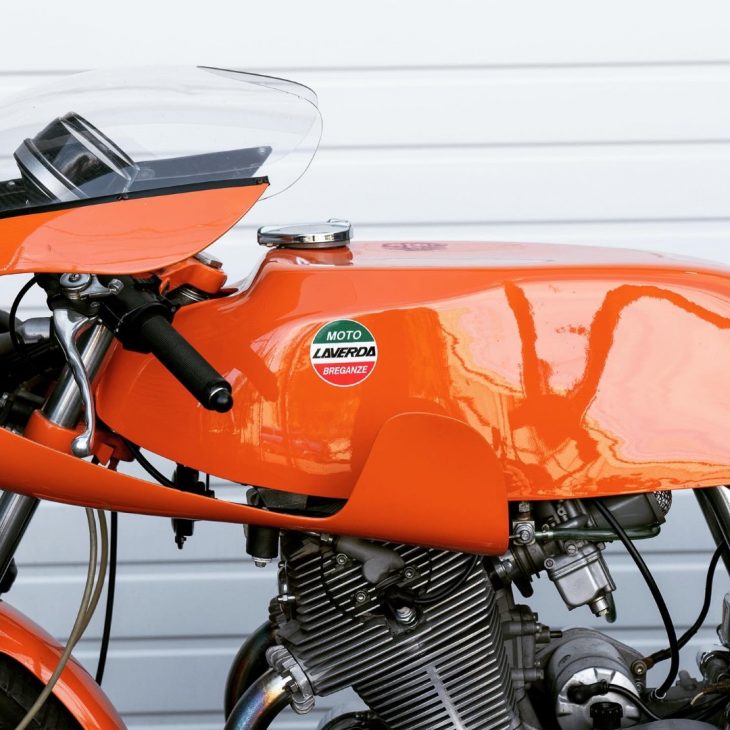 Early in the 1970's the orange bikes sometimes captured multiple podium spots at championship events like Bol d'Or and Suzuka 8 Hours, but increasing competition from the east made it more of an occasion as the decade wore on.  Mostly made a handful at a time, production peaked at 222 in 1974, and total production is said to be 549.  As happens to race bikes, few survive to be restored, and just 100 of the federalized SFC's were said to be imported in 1974.  But the SFC put Laverda in the exclusive company of a leading motorcycle manufacturer. 
-donn