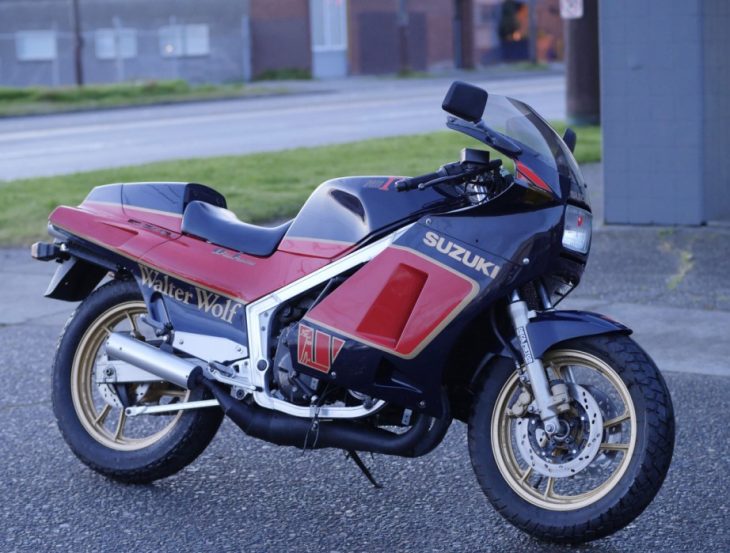 With prices of Suzuki's RG500Γ "Gamma" through the roof right now, fans of 80s two-stroke exotica have had to look elsewhere for their smoky thrills, and today's Featured Listing RG400Γ might be just the ticket for collectors seeking two-stroke performance on a less extravagant budget. Certainly, values of the Japanese-market RG400Γ have been below those of the bigger bike, in spite of it being less common, owing to a significant power deficit: claimed weight is nearly identical at 340lbs dry, but claimed power is down significantly from 93hp to 59. That'd still make for a pretty fun package in a road bike, and you're still looking at better straight-line performance than the 250cc machines of the same period.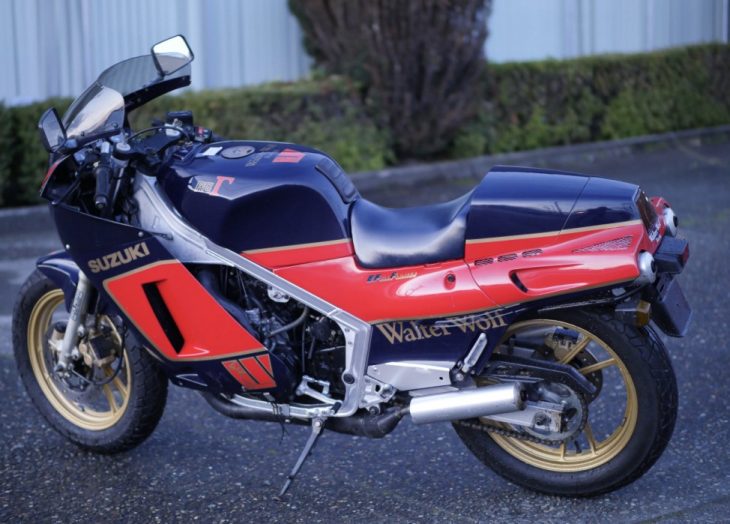 The Gamma was introduced in 1985 and lasted until 1987, although none of the bigger two-stroke machines lasted very long on the market. Suzuki's race-replica two-stroke was powered by an unusual liquid-cooled, square four engine that was configured like a siamesed pair of parallel twins, with two crankshafts and the "rear twin" slightly higher than the front for a sort of stepped design. The firing order helped to cancel out vibrations and the Gamma was designed without a heavy, power-consuming balance shaft as a result. The smaller RG400 was intended specifically for the Japanese market and was powered by a version of the engine that used the same 50.6mm stroke, but a smaller bore of 50mm versus 56mm to arrive at the reduced 397cc displacement.
Two-stroke engines are simple and very light weight, making them perfect for off-road and commuter machines. But that same incredible simplicity and a relatively high power-to-weight ratio also make them ideal for road-racing motorcycles and, once Walter Kaaden's two-stroke tuning secrets were "acquired" by Suzuki, they dominated Grand Prix motorcycle racing into the modern era. Riders familiar with performance two-stroke motorcycles love their incredible agility and savage power delivery, characteristics that defined the Gamma when it was new. As has been pointed out ad nauseam in the comments sections, even the RG500 isn't really all that fast by today's standards, although it's still a challenging ride: handling was superior for a 1980s motorcycle, but suspension has come a long way since then and the 59hp of the RG400 is being channeled through a 120-section rear tire that you'd be more likely to find on the front of a sportbike these days… But fans of the Gamma love the rawness, the purity of the bike. Or are just high on sweet, sweet two-stroke exhaust fumes.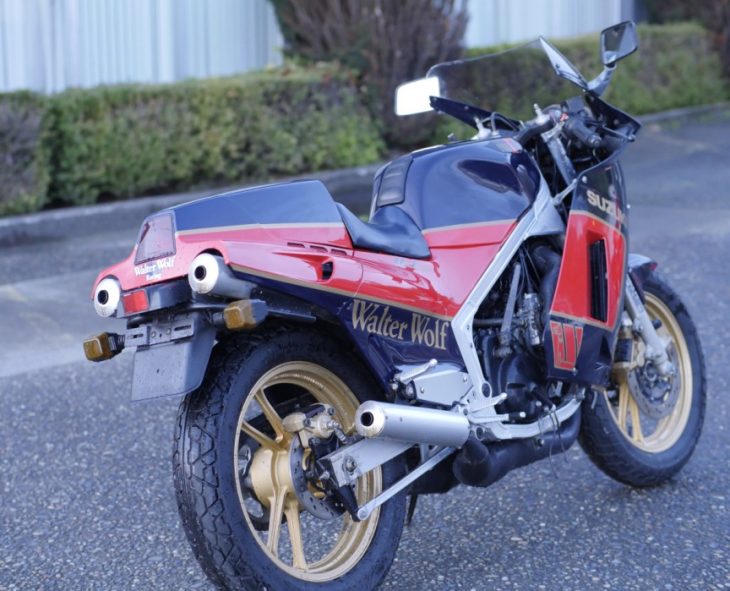 This particular example features Walter Wolf graphics, which could be a plus or a minus, depending on your tastes. Suzuki fans might prefer the iconic blue-and-white colors, but I think Gammas are a little bit bulbous in the traditional Suzuki colors, and the Walter Wolf graphics slim the bike down nicely.
From the original eBay listing: 1985 Suzuki RG400Γ for Sale
This early RG400 Walter Wolf is in good original condition with ~19,500km  / 12,100 miles. Recently purchased out of Japanese collection with 1987 Ducati 750 F1 Laguna Seca also listed on eBay. The mid to late 1980's was a great time to be a motorcyclist. Technology was evolving rapidly with the Japanese and European manufactures innovating at a tremendous pace. There were a myriad of engine layouts, number of cylinders, 2-stroke and 4-stroke vying for top honors and in the case of the NR500 – oval pistons! Technology proven on the race-track inevitably made it's way to the showroom to the great benefit of the riding public.  For a couple years in the later 1/2 of the 1980's enthusiasts in the rest of the world could go to their local dealer and buy an honest-to-goodness 2-stroke 4-cylinder F1 race-replica! The RG400/500 Gamma – along with the Yamaha RZ500 and Honda NS400 – brought the sound, the smell, and the looks of the GP circuit within reach of the knowledgeable motorcycle enthusiast.

The RG's square-4, twin-crank, rotary disk-valve RG400 is durable and reliable and easy to service and and readily modified for more power.

I've owned about a dozen RG500 as well as RZ500 in the early 1990's and this really takes me back. This one is a great 'rider' that draws a crowd and thumbs-up. It starts right up, idles well with and runs like 'back in the day' (a little smokey). Still has original oil-injection, airbox, and the original paint and bodywork. The aluminum frame is clean and bright with no sign of damage. Chassis and brakes are original and work like they should. Riding down the road, it's well-composed. A couple points worth noting 1) no belly-pan; 2) crack in upper fairing near windscreen at right rear-view mirror; 3) a couple touch-up on seat-section plastic; 4) turn-signal button missing (signals still work).

Ride it as it is, restore, or modify to suit your preference – whichever way you go, it'll bring a smile on your face and make a fabulous addition to your collection.
Currently on it's importation paperwork – Japanese de-registration certificate / English translation of certificate / NHTSA HS7 / EPA 3520-1 / CBP 7501 (stamped). Washington State title is available for $400 documentation fee approx. 5-week wait. WA state buyers responsible for Tax & License.

Happy to work with your shipper. In the past year I have shipped to/from Japan / Germany / England / Australia / Chicago / Georgia  / Arizona / California / Oregon / etc.i. I have been happy with Haul Bikes and would expect shipping to be in the $500 range to California and maybe $600-700 to the East Coast.
This looks like a pretty nice bike, considering the $9,250 asking price. There are a couple of cosmetic issues clearly disclosed by the seller and, although you might have to go with some aftermarket bodywork to replace that bellypan if you're on a budget, the bike is obviously usable without it. As always, it's important to do your homework if you plan to use this on the road: it sounds like the seller has all the paperwork needed to register this RG400, but whether or not that's even possible will vary, depending on your home state. Hm. I wonder what a Washington State PO Box runs per year…
-tad