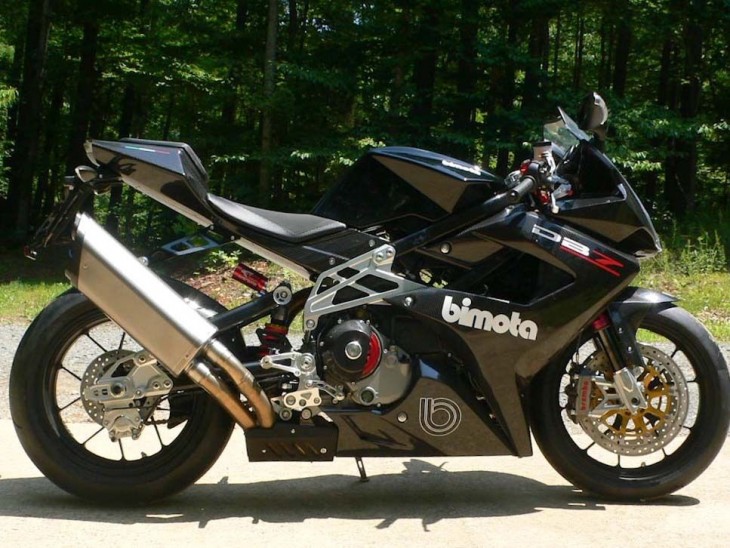 Introduced in 2008, the Bimota DB7 is yet another collaboration with Ducati and has been one of their most successful bikes in terms, not only of sales numbers, but in terms of function. While they've always offered on-paper advantages over the bikes from which they borrow their engines, many Bimotas, right out of the box, have actually needed quite a bit of fine-tuning before they're ready to run with the brand-new top-shelf sportbikes. The DB7 actually offers up superior handling and comfort, compared to the 1098 with which it shares its running gear, although that's not necessarily saying much, since it'd be difficult to create a bike less comfortable than a 1098…
Beneath the fairings seemingly designed by someone who really, really likes rulers and t-squares hides an exotic hybrid frame that combines an oval-tube trellis front section with billet aluminum side plates and a self-supporting carbon tail to provide a rigid foundation for high-spec suspension components.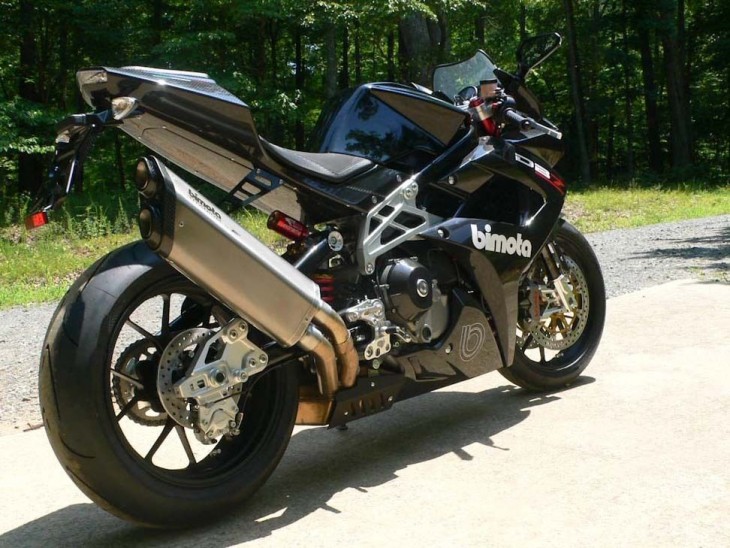 Power comes from Ducati's 160hp "Testastretta" L-twin, an almost ideal sporting motorcycle powerplant that offers up arm-stretching torque, high-revving power, and a strong dose of character completely in keeping with Bimota's exotic design brief.
From the original eBay listing: 2008 Bimota DB7 Nera for Sale
This is one of the last Bimotas imported into the USA – a special version of the DB7 – the Nera (Black).  It has full clear-coated carbon fiber bodywork on a black and aluminum frame. This motorcycle is practically new – 520 miles and never titled – still on the MSO (Manufacturer's Statement of Origin). The motorcycle is stock except for the silencer removal and the addition of MotoGP-exit style exhaust tips and a rear fender eliminator (see last photo).  It comes with a full manufacturer's warranty.

The DB7 is one of the best motorcycles that Bimota ever built – featuring the Ducati 1098 engine.  When Cycle World compared the DB7 to the Ducati 1098R Bayliss in an article entitled "Sex on Wheels" – they said "The DB7's ergos fit me nicely, I felt like I was down in it, nestled behind the bars." "As for me, I actually went faster on the Bimota…the Bimota is easier to ride fast and ultimately a little more enjoyable." "The Bimota…is a beautiful work of art, handles like a dream and has awesome real-world V-Twin power that makes it more accessible to more riders."
The same Cycle World article the seller references actually praises the power delivery of the DB7 compared to the Ducati, a nice change of pace for a Bimota!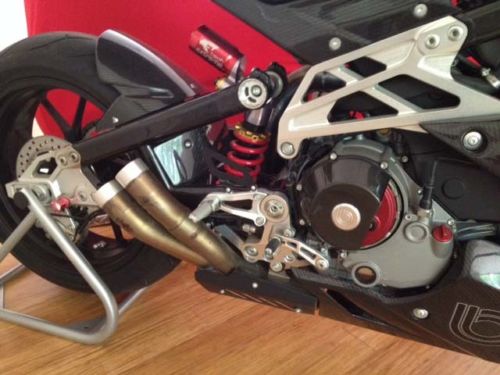 Tragically, in this era of bikes that are pretty great, even right out of the box, the question becomes: where does Bimota fit in? It used to be that they had a wealth of floppy-handling, underbraked bikes with over-engineered drivetrains to choose from. But these days, most Bimotas aren't appreciably better than the bikes from which they crib their running gear, they're just more expensive, more exotic. Which is valuable for those with the cash, but they've become more toys for the uber-rich rather than hardcore, purist-oriented road and track tools.
The DB7 looks gorgeous, is beautifully detailed, and handles like a two-wheels scalpel, but for the additional cost over a 1098, it's hard to justify the cost. And, with Ducati abandoning frames altogether, where does that leave Bimota?
-tad