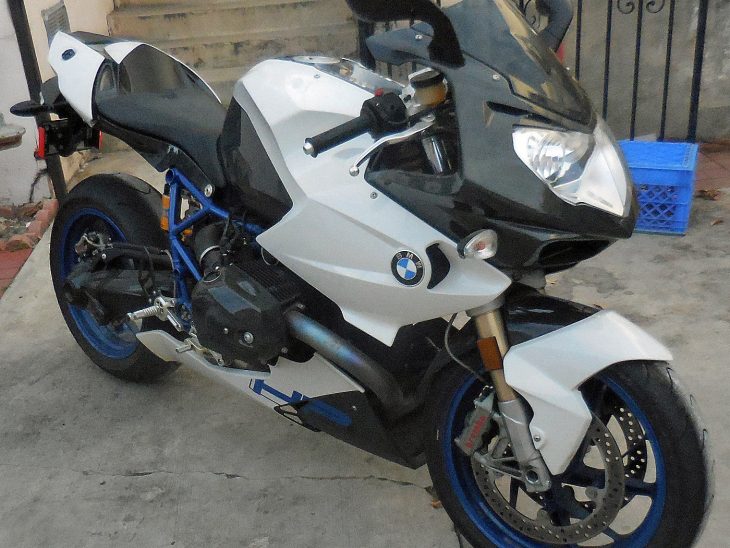 There's a proud tradition of independent motorcycle builders "sportifying" some very unlikely machines: CBXs converted into monoshock cafe-racers, heavily modified Swallower Moto Guzzis with chain drive and Hossack front ends, even venerable RZ500 engines stuffed into R6 frames. In the case of the HP2, BMW built their very own factory eclectic performance motorcycle by taking the quirky, flat-twin R1100S powerplant and adding high-spec parts to create a bit of an odd-duck sportbike, but one with real-world ability.
Certainly, if you were designing a sportbike from scratch, you likely wouldn't build it around an air-cooled 180° twin with shaft-drive. But throw in a set of DOHC heads with radial valves, titanium connecting rods, fully-adjustable ergonomics, and a self-supporting carbon-fiber seat/subframe, and the performance intentions of the bike start to look more convincing. A 9,500rpm redline and 128hp were Ducati superbike territory just a few years ago and that power, while not class-leading, comes with a big lump of torque for brisk, if not eyeball-flattening performance from the claimed 392lbs dry machine.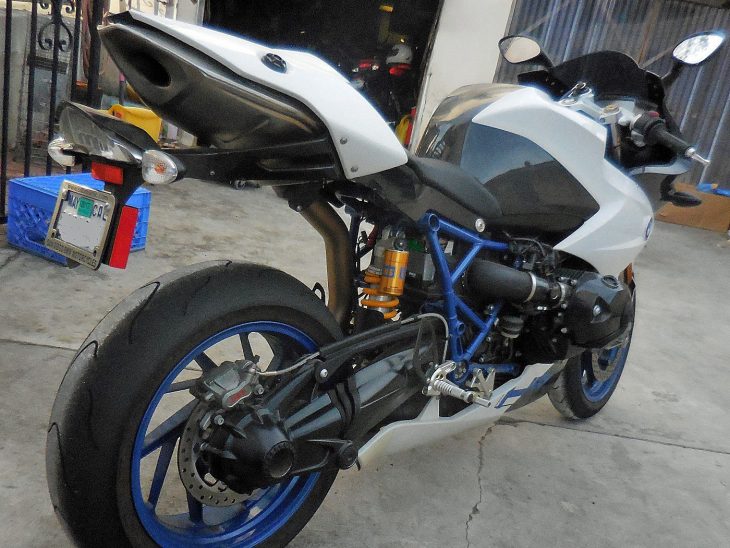 In theory, BMW's Telelever front end should offer up improved performance under heavy braking, but reviewers of bikes so equipped generally felt they were a bit vague in terms of steering feedback. However, the HP2 reviews were very positive with regards to the handling and feel of the bike, and those Brembo monoblock brakes provide plenty of stopping power. Keep in mind, the HP2 might seem weird to ride at first if you're used to inline fours: that shaft-drive means increased inertia and the bike lacks a slipper clutch as delivered, although one is available for the bike. And while cornering-clearance is generous for road-use, the standard suspension settings can have the heads touching down at extreme lean angles, so track-day junkies should plan accordingly and see about raising the rear ride-height.
Really, you get the feeling the whole thing was helping to set the stage for their S1000RR by establishing that BMW could create a sportbike that didn't rely on generous helpings of nostalgia and a reliance on "character." Obviously, this falls somewhere short of the bar set by the RR in terms of outright performance, but it's surprisingly capable, given the limitations of the platform. Of course, high performance parts can mean expensive replacement costs, and BMW does recommend those titanium rods be replaced at the 30,000 mile mark… Luckily, that service is a long way off for today's Featured Listing.
From the seller: 2008 BMW HP2 for Sale
Only 1125 miles. Added it to my collection in 2008. Looks and runs well. Bike always stored indoors, and run every couple of months to keep healthy. Have very large bike collection being thinned down to make more space. Overall, a pretty well preserved bike.

64 year old owner, former bike wrench and former shop owner. Every effort has been made to show condition of bike with pictures . Can e-mail better, larger pictures directly, on request. Bike in good cond, though no warranty expressed or implied. Sold AS – IS .

Payment by cashier check, must clear for bike to be released. Chase or Wells Fargo the quickest. Cash, in person, works, too. :o)
Today's HP2 has obviously spent more time being admired than being ridden, with just 1,125 miles on the odometer, but that might make it ideal for someone who wants to admire it: it's certainly a striking bike, with tons of cool details and the low miles means you'll get plenty of time riding it before you start to eat into the value. Aside from some discoloration on the exhaust pipes, it looks to be in excellent condition, as it should be with such low miles. The seller also includes a video of his collection and a short clip of the bike going around a corner, so we know it will both start and turn. The asking price for this bike of kit is $15,000 which is steep, but the HP2 is most definitely a rare and collectible bike that can also get a wiggle on and a surprise a few people at a track day.
-tad