Update 7.2.2022: This bike has SOLD to an RSBFS reader. Congratulations to buyer and seller! -dc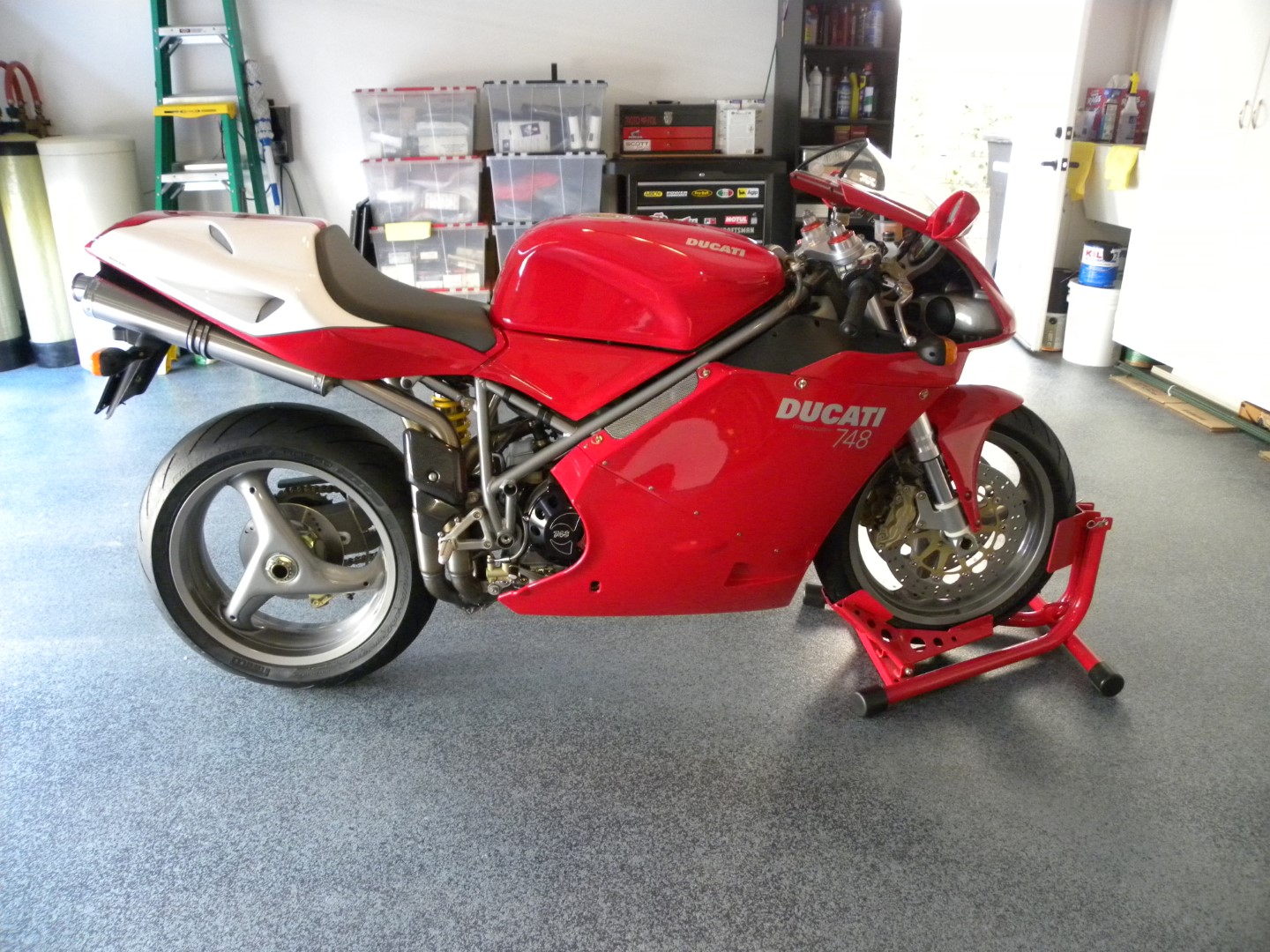 From RSBFS reader Michael comes this gorgeous, one-owner 2002 Ducati 748. It is no secret that the early Tamburini designs have hit their collector stride in the form of the 916, and the smaller 748 is following suit. Spotless in presentation, very low miles and lavished with the kind of attention these Italian exotics crave, today's Featured Listing is a fantastic example of a rare breed.
Featured Listing – One Owner 2002 Ducati 748!
Produced alongside the 916, the 748 shares many of the same components, measurements and benefits. The bore and stroke were reduced to reach the 748cc capacity, and the shorter stroke of the 748 enables a quicker rev up the RPM range and a higher overall RPM when compared to the 916. Another similarity: the 748 was built to win races, and enjoyed its own homologation status. There were many variations of the 748 produced, including the two seat biposto as well as a single seat version. There were also SP, SPS and R variants across the years, but all were based on the same solid foundation of the trellis frame, single arm rear suspension, and nearly 100 HP desmoquattro L-twin. The last year for the 748 party was 2002, with the Terblanche-designed 749 taking the stage – however the preferred design of the 748 allowed it to share showroom space in 2003 until all the old stock was sold.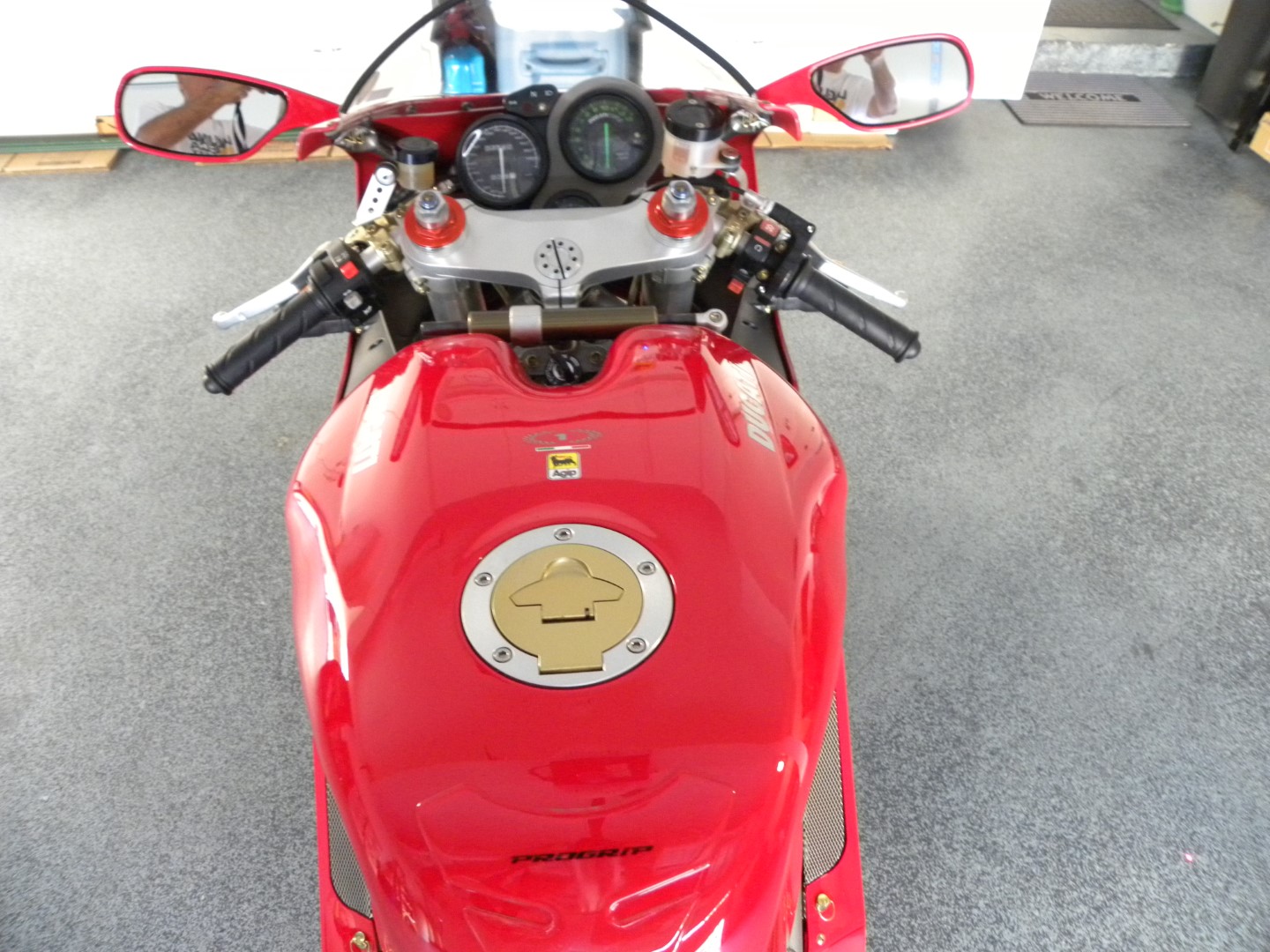 From the seller:
2002 Ducati 748
I am the original owner, and this is probably the most pristine example of a 748 you will ever find. If you desire a 748, look no further, this one is flawless.

Just 3,500 original miles. That's only 175 miles per year based on a 20-year-old bike. Always garaged, covered, and meticulously maintained. Cam belts were last changed at 3,195 miles. Engine always run with Motul 300V Synthetic from new, and brake fluids were flushed at 3,064 miles with Motul DOT 5.1.

Ready to ride, this bike needs absolutely nothing.

Asking Price: $12,000


LOCAL PICK-UP ONLY IN SOUTHERN CALIFORNIA NEAR LAGUNA BEACH (zip code 92656)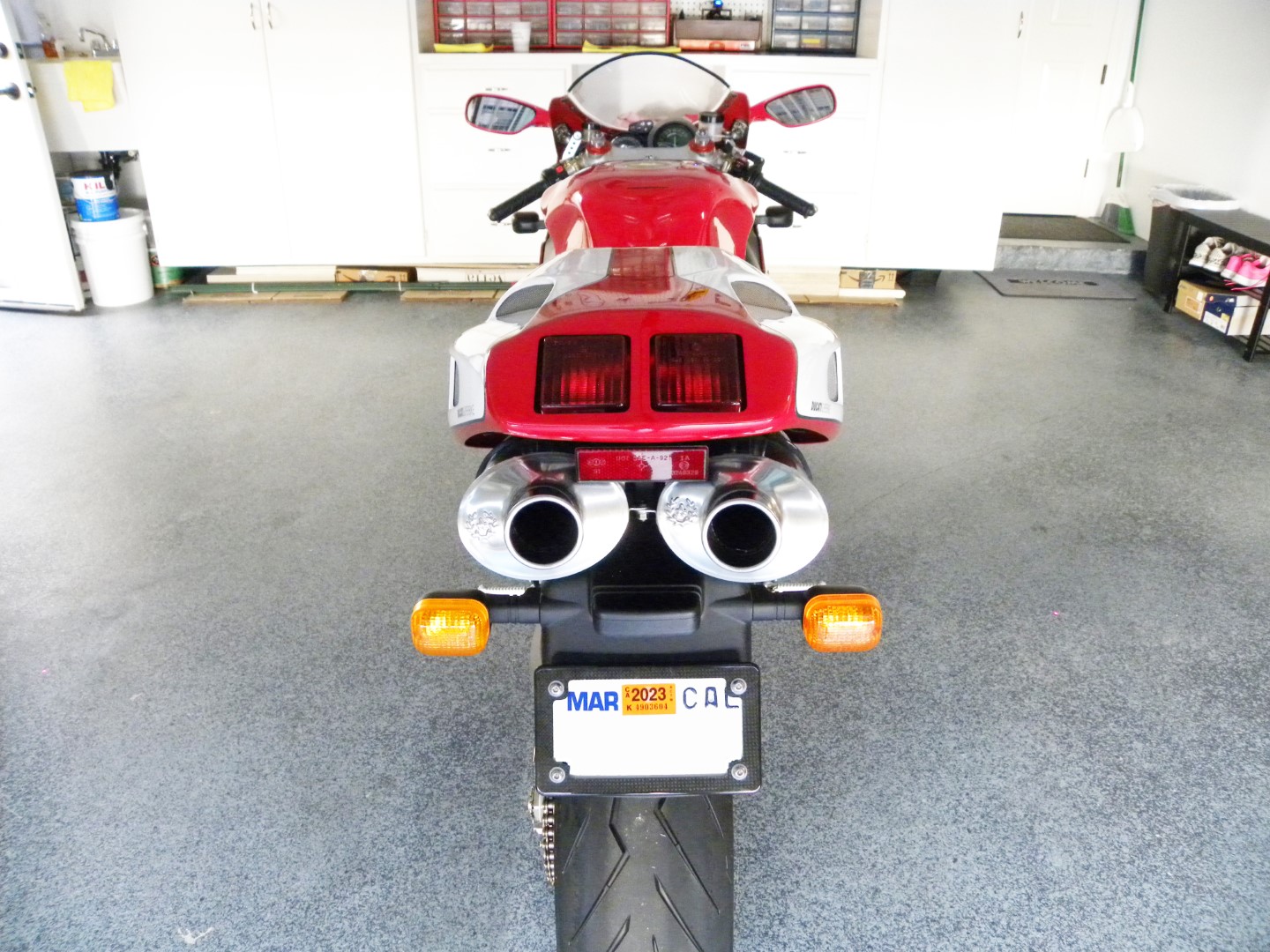 More from the seller:
Includes the following tasteful upgrades:

• Arrow Titanium Exhaust
• Power Commander Fuel Injection Module with Custom Dyno Mapping
• New Air Filters
• Ducati OEM Mono-Posto Tail & Seat Conversion
• Ducati OEM Red Mirror Conversion
• OEM Quick Release Faring Fastener Conversion
• Billet Aluminum Brake Reservoir Covers
• Hardened Aluminum Rear Sprocket
• Titanium Sprocket Bolts
• Billet Aluminum Sprocket Carrier Conversion
• RK 520 Gold Chain
• Ducati Performance Carbon Fiber Chainguard
• CNC Racing 30mm Billet Clutch Slave
• EVR Z48 Clutch Basket & Organic Plates
• Pauli Moto Billet Aluminum Clutch Cover
• Pauli Moto Billet Aluminum Clutch Pressure plate
• Pauli Moto Billet Clutch Pressure Plate Spyder
• Ducati Performance Carbon Mid-Pipe Heat Shield
• Ducati Performance Carbon Sprocket Cover
• Ducati Performance Carbon Heel Guards
• New Pirelli Diablo Rosso 3 Tires
• Carbon Fiber License Plate Frame
• Ducati Performance Soft Cover Included

Asking Price: $12,000


LOCAL PICK-UP ONLY IN SOUTHERN CALIFORNIA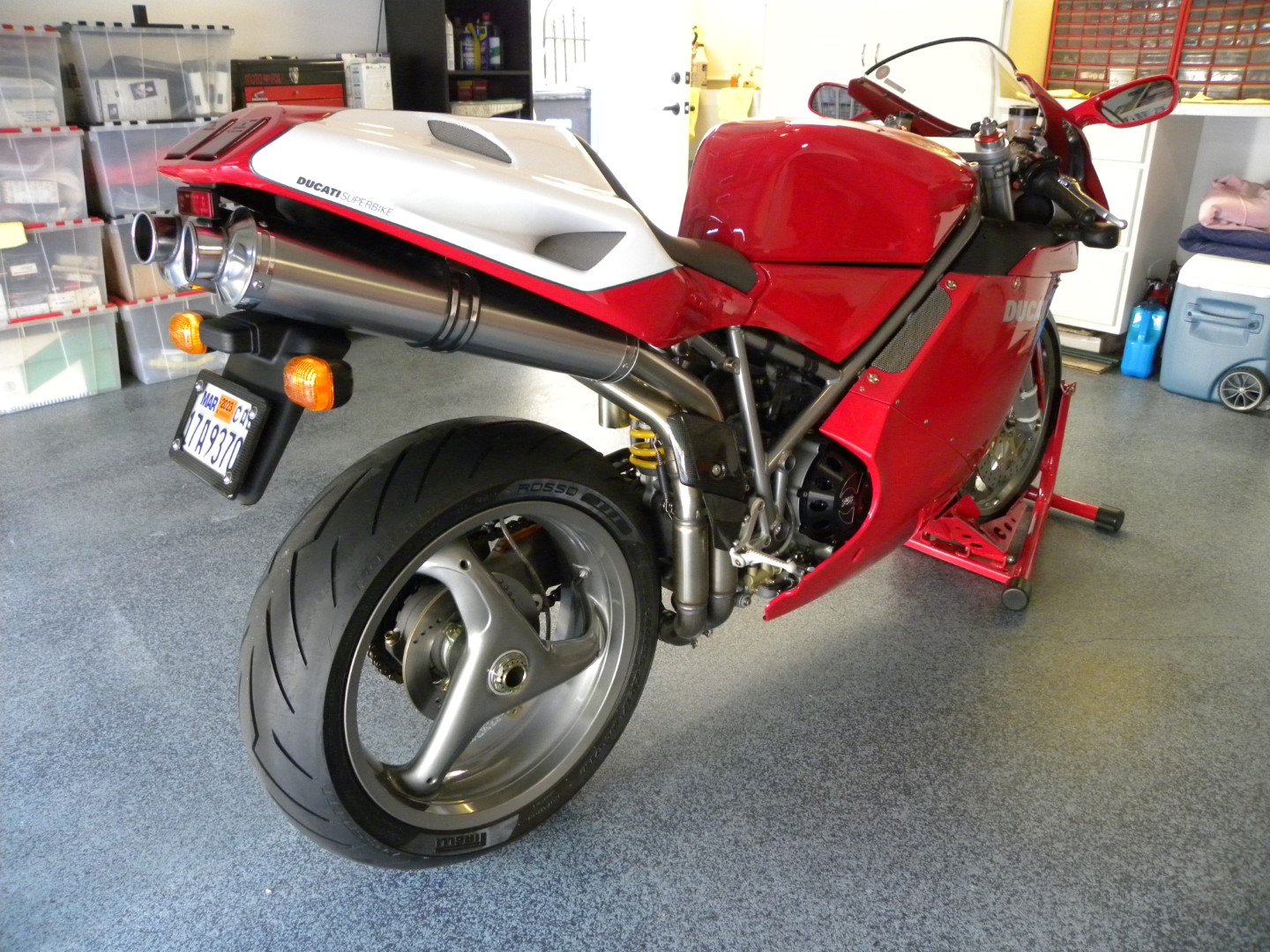 As a one owner bike with meticulous maintenance highlighted by the seller, this 3,500 mile example is about the best we have seen on these pages. Check out the pictures closely – this bike is clean, clean, clean. That is the kind of clean that tells you it was taken care of, and cared for well. And while it is not fully stock, the upgrades have been carefully selected and integrated to improve the overall experience. This looks to be a bike done right, looks fantastic, and probably sounds even better through those under seat Arrow cans.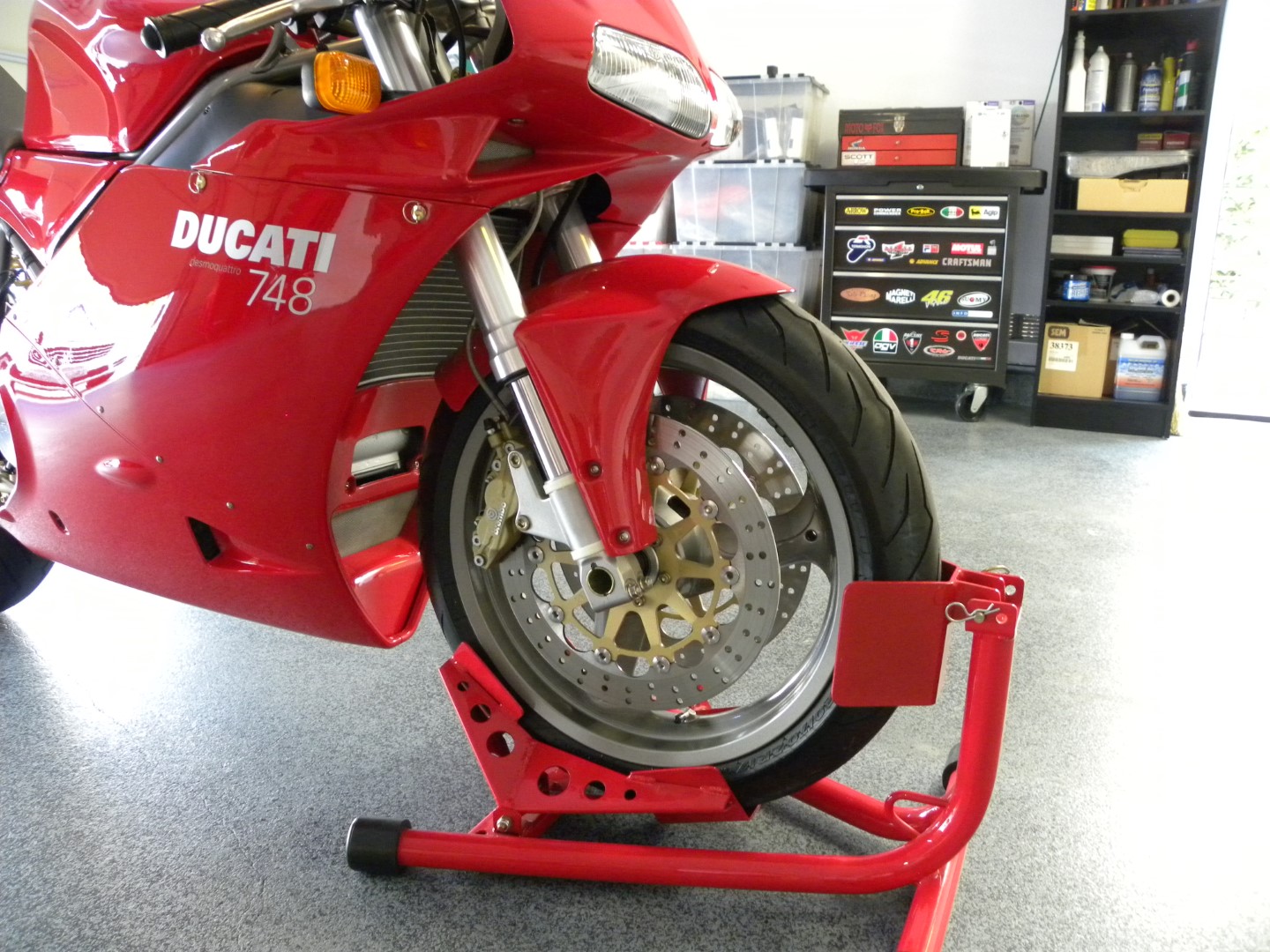 Tamburini Ducatis are THE thing to have right now. And this 748 shows you why – just look at it! And whether parked in your garage or man cave to be admired by few, parked at your local bike night to be admired by all, or hammering its way to redline on your favorite road, the 748 is a platform that makes sitting still look fast, and makes fast feel even better. Viva Italia indeed! Presented as it should be, correctly priced, and with only one owner under its belt, this 2002 Ducati 748 is ready for a new home.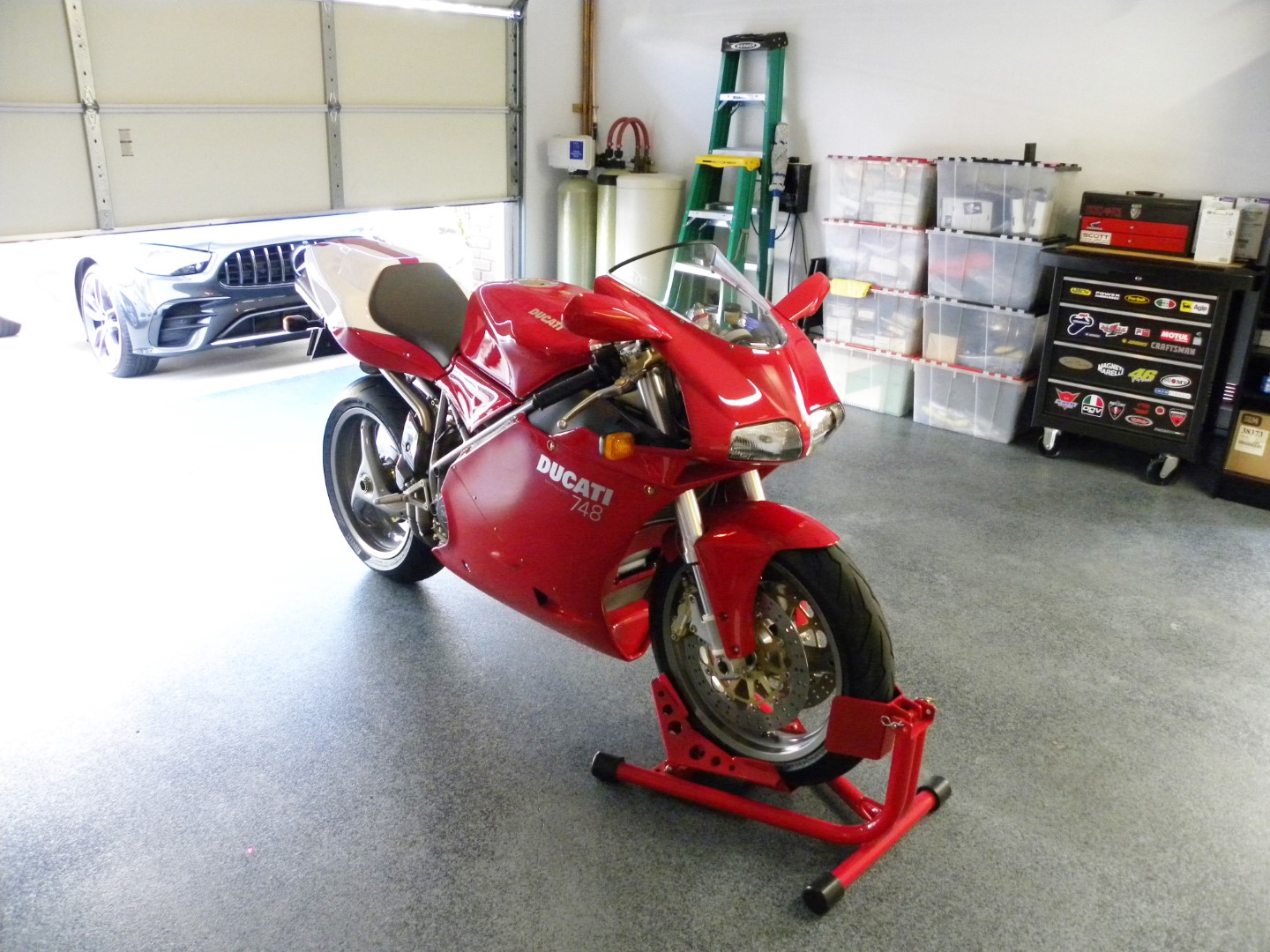 MI