Values of Ducati's wasp-waisted superbike have been shockingly low, considering their status as one of the most important, and most beautiful superbikes of the modern era. Sure, an SPS or 998R might pull decent money, but examples of the garden-variety 916 and especially the more refined Ducati 996 were available for as low as $4,500 pretty recently. And that wasn't necessarily for clapped-out ex-race bikes either: solid, well-maintained bikes could be had for that sum. No, a 996 won't keep up with new machines in a straight line, the braking ability of the current crop of superbikes is superior, and they lack modern electronic rider aids, but this iconic superbike still has impressive handling, even by modern standards. And the low prices won't last forever…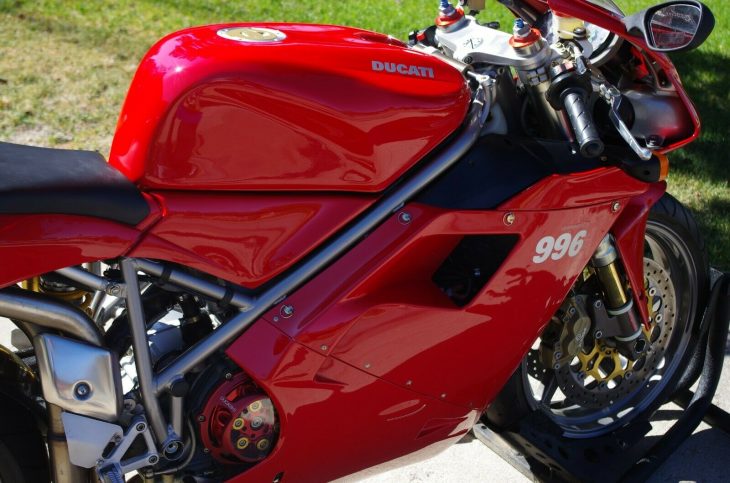 Clean, low-mile 916s have already started to climb in value, and 998s that represent the final evolution of Tamburini's superbike never really dipped that much. But the middle-child 996 still represents great value, especially if you're looking for a bike to ride, as it featured more power and many subtle updates to the 916. It was introduced in 1999, after the 916 engine had hit its developmental limits.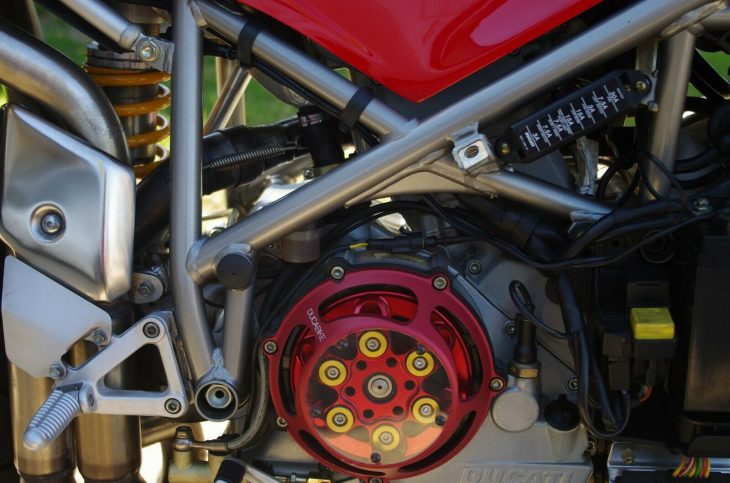 World Superbike displacement for v-twins increased to allow 1000cc twins, but the original 916 cases started to experience failure when the displacement was enlarged to anything beyond 955cc. It might look like a 916 with some stylistic tweaks, but the 996 featured a heavily-revised 996 version of the engine that was introduced in the 916SPS, along with tweaks to the frame and fuel injection to improve handling and drivability.
This example features an updated Öhlins shock matched to a set of Showa forks, suggesting that it could be a 996S, although it lacks the numbered plaque generally seen on the triple. Some questionable stylistic flourishes have been added, but the seller claims the the original bits are all there, if you're not a fan, and the other upgrades are very functional and intended to improve the usability and reliability of this classic Italian superbike, along with a set of aluminum Termignoni cans to liberate some classic Italian thunder.
From the original eBay listing: 2001 Ducati 996 for Sale
For your consideration is a 2001 Ducati 996 with 4,982 original miles on the clock. This bike is all original. It's been ridden and well cared for. It's in excellent condition, not just for the year, but for any year. I'm selling it because it's impractical for long distances, and because I'm more interested in two-up riding these days. Bike has:

A Scotts reusable oil filter to improve cooling and filtering capacity
A Pipercross race filter. Chosen for lack of side effects on throttle response, noise, and engine longevity.
A Power Commander III. Currently, the bike is running and older version of the PCIII.  A newer USB PCIII is included with the bike.  I've just procrastinated on installing it.
An Afam quick change sprocket carrier and JT sprocket swap. The Afam carrier prevents cush drives from backing out and makes sprocket changes a lot easier. The current sprockets have less than 100 miles on them.  circlip is not in photos, but has been installed and safety wired.
I replaced the fuel quick disconnects and fuel sending unit nut with metal pieces. The OEM units are nylon/plastic and prone to breaking. Not anymore.
I installed a Cox Racing Case Saver. This item protects the precious engine case in case of an accidental chain break If you take care of your chain like I do, it's not an issue, but stuff happens.
Replaced the US light switch with a European one, which allows you to turn off the headlight on startup. Less drain on the battery at startup means easier starting. Works like a charm.
I replaced the OEM fan with an aluminum unit that runs off a switch that allows you to run the fan anytime the temp gets too high for your liking. This bike has never overheated, but the stock temps are too high for my taste, so I installed a fan kit.
Swiftech, made in Germany, carbon hugger. Keeps debris off your suspension and tailpiece. Buyer also gets a Ducati performance lower hugger which is not installed.
Cox racing radiator and oil cooler guards to keep debris from damaging those two crucial components.  The radiator and oil cooler are in excellent condition (pictured) and I plan on them staying that way. Last, I'm including a carbon tank shield. It's not installed because I wanted to show the excellent condition of the tank.
I have replaced all the seals on clutch master cylinder and on the clutch shaft within the last 100 miles. Buyer gets a Yoyodyne slave cylinder with the bike and has the option to install it or keep it as a spare.

This bike is in excellent condition. It is not a restoration. All parts are original to the bike, save for the mufflers. I also installed a billet clutch plate and housing. All body panels are original to the bike and undamaged/unrepaired. It's all Ducati, no aftermarket. There are no cracks, repairs, or damage anywhere on the body, apart from light scratches here and there.  the paint is original everywhere, including on the underside of the seat. There is no rust whatsoever in the tank and only minor surface corrosion on some fasteners around the bike. There are no dents anywhere. This bike has never seen rain under my ownership.

The timing belts are brand new, properly installed (new Fuji nuts) and tensioned. The proof of the pudding is in the tasting, and this bike runs very smoothly and strong. The valves are not due for another 1000 miles. I inspected them and they look good. All rubber and soft parts are in good to excellent condition, down to the little bleed screw rubber caps. Only a couple of electrical plug sleeves have shown cracking despite my best efforts. Those (and I think it is literally a couple) have been mitigated and have no effect on function or reliability.

I replaced all coolant hoses with new Ducati parts in the last year. No leaks. Not coolant, not oil, not brake fluid. Gold DID chain has less than 100 miles. NGK Iridium plugs. Battery is less than a year old and wired for battery tender, which also comes with the bike. New Continental tires.

I kept all the OEM parts I replaced. Buyer also gets the excellent Baxley chock pictured. I always keep bike on chock at home. Sale includes a few special tools required for routine maintenance. 4 excellent manuals including Ducati shop manual.

I will be happy to send more pictures on request. Thank you for looking.
Considering the thoughtful upgrades and the 4,986 miles on it, I have a feeling it won't be long before the $8,100 asking price will seem like a bargain. I'd expect this is one of the lowest-mile non-display bikes around, and with much less mileage I'd be concerned it would need significant maintenance before being ready to ride! Low-mileage bikes can seem more desirable, but mothballed Ducatis can cost a fortune in servicing to make roadworthy if they've been sitting for extended periods, and the attention lavished on this example make it worth a premium: as they say, "There's nothing more expensive than a cheap Ducati…"
-tad