As the 20th century wound down, Honda needed a new tool to work on WSBK, and developed a fresh 90-degree V-twin, wrapped in a new aluminum twin-spar chassis.  This RC51 is a rider but looks very good with a conscientious maintenance history.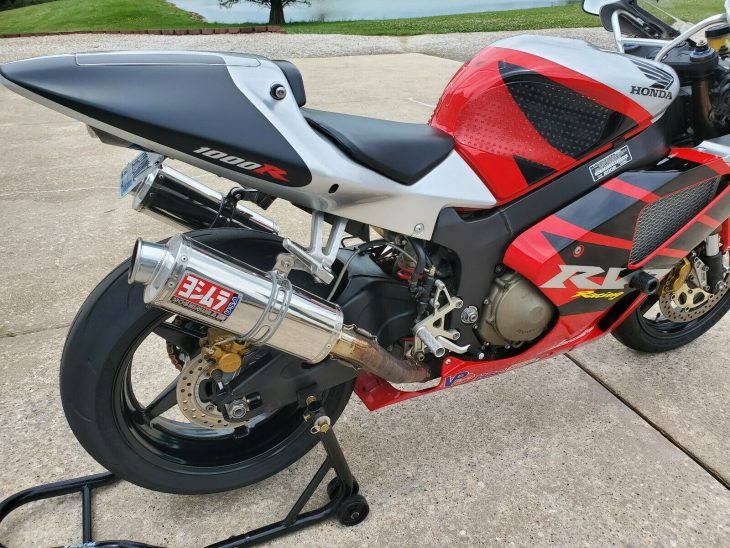 Surprisingly close to the engine specs for Ducati's 998 with 100mm bore and 63.6mm stroke, the Honda managed 136 hp in street trim, a skwoshe more than the 998.  Programmed fuel injection, two injectors per cylinder and gear-driven cams counted for a lot.  Fork and brake specs are identical to the 998, with multi-adjustable 43mm forks and 320mm disks grabbed by 4-piston calipers.  The RC51 exhausts make their way to the side of the swingarm, and weight is within a few pounds of the competition.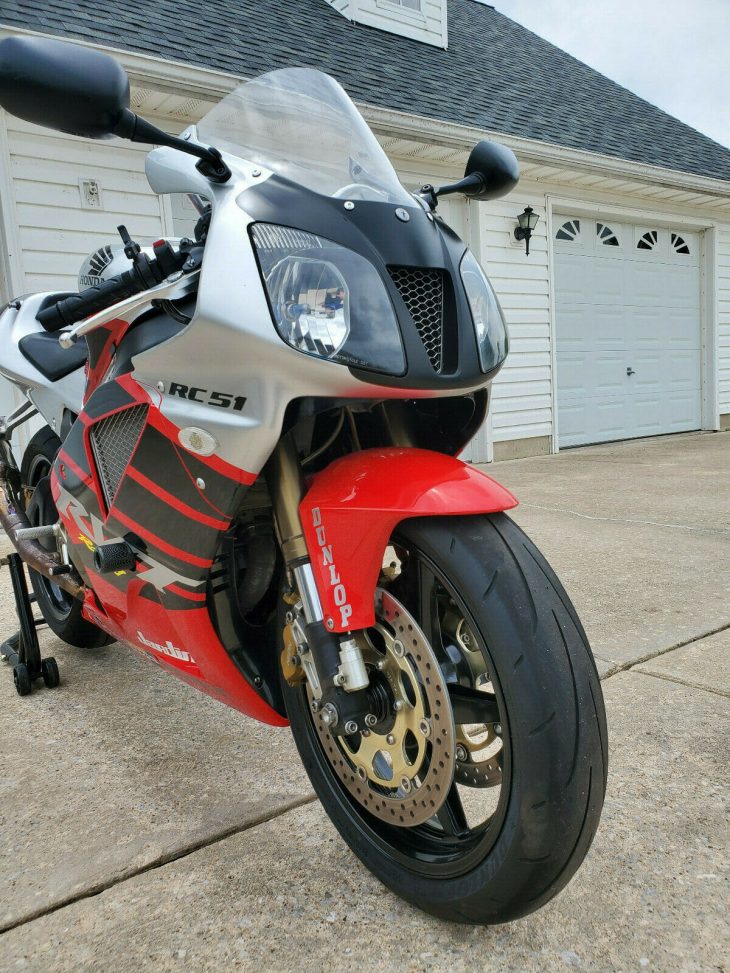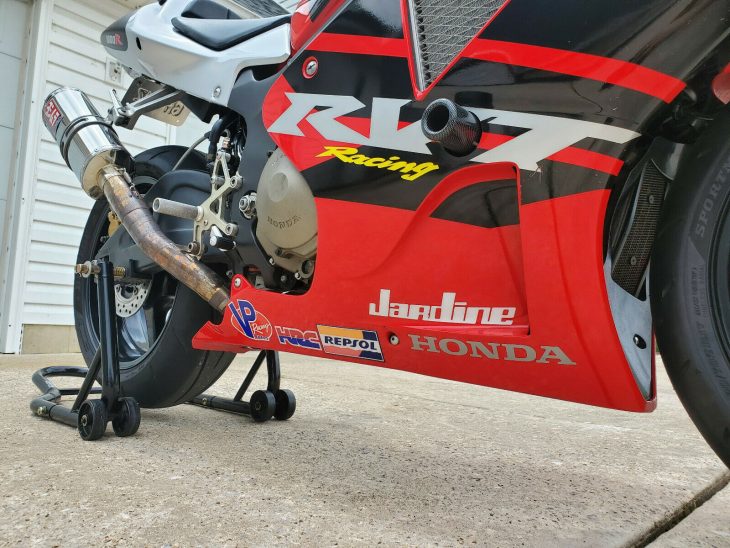 This mid-life owner has taken nice care in their ownership, though the RC51 isn't without a past.  The Yoshimura mufflers look a lot lighter than stock, though the pipes are ready for another round of polishing.  From the eBay auction:
Very nice condition. All maintenance and service done, maint. log book included. I recently did the first valve clearance check and will include the valve shim kit I purchased for it. Engine is all stock and original except for the Yoshimura Exhaust. The "pair mod" and "intake air flapper" mod has been done, but I kept the original parts to put back to stock. The header is also stock and is in perfect shape. I have other original parts also including the like new original windscreen (Puig wind screen installed). Some other OEM decals and labels included. Has aftermarket undertail but has (what I think is) the original tail light included.

Also has aftermarket rear sets, Stainless Steel front and rear race brake lines (I have all original lines and hardware tagged and bagged) Newer brake pads (I kept part numbers and brand), newer Dunlop Q3's. OEM Passenger seat pad included. Honda service manual, spare tail fairing in like new condition included. New chain and sprockets where installed as a matched set a few thousand miles ago. A few other parts included (see pictures). Flush mount LED turn signals. The non-oem stickers at the bottom of the fairing where added after a coat of wax so they can be easily removed (I'll remove them for you if you prefer). New aftermarket adjustable levers.
A short cold start walk-around is shown – here -.
Honda won their first year with the RC51, Ducati replied, and Honda won again in 2002, both times with Colin Edwards aboard.  The benefit afforded twins of any brand lasted until the Jonathan Rea era began in 2015, and is awaiting its next resurgence.  If the reserve is set with the buy-it-now as reference, this might be a winning entry into the sportbike affliction.
-donn