Might be the wrong year for a quick turnover, but this 1098S owner is ready to move on and luckily the bike looks great.   The 1098S also had a relatively short model run, but it did include two Superbike world championships.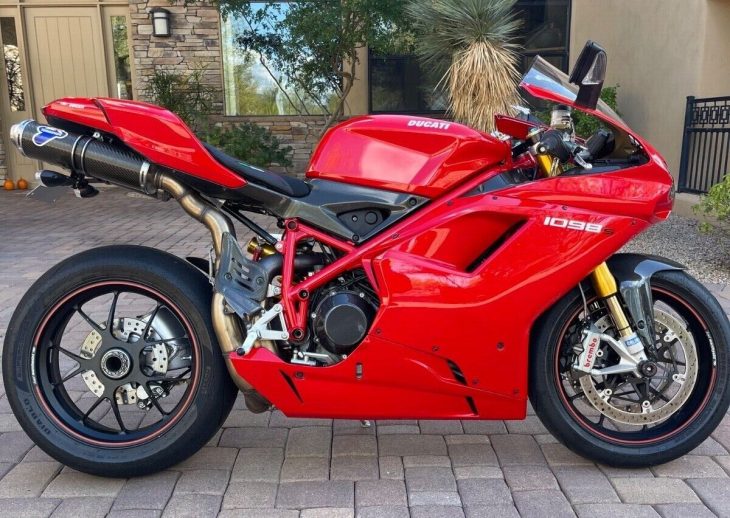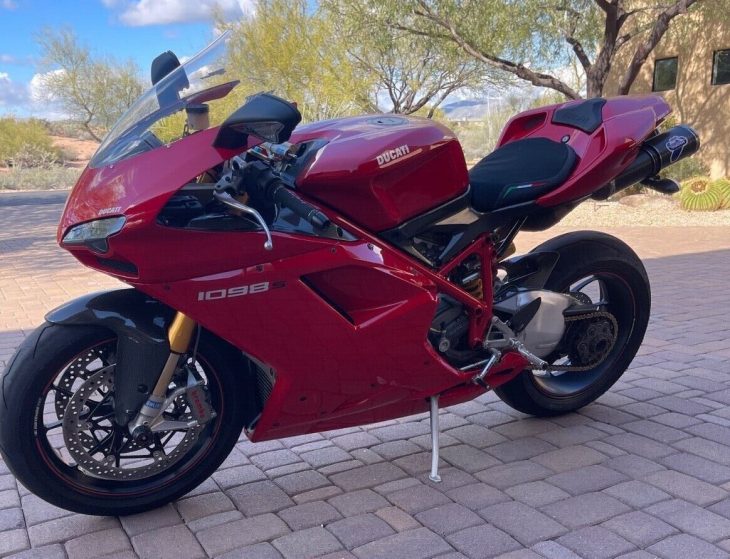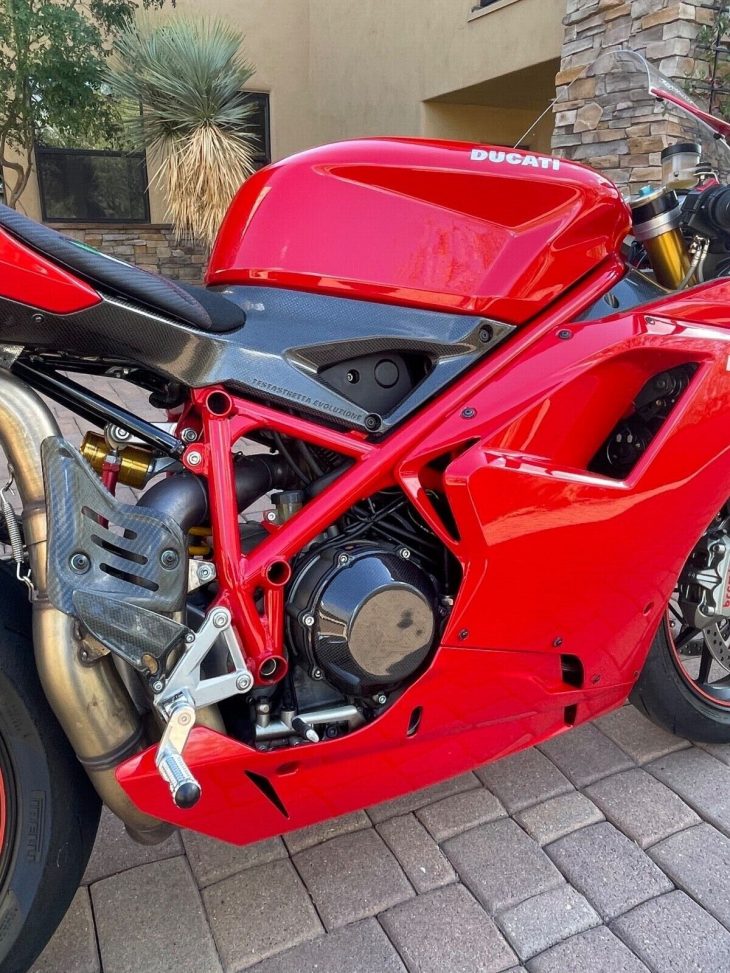 Playing some high stakes poker with FIM, Ducati developed a new engine and presented the narrow head 1098, which cranked out 160 hp in road trim but would have to wait until 2008 to race.  Lightness was the focus, and the minimal trellis frame helped excellent power-to-weight numbers.  Components on the S were outstanding, with 330mm radial brakes, Öhlins forks, monoshock and steering damper, and forged Marchesini wheels.  Styling reached back past the 999 days for a very sculptural fairing evoking the 916 era.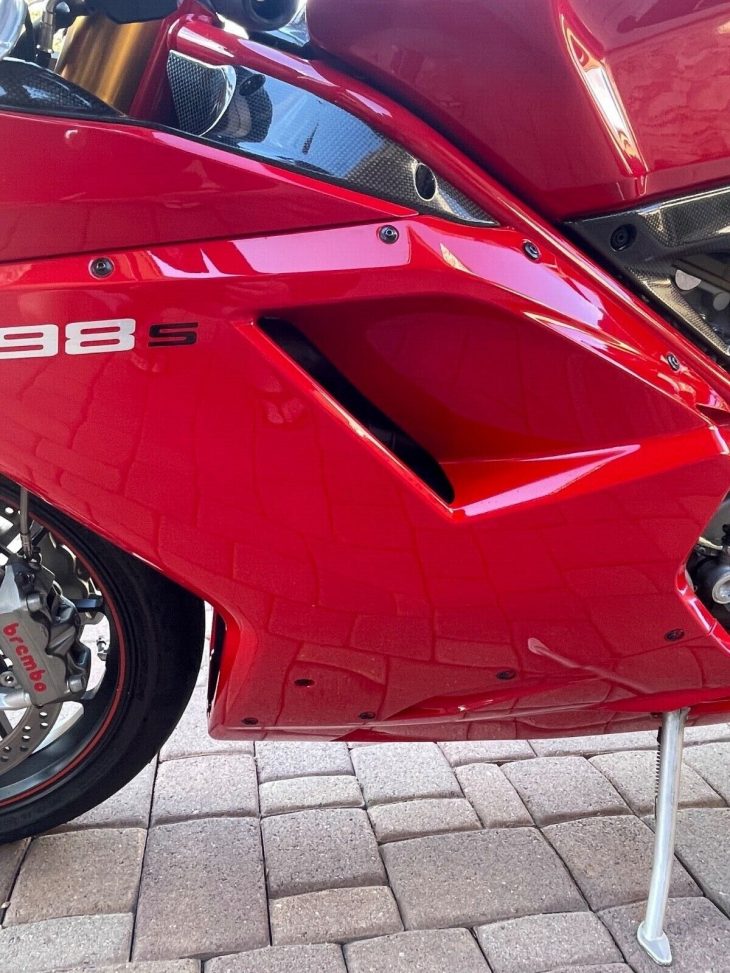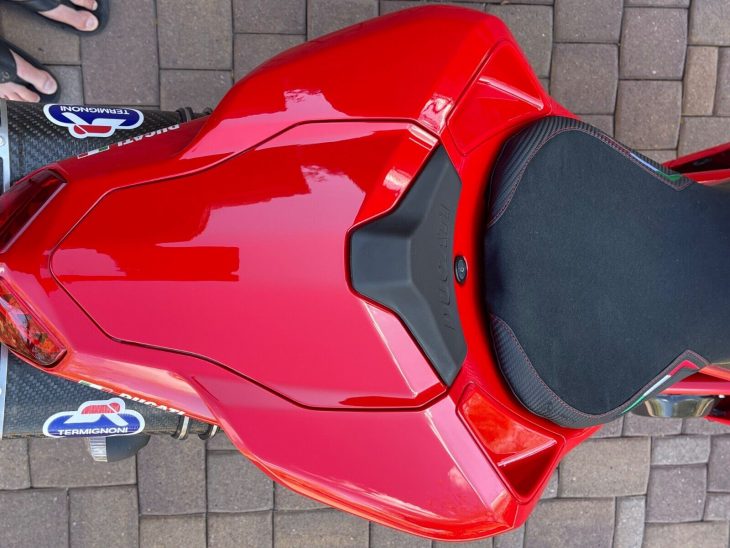 This 1098S looks excellent and the seller has made an effort to show the few chips that are there.  Several carbon accessories have been added, along with some upgraded footpegs – which might have been in response to an almost tipover that gouged the swingarm.  Comments from the eBay auction –
An exceptionally nice bike and a model that is getting harder and harder to find nice examples of.
When I purchased the bike I had it completely gone thru front to back by the master Ducati tech at GoAz. This included:
– Flush and renewal of all fluids (brakes, coolant, engine, etc)
– New timing belts
– New alternator due to oil seal leak
Total bill was $2,400

Bike has some nice tasteful upgrades including the most important full Termi exhaust system. Most plastic trim parts were replaced with DP carbon fiber bits. Upgraded Ohlins TTX shock, Luimoto seat, etc. 

I have 2 keys for it, service manual binder and a few spare parts as well. I took pics of any cosmetic blemishes that were obvious such as a few small chips on the wheels, frame, swingarm and a scuff on the tail and lower tank in front of the seat. I don't believe the bike has ever been dropped, definitely not by me. Overall I would say the bike is a 9 out of 10.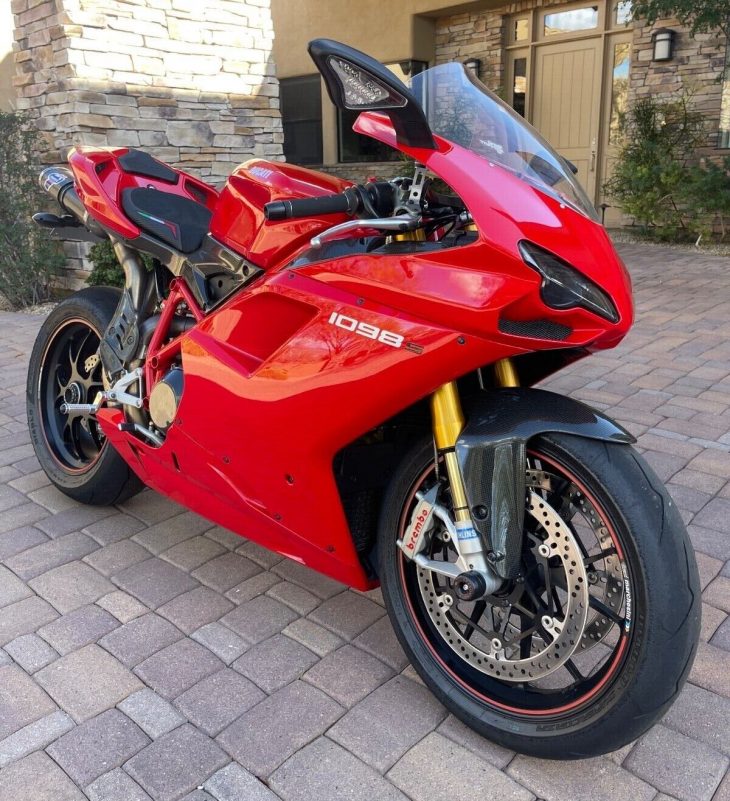 The 1098S might be notable these days for it's reliance on the rider to keep the shiny side up – the electronics package can record lap times, but all the power and braking are available regardless of conditions.  In 2008, Troy Bayliss won 8 of the 14 WSBK Superpole qualifiers, and was on the podium at 12 of the 14 rounds ( each had two races ).  Since the twin rules went right to 1200cc, the 1098 had a fast life, though successful and memorable.  The 1098S might be a little much for most streets, but like spending the Powerball jackpot, it would be something to try.
-donn