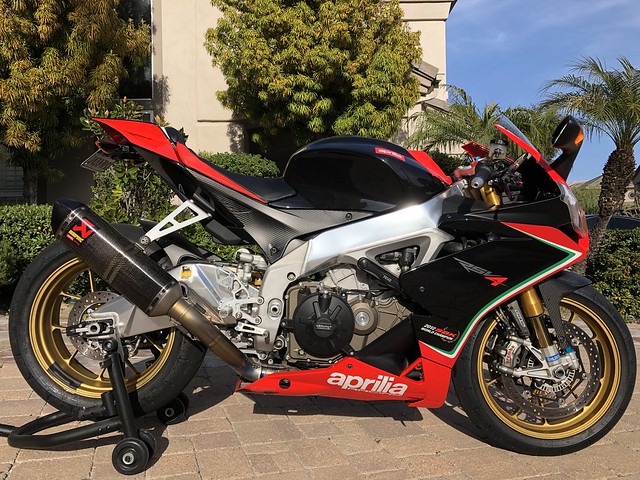 Praise for the 2013 Aprilia RSV4 Factory pounded down in torrents in early '13 when the thing broke cover as a celebration of Max Biaggi's 2012 World Superbike championship. It was fast beyond the limits of the mortal brain. It stuck to corners like a gecko on a concrete wall thanks to front and rear Ohlins suspension. It had helpful, intuitive, non-invasive electronics that helped non-racers go fast and keep the bike on its forged aluminum wheels. It lagged a little behind the Ducati Panigale 1199R in pure horsepower, but with a naturally torquey V4 and trick fueling, it delivered more or less electric punch.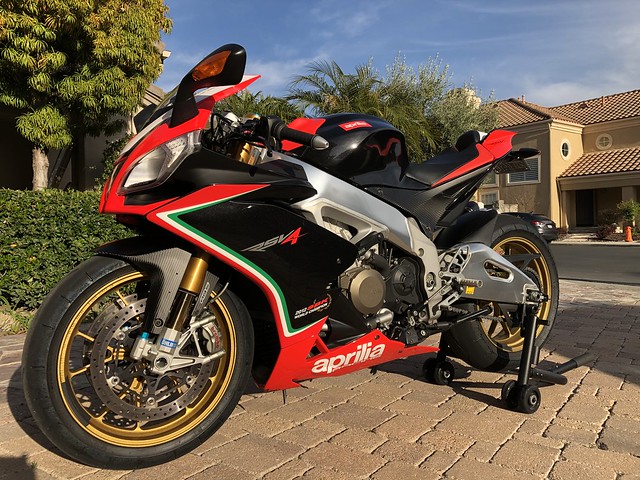 Now, since the RSV4 Factory is just six years old, it's not exactly rare, and it isn't quite aged enough to be our usual fare, but it is definitely special, and any track-focused, 184-horsepower weekend weapon of this caliber deserves a place on our page. And this one has a few little modifications and a tight maintenance regimen to make sure it's more than ready for the next owner to fully exploit. Mods include an Akrapovic slip-on exhaust system, GP shift rearsets and a hardwired bullet camera.
From the seller:
2013 Aprilia RSV4 Factory APRC ABS SBK SE, 8400 miles, original owner. Immaculate condition. Modifications from stock:
Akrapovic carbon ½ system with factory Aprilia race map (with catalytic and straight link pipe)
EvoTech fender eliminator
EvoTech radiator and oil cooler guards
CRG RC2 levers (clutch and brake)
15T countershaft sprocket
Lightech chain adjuster blocks
Woodcraft rearsets (GP shift)
Pipercross filter
GB Racing clutch cover guard
R&G frame sliders
Swingarm sliders
RoadHawk Ride bullet camera, wired to switched power (auto on/off with ignition)
Currently has Dunlop GPA-Pro tires and Vesrah RJL pads.
Battery recently replaced (with a stock Yuasa YT12A-BS), brakes recently flushed (DOT 5.1).
CA registration was recently paid and is good through May, 2020
Typical RSV4 issues have been addressed… Stator replaced a few times under warranty due to oil wicking up to rectifier connector; I rerouted the harness and it stays bone dry now. Original tank was replaced under warranty due to paint bubbling and the surface bulging/rippling, I subsequently bypassed the EVAP and routed the tank vent to atmosphere and since then the second tank still looks like new. Has done a few track days at Laguna Seca, but has never been dropped, over-revved or damaged in any way. Except for some stone chipping on lowers behind the front tire, and some small scrape marks on the bottom rear end of the lowers on the right side (grounding through the second half of the Corkscrew at Laguna), it looks as new. Detailed photos show everything. Comes with stock parts: exhaust, levers, passenger pegs, rearsets, and the original tank (which went back to looking like new after drying out), a fitted elastic Aprilia cover, and a few miscellaneous small service parts (oil filter, set of front Vesrah brake pads). Will work to get the bike to a freight company if the buyer wants to arrange shipping at their own cost. Will bring to a shop of the buyers choosing in South/Central Orange County for a pre-purchase inspection (at buyers expense and arrangement) if desired.

Price: $11500.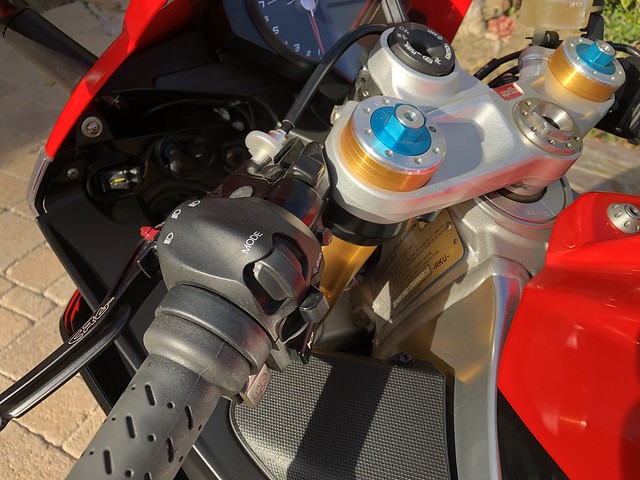 Seller Ruben says he's not in a huge rush to sell this beast (Who would be?), but will move it along if the buyer and price are right. He can be contacted at rubenarchilla@hotmail.com for inquiries.