Aprilia made neat black Haga and Edwards commemoratives on the 2003 RSV1000R, and continued applying the signature decals on the early 2nd generation Factory.  Rather than the black and Alice livery, the 2004 is an adult multi-grey, with the R's blue wheels.  The Factories had excellent components and this one shows just over 2,200 miles.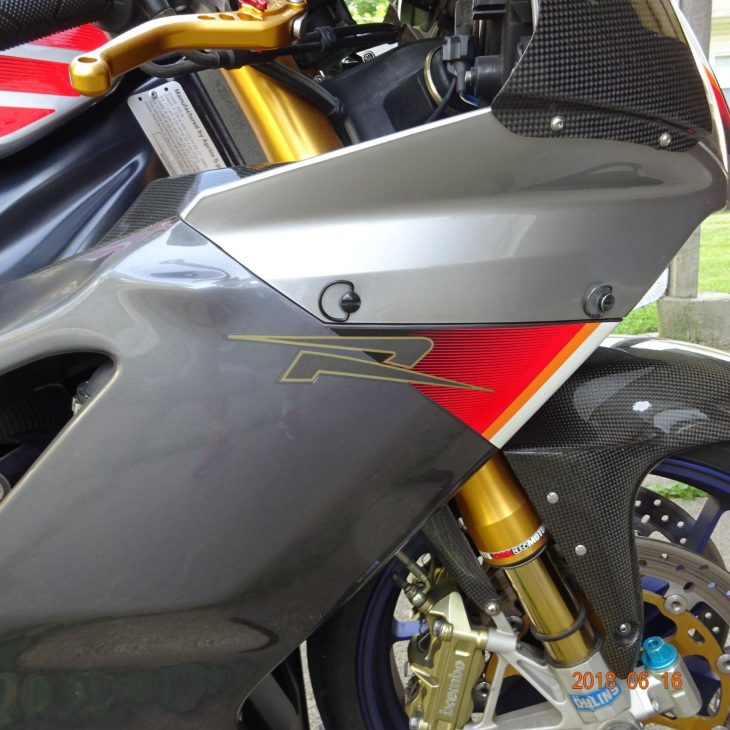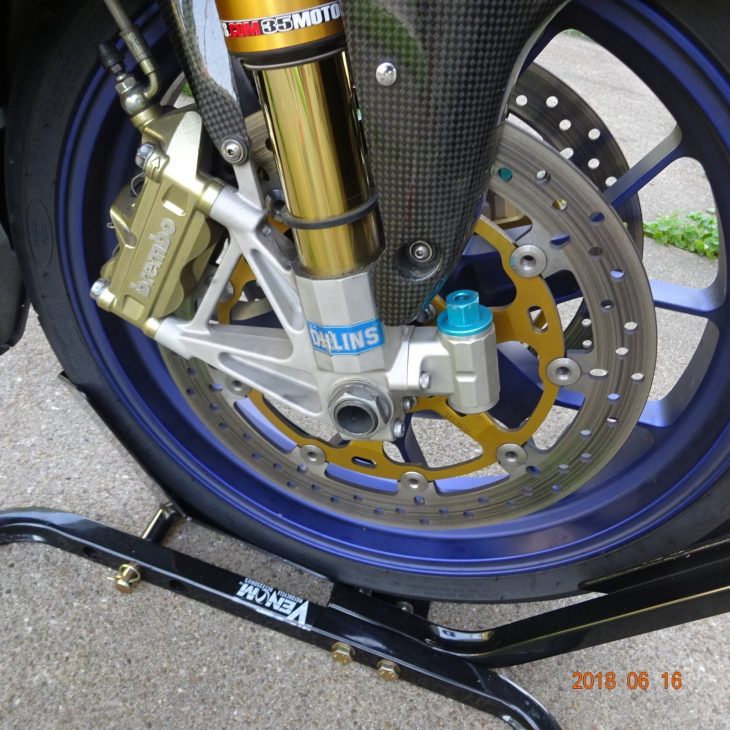 The revisions for the '04 RSV are package-oriented, with the chassis geometry and powertrain being very similar, though improvements to the heads and intakes netted 143 hp.  The CAN-bus system was introduced on the gen-2, reducing wiring complexity, and the bodywork simplified and modernized.  Carbon is found on the side covers, mudguards, and air guides on the Factory, and Öhlins appointments also include the steering damper.  Radially mounted Brembo brakes are top of the line, and the O-Z wheels' wide flat spokes are forged.  The fairing is more angular than the earlier model, with a ram-air intake and dual headlights replacing Mickey.
This Ohio based RSV looks excellent and the Aprilia 60-degree twin should be tolerant of the long rest.  Not exactly a Colin Edwards replica, most sources credit the sticker to left over materials from the '03, but maybe a reader knows for sure.  Looks like stands are included.  Maybe someone can comment on the "informal" position of the carbon nostril in the nose.  From the eBay auction:
Factory R is Aprilia's base model for a superbike racer. All the Factory R features. One of 30 imported. Also known as the Colin Edwards replica. All top of the line Ohlins front, rear suspension and steering dampener. Brembo block calipers and pump master cylinders. Special OZ light weight wheels. Carbon fiber throughout. CRG levers. Arrow silencers. Showroom condition. 2200 original adult owned miles. These bikes are getting harder to find in this condition as most of them ended up as track bikes. No disappointments.
Edwards was reigning WSBK champ and MotoGP rookie when he rode for Aprilia, which was the middle of a three year effort for the manufacturer.  He went on to 10 more years in MotoGP, mostly with Yamaha but also Honda and Kawasaki.  Back home in Texas Edwards started the Texas Tornado Boot Camp, a four day school focusing on dirt track skills.  The 2004 RSV's had some nice updates from the first generation and the Factory is certainly the way to go.  The buy-it-now seems like a nice bargain for such low miles and high-end componentry...
-donn