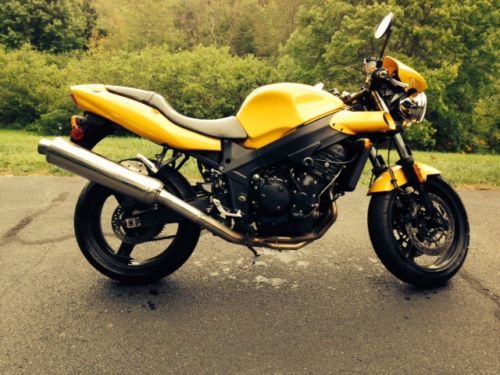 Look, I love the Bimota Tesi and the Honda RC30 as much as the next guy. But if you stare too long at the sun, you'll go blind.
Also, I can't afford those bikes.
So while I do love to look and lust after them, I also love to look around for more affordable exotica, Rare Sport Bikes for Sale that ordinary shlubs need not just aspire to, but ones we can actually afford. Sometimes with what we can find digging in the couch cushions.
Something like this Triumph Speed Four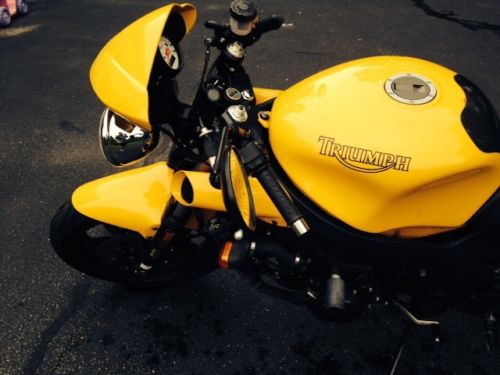 TT600 on which the Speed Four was based was an also-ran: up against the technical perfection of the Japanese 600cc sportbikes of the period, it would have been nearly impossible to compete in quantifiable terms. So the 600 was a bit of a flop: not fast enough, or reliable enough to satisfy the mind, and too bland to thrill the heart.
But the Speed Four took that slightly underpowered engine and put it into a package where a few bhp didn't matter and created a rip-roaring little naked that had basically no competition. While the Japanese nakeds were heavier and slower than their fully-faired counterparts, Triumph didn't really have things like "new frame" in the budget or "previous generation engine" lying around, so the the Speed Four is remarkably similar to the TT600 on which it's based. They basically slapped on some headlights and a flyscreen, along with those weird intake tubes that make it look like some sort of two-wheeled mosquito, fit the engine with some softer cams with fuel injection to "match" [more on that in a minute] and let it loose.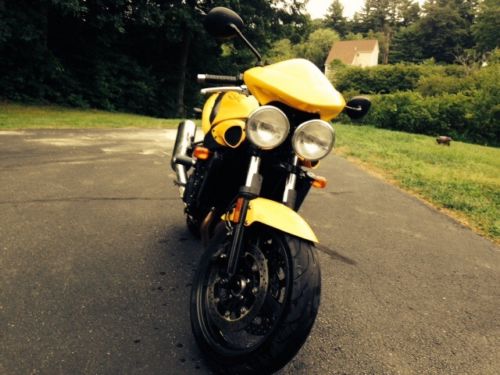 The formula worked, and reviewers on both sides praised the handling of the new naked. The only fly in the ointment, aside from the love-it-or-hate-it looks was the relatively primitive fuel-injection that made for an unpleasant in-town experience, something that was even more pronounced in the TT600. Fortunately, a bit of work with a Power Commander can smooth that out for you. The Speed Four had about 85rwhp, some 10 down on the TT, but that's still plenty to have fun with and was good for a top speed of 135mph, which gets pretty windy on a naked bike…
From the original eBay listing: 2005 Triumph Speed Four for Sale

A 599 cc inline four cylinder with 20k miles.
Fun bike that is home on the track or on the road.
I use the bike to commute to work daily.
Garage kept.
New rear tire.
Dealer serviced.
I much prefer these in black, as it reduces the impact of those nostril-thingies. But these also came in orange and a vivid lime green as well, and you can't beat that for something that flips a middle finger at society, before you even thumb the starter.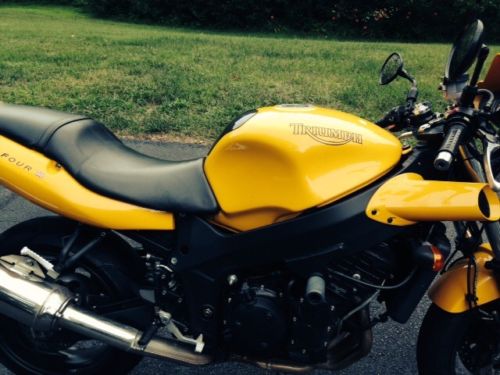 With a Buy It Now price of just $3,500 it's pretty hard to top this in terms of bang-for-the-buck if you want something that offers more than just outright speed. This bike does have some miles on it, but appears to be in good condition and that really does just speak to the fundamental goodness of the package.
Cheap, fast, practical, and tons of fun, it's a bike you can hoon around on. It might benefit from a set of handlebars to replace the clip-ons, but that's a relatively easy thing to fix. Quality construction should see even high-mileage examples cleaning up well, although some parts might be annoying to source. Luckily, that wouldn't include bodywork!
-tad