Warning!
This post is in our archives. Links in this post have been updated to point to similar bikes available to bid on eBay.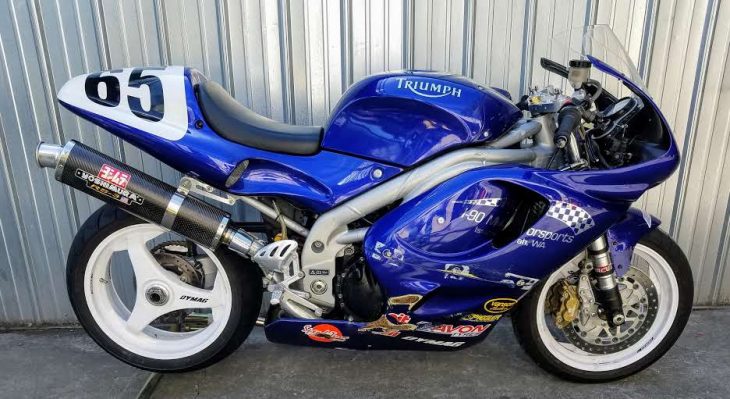 I love seeing race and trackday bikes built out of unlikely candidates like this well-prepared, race-winning Triumph Daytona T595. After all, the whole point of the Daytona in the first place was that it wasn't pretending to be just a numberplate away from placing at Brands Hatch. Instead, it was intended as a fast roadbike, with a focus on character, build-quality, and humane ergonomics. A gentleman's sportbike. In this case, a bike for a very fast gentleman…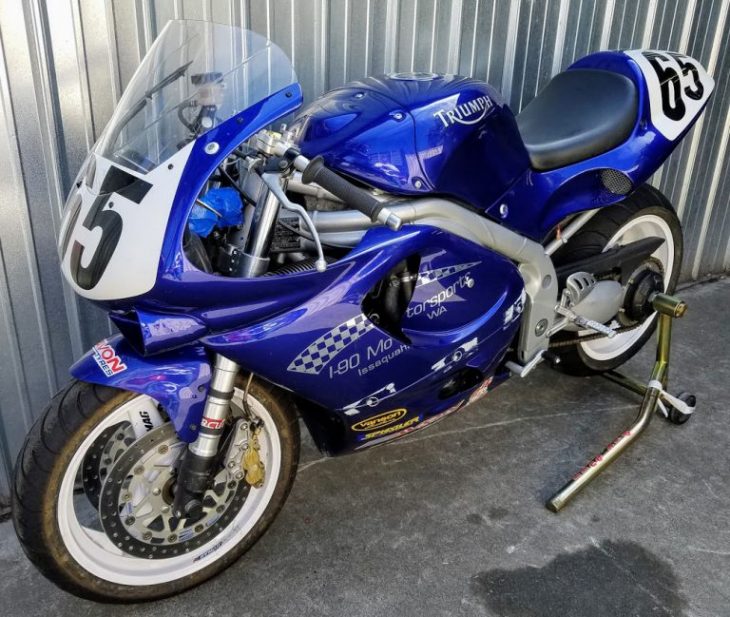 The original Daytona introduced in the early 1990s was available in three or four-cylinder flavors and it was a big, burly GT to rival bikes like the Kawasaki ZX11. The second generation seen here was codenamed the T595, although it was fairly quickly renamed the 955i to avoid confusion regarding its displacement. That's the kind of thing that never bothered Bimota, and I wonder how many people ask SB6 owners if their bike is a 600… In any event, the bike displaced 955cc and was much lighter and more agile than the bike that preceded it.
That being said, the T595 really wasn't intended for competition: the suspension was too soft, the motor biased towards a flexible midrange, as opposed to top-end power, and it was still just a tad too heavy. But this is a Triumph we're talking about, and sportbikes are in their DNA. Fit some stiffer suspension, do a bit of headwork, swap in some custom-ground cams, and change out the stock wheels and bodywork for some lightweight parts. Voila: racebike! It's obviously not quite that easy, but someone clearly put in the effort here: the description goes into great detail regarding the work and parts that went into building this successful racing machine.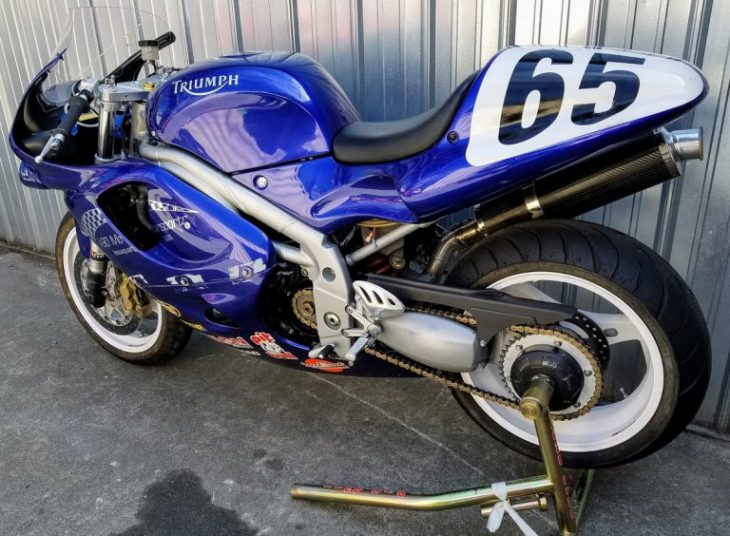 From the Seller: 1998 Triumph Daytona Ex Formula Thunder Race Bike for Sale
This is an off road only track bike, no street parts available. This bike dominated at the local track in the Formula Thunder class in early 2000's. Once retired from active duty it was sold to its current owner in 2003. At that time it was taken to a well known local engine builder go through entire motor and chassis and make get it ready for its last race, a 4 hour endurance race. The motor was torn down and a full fresh build took place. Invoice provided for build. It was then broken in on the Dyno (see chart) and off to the races it went. Retired after the event, until it was brought in to us to find a new home. It had sat for a few years so we carefully went over it, good compression @185-200, changed oil, filter, flushed coolant, fresh fuel and bike came right to life!

Here is a quick list of the obvious and a note from professional Triumph engine builder Scott Zollars.

885cc
Dymag magnesium wheels
Rare Yoshimura full exhaust
Attack Performance Triple clamps and rear suspension linkage
Pro Circuit Suspension re-valved front and rear suspension
Penske rear shock
Brembo Master cylinder and calipers
320 mm rotors with custom caliper brackets for Brembo's

"The cylinder head is a ported 885 from a speed triple. The cylinder liners are the aluminum with nickasil coating items from the earlier generation Super 3. In particular they are all number 2 cylinder liners as they had a tighter tolerance from the factory. The pistons were from the earlier Super 3 also as they were 12-1 hi compression pistons. The cylinder head was decked when it was ported. A final compression ratio of 13.0 sounds familiar. The cams are a custom grind from Web Cam. The valve springs are a custom set from Kibblewhite. The airbox is a crudely made custom item. However it proved to be very effective. The transmission gears were back cut. The shafts that the shift forks ride on were shortened to allow them to float in the case similar in fashion as to what was standard on R6's etc. All rod and main bearings were the White bearings. Carillo connecting Rods. This is how I remember the bike being set up. Things may have changed since 2004 though" – Scott

From one of the local forums:

"05-15-2005, 12:47 AM – Scott Zollars was the man behind I-90 Motorsports race 885 Daytona. That bike dominated the Formula Thunder class at Pacific Raceway for four years.
Also he was involved with Jack Lilleys highly successful 595 Daytona. I think it was the first British bike to win a National in eighteen years? I know first hand that Scott is an expert with fuel injection, electronics, motors and fabrication"

Credits cards accepted, up to $150.00 documentation charge may be added.

Seattle Used Bikes
4905 Aurora Ave N.
Seattle, WA 98103
dave@seattleusedbikes.com
Closed Sun/Mon Find us on Facebook, Instagram and the Web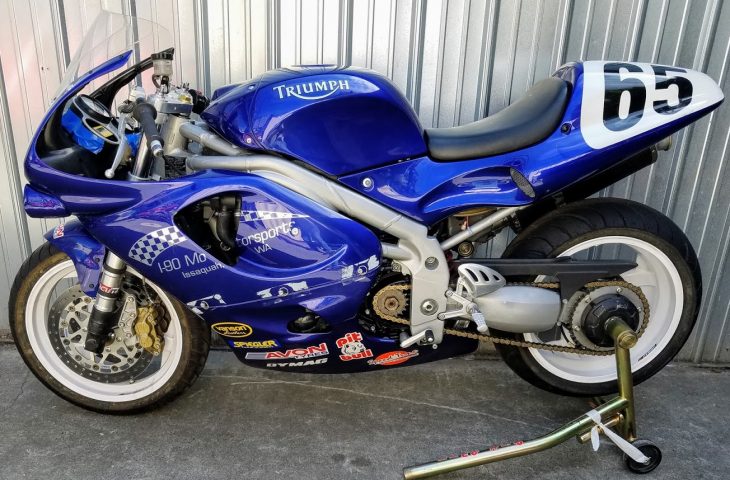 The seller also includes a short walkaround video of the bike running and the throttle being blipped. There are obviously more sensible track-day mounts, bikes that are simpler to get parts for and faster. But if I was in the market for a $7,000 track bike, I'd be very tempted by this Triumph. It's obviously a highly-developed machine for that kind of money, and you couldn't replicate it for anything like what the seller is asking: just the rare parts fitted would probably be worth the asking price, not to mention the hours spent building and tuning it. And if you're looking to go racing in a vintage class, you could certainly do worse than starting with a competitive machine like this one!
-tad
Check out the other Triumph SUB has Featured on RSBFS: 1998 Triumph T595 with just 2,518 miles ! Dave notes that a deal is possible on the pair! -dc