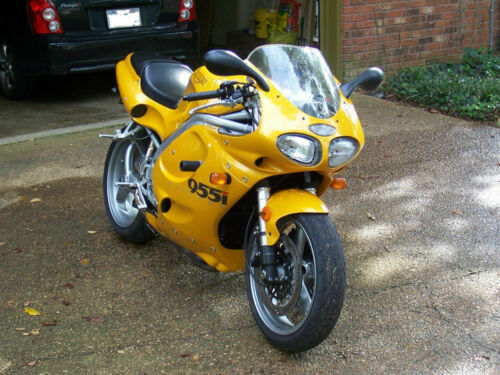 This Triumph always makes me think of that classic Donovan song: "I'm just mad about Saffron, she's just mad about me, they call me Mellow Yellow [quite rightly]" Honestly, it isn't exactly mellow, but the Daytona 955i does look great in this pretty wild shade of yellow. It helps that the overall styling is simple and elegant, and there are no graphics to date the bike, but it's still hard to believe this thing is nearly 20 years old now, and I think it's one of the best-looking bikes of the period.
Designed as a road bike first and foremost, the 955i wasn't intended to go head-to-head with sports multis from Japan. Which is a good thing, because in the rigorous instrumented testing that has always been popular for comparison tests when bikes are new, they blew the Triumph into the weeds. But while bench-racing and dyno comparisons may help sell the latest and greatest sportbikes and do offer an unbiased way to compare different machines, they don't tell the whole story: then, as now, the Daytona is an excellent sportbike.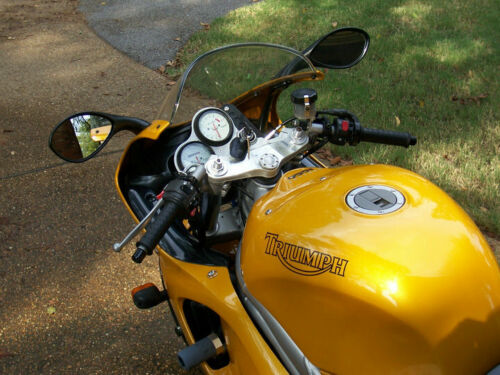 Back in the 90s Triumph made the calculated decision not to pitch their bike directly against the Japanese supertbike offerings. They knew they just didn't have the resources to develop a bike that weighed less than, make more power than, or would turn laptimes within 1/10th of a second of them, so they went ahead and just made a pretty great all-around sportbike oriented towards the road. It's a bit heavier, the riding position a bit more humane, the powerband more midrange-oriented, and the suspension just a little bit softer. All that meant the bike wasn't the greatest at turning a hot lap, but a higher build-quality and timeless looks mean it's a great bike for 95% of sportbike pilots, and those remaining 5% could ride the bike well enough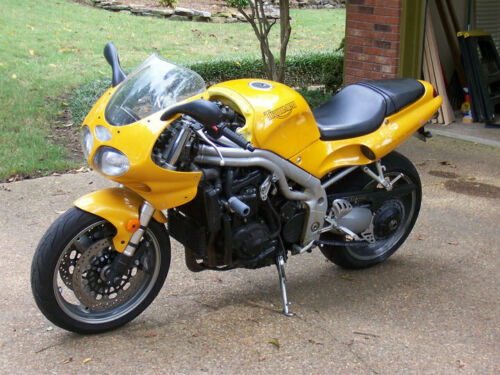 The original Daytona was available in three and four-cylinder versions, but only the triple got the nod for a redesign in 1997 seen here. It was redesigned in 2001 with a single, modern headlamp and a lighter, stiffer double-sided swingarm. That updated bike was much improved, but I prefer this earlier design, with the double headlight and the single-sided swingarm. This one appears to be in good condition, but miles aren't especially low. The bike has the very cool undertail exhaust that several companies made for these when they were new, although I understand the official factory performance exhaust upgrade was the way to go for real improvements across the board.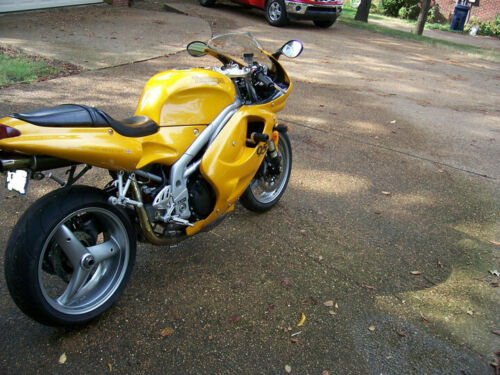 From the original eBay listing: 2000 Triumph 955i for Sale
This super bike is da BombDigity! It's a real peach with only 21, 254 miles since birth. This machine is NOT for wimps or sissy-boys. When you grab the throttle on this 955cc, three cylinder throttle monster it'll cause your ass to grab to seat OR… you just fall off. This monster comes with Triumph stock Brembo brakes on both tires. Speaking of tires these rubbers are brand new. Heck… wearing these rubbers just mike keep you safe in a Ron Jeremy movie starring Stormy Daniels. Remember what is was like to grab ahold of something and twist it and KNOW your day just got better? Well… This is the machine that will do that for you. This beast is fuel injected with an aftermarket Trident dual pipe under the seat. It already has the Battery Tender terminals attached to the batter so you can keep that battery fresh and ready to fire all year long. On a serious note though this example has never been track ridden and has only had two adult owners. This 2001 Triumph Daytona 955i is the bike that everyone wants to talk about and everyone loves to hear. 

This beast breathes through a larger, non-ram-air-equipped airbox with 46mm throttle bodies that feed a redesigned CNC-machined cylinder head featuring 1mm larger intake and 1mm smaller exhaust valves sitting at a narrow 23-degree included valve angle. New forged-aluminum pistons force a 12.0:1 compression ratio (over the previous 11.2:1 ratio), sitting atop stronger carburized connecting rods and a lighter crankshaft. This 955i pumps out somewhere in the neighborhood of 125 rear-wheel horsepower. On a dyno run that number bore with an impressive 128 hp at 10,500 rpm showing. The rear wheel is hung on a single-sided swing arm making for a killer look for sure.

The 955cc triple has no problem pulling the tall lower gears due to its stupendous amount of low and midrange torque. Big power starts at 4000 rpm (any lower than that requires a smooth throttle hand), launching the Daytona forward through the rev band like a locomotive on crystal meth; revs climb even quicker once the tach hits 7500 rpm, spinning up far faster than the old T595 ever could. The power continues to build up top, with the Triumph's distinct exhaust timbre accompanying the blurring scenery.

The Triumph Daytona 955i can make time with the best of Japanese track weapons through the curves; it just generates its acceleration in a slightly less frantic manner. Despite the claims of a lighter crankshaft, the 955i still has a lot of flywheel effect. This can be a boon for riders less accustomed to the precise throttle control and gearbox manipulation necessary with a typical four-cylinder. Throttle application isn't as critical, and sweeping turns where momentum is key allow you to showcase the Triumph's stomping midrange. 

The best part of this bike is its near V-twin torque and low/midrange grunt with a four-cylinder's screaming top end. The 955i is very deceptive in how it generates its speed. The gearing, especially in the lower cogs, is tall enough that the motor's relatively loping gait fools you into thinking you aren't really traveling that fast… until the next corner comes up. That tall gearing, however, when combined with the heavy flywheel effect, means care must be taken with downshifts during corner entries in the tighter stuff to avoid rear wheel hop.

If you'd like to come by and test ride this bike you must have in your possession a non-expired license with a motorcycle endorsement, you must have the full asking price of $5500USD in cash and you must let me hold the cash, your license and the keys to the vehicle you arrive in while you do the test ride.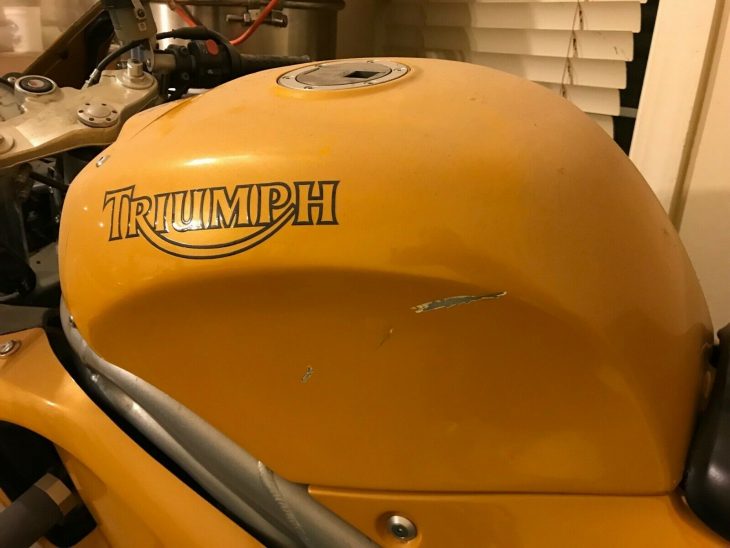 Does anyone actually say "da BombDigity" anymore? Questionable taste in slang aside, this is a pretty great description of the bike, although the front brakes are Triumph-branded and not Brembo units. The seller does include the picture above showing damage to the tank with no explanation, and the scratch is gone in the other pictures, so it's worth a message to the seller before bidding, considering he's asking premium money for this one: the asking price is on the high side for a Daytona of this vintage at $6,500. Daytonas are especially appealing on the used market and offer pretty great value: they look great, have plenty of performance for all but the most hardcore road-racers, are reasonably reliable, and have been dirt-cheap for years now, although that's bound to change sooner or later.
-tad