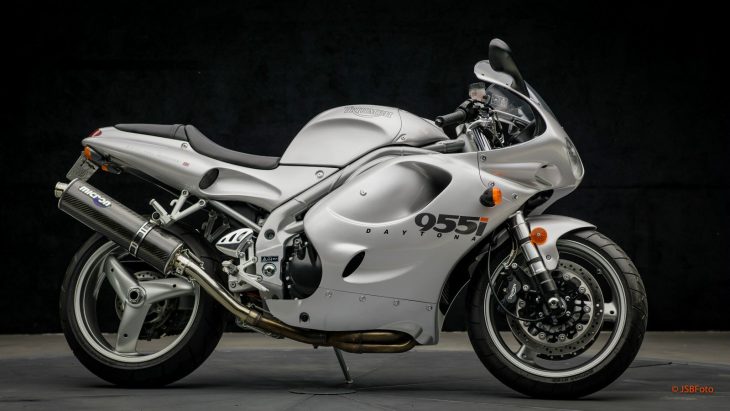 When the Triumph motorcycle company was reborn back in 1991, the company's initial lineup included a big-bore Daytona model powered by an inline 4 cylinder engine. The 1st generation Daytona editions showed that the reborn company could produce a well built bike and have actually become quite collectible, with ebay prices for the 4-cylinder models rising quite a bit recently.  After a few years and in part due to heritage as well as cost, Triumph decided to stop producing the 4-cylinder powered Daytona model and focus primarily on triple/3-cylinder bikes.  A new Daytona series was designed as the signature big-bore bike for the Hinckley-based company, with power coming from a 955cc 3-cylinder/triple powerplant.
When it was launched in 1999, the new triple powered Daytona was a huge jump forward from the previous generation, incorporating the new engine, a single sided rear swingarm and a much more modern look and feel.  However sales were lower than expected, in large part due to the bike being positioned against lightweight 900-1000cc machines like the CBR900/Fireblade and Yamaha R1.   Also the 1st year bikes came with an odd naming convention of T595, which designated the 5th engine series designed by the company but made some people assume the bike was a 600cc machine.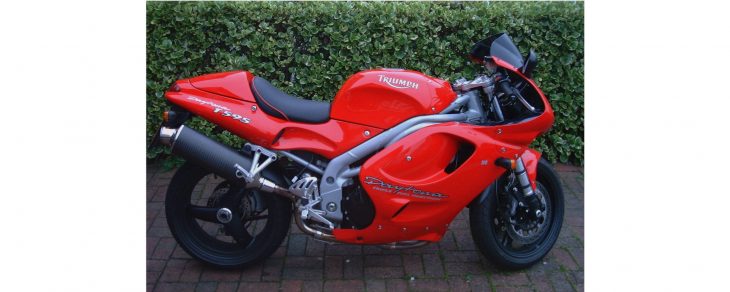 Sample pic of the T595 badged edition
Reviews of the new Daytona were mostly very positive and stated that while the bike couldn't match the performance of its Japanese rivals, it was still quite appealing and made an excellent all around sport machine.
"Judge the big Triumph by its lap times and it never matches the competition but it does have two things the competition does not;  the first is personality, which is often more important to most riders than cutting seconds off lap times, and the second is the fact that it works better than the competition for daily riding.  This is due to its being more comfortable, especially now in its second incarnation.  

It's got top notch finish and fit too, which means its looks will hold up while rivals will likely start to look rough after just a few years use."
A gentle revamp was done in 2001 which included a re-badging to the 955i moniker as well as re-positioning the big Triumph against similar all around sport machines such as the Honda VFR and Yamaha FJ series.  The result was a strong improvement in sales but the 955i was never a huge success.  Yet the 955i is still very popular among sportbike fans who want something different/distinctive that is also usable on an everyday basis.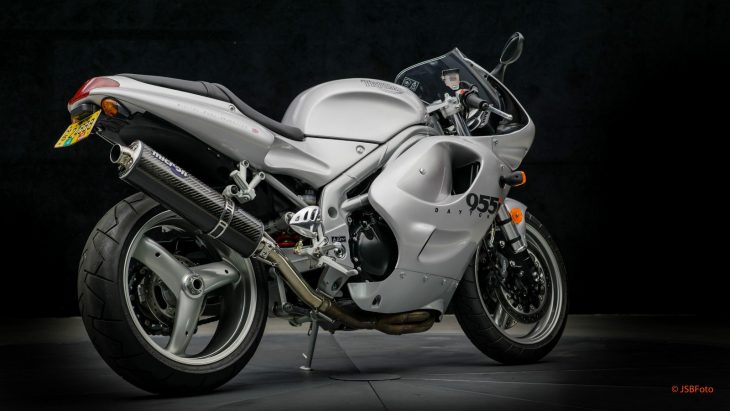 I have to admit I lusted after these when they came out; I loved the way they looked with the organically rounded/flowing bodywork and the single sided rear swing arm.  Sadly the next generation moved away from this style to something with more sharp angles that while popular at the time, actually made the bike look less distinctive/more like every other bike on the market and hasn't aged as well.
Sample pic of the following generation style…snore..
This particular 2001 Triumph Daytona is extremely clean but given its ultra low mileage of 866 miles thats not totally surprising.  The only non stock items I see are an aftermarket exhaust and a rear tail unit setup (which could probably be easily sourced on ebay if desired).  The seller appears to be a dealer and doesn't include any maintenance history but the fluids and rubber do look fresh.  Of course that could just be good photography… but yow I think this bike look great.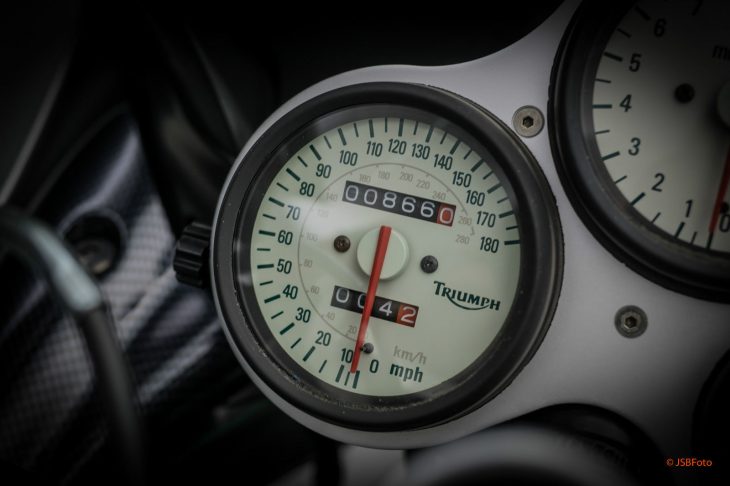 So what is this lovely (and basically new) 955cc 3 cylinder bit of British engineering worth?  Well there are currently a few other Triumph Daytona 955i's for sale on ebay right now from the same generation and prices for those seem to be right around $2,800 USD.   This even includes another "Aluminum Silver" edition for sale, although the mileage for the other one is a lot higher and the ownership situation seems a bit odd.
So $2800 USD to take this one home, right?  Nope – the bidding on this one already exceeds the Buy-It-Now price of some of those other same-generation 955i models currently listed on ebay and reserve is still not met. Why?  Well the seller is apparently a dealer which always makes the price ask a bit more and the mileage/overall condition are obvious impacting the price.  But its also important to note that the Aluminum Silver style of this generation has become THE preferred model and color scheme for a lot of collectors.  Monochrome/single color bikes  seem to become quite desired over time (ex: the 1st gen all white Honda VFR), so it should not be surprising that this bike with its all silver bodywork and matching wheels is considered to be the one most likely to appreciate in value by investment-oriented collectors.  The last one of these we had on RSBFS sold incredibly quickly for $4,000 USD and that one had over 10,000 miles, so I would expect this one to go for something above that.
-Marty/Dallaslavowner