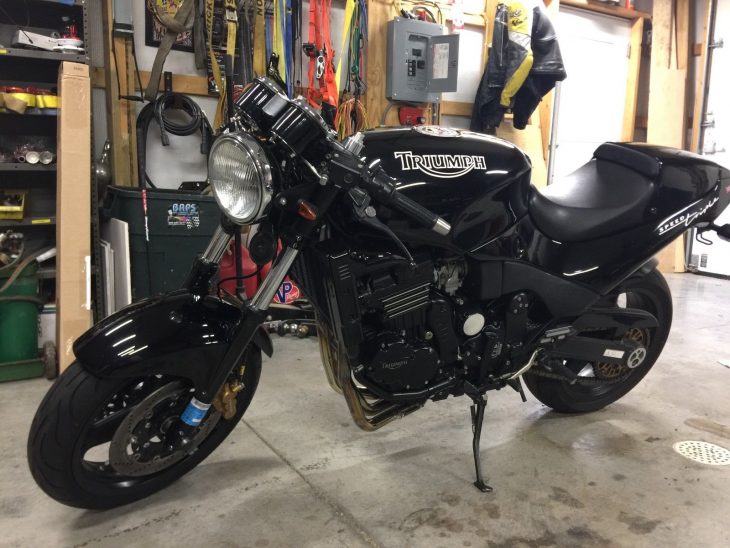 Triumph's entire 1990s range of sport, sport-touring, retro, and naked machines like this original Speed Triple was built around a common spine frame and two engines, the 885cc inline triple seen here and a larger-displacement inline four. This allowed Triumph to quickly create new variations and mirror market trends without sacrificing quality, a strategy that led directly to today's world-class motorcycles. But the company's road to success was a difficult one. They were long gone by the early 1990s, a victim of the Japanese motorcycle industry's massive growth in the 1980s. Triumph was able to hang on throughout the 1970s, trading on their handling and reputation for performance. But once the Japanese bikes' handling caught up with their reliably powerful engines, it was all over but the shouting.
The reborn Triumph of the 90s knew that it could never hope to compete with the Japanese in terms of outright performance, so they focused instead on quality and capitalizing on the brand's undeniable mystique. The new Triumph motorcycles offered real-world performance, decent handling, and surprisingly high fit and finish. It's not the lightest or nimblest of machines: none of these first-generation John Bloor-era Triumphs were. But they were well-built and charismatic, just as intended.
T309 Speed Triples are definitely not track machines: a top-heavy weight distribution caused by the spine frame compromised handling, although there was a promotional one-make race series for them called the "Speed Triple Challenge" that must have been fun to watch. The rugged triple and five-speed gearbox may not offer performance that will set your hair on fire today, but the 98 claimed horses mean the Speed Triple is plenty fast for road use and the bike should sound great with the aftermarket three-into-one exhaust seen here.
The seller refers to the bike as "this original naked bike." If he means "one of the original naked bikes" then he'd be correct. The Speed Triple was introduced in 1994, but Italian rival Ducati's Monster was introduced a year prior in 1993 and Honda's proto-Monster Hawk GT was first available all the way back in 1988, although it was kind of a sales flop at the time. Nevertheless, the Speed Triple is one of Triumph's best-selling bikes of the modern era and, much like the Monster, can probably be credited with the company's current success.
From the original eBay listing: 1995 Triumph Speed Triple for Sale
Thanks for looking. This is a very good condition 1995 Triumph speed triple. It has recently had a top end overhaul and new timing chain and tensioner/guides. The bike fires on the 2nd crank every time and runs awesome. I am looking to sell to downsize my collection due to a growing family. 

I have and will include with the selling price, the original Triumph dual exhaust that is pictured in one photo. It is not installed but all hardware is there. 

Many spares are included as well which were given to me by previous owner. 

I have owned for the last 5 years and have had a blast riding this original naked bike. This bike was the first year the speed triple was offered in the USA. My offering is your chance to own a modern classic. 
There's been no interest in the bike so far at the starting bid of $1,500 but there are still a couple days left on the auction. The first-gen Speed Triple is nearly a classic at this point, but modern enough you can count on it to start every day, and the build quality of the Bloor-era bikes is high. They've been pretty cheap for a while now, and many that come up for sale feature signs of neglect, but this one looks very nice, and supposedly comes with a bunch of additional parts, so it might be worth looking into as a future collectible.
-tad