After years of "close, but no banana" attempts to out-inline-four the Japanese with their 600cc TT600 and Daytona, Triumph finally hit one out of the park with their slim, agile, and characterful Daytona 675, a bike capable of holding its own against the world's best, while offering a unique blend of flexible power, torque, and a soundtrack to differentiate it from the typical inline four and v-twin sportbikes. This Triumph Daytona 1200SE represents the path not taken: with no analogue in their current lineup, Triumph's four-cylinder Daytona was ultimately a dead-end for the company, as the smaller three-cylinder proved more popular and led the way forward for the company. But if you're in search of something cool, classy, affordable, and fast, this one might just tick the boxes for you.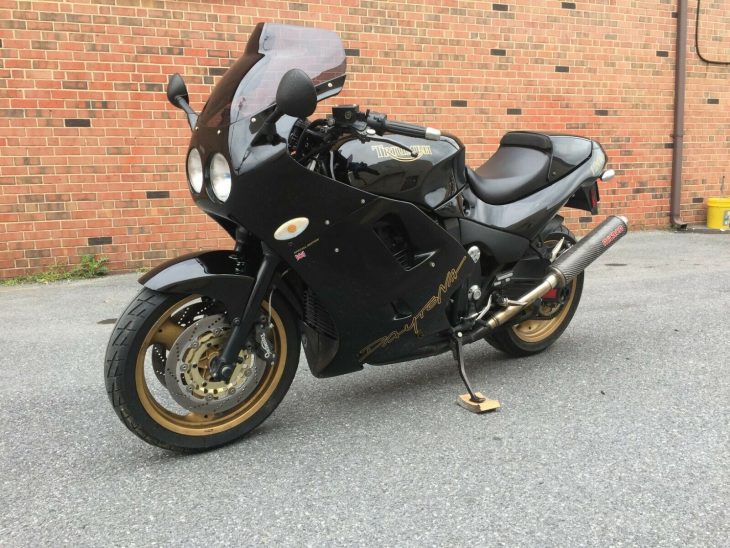 When Triumph was reborn in the 1990s, modular design allowed them great flexibility to refine their offerings and minimize the risks associated with new or niche models. Individual bikes were slightly compromised by frames and engines designed with versatility and not maximum performance in mind, but this kept the company light on its feet and and able to quickly respond to industry trends. The Daytona 1200 slotted their biggest, most powerful engine into the spine frame, added the best suspension in their arsenal and fitted some very effective brakes. It was Triumph's big stick of their lineup and, even though it was discontinued after just a few years, that doesn't mean the four-cylinder Daytona 1200 isn't a great motorcycle.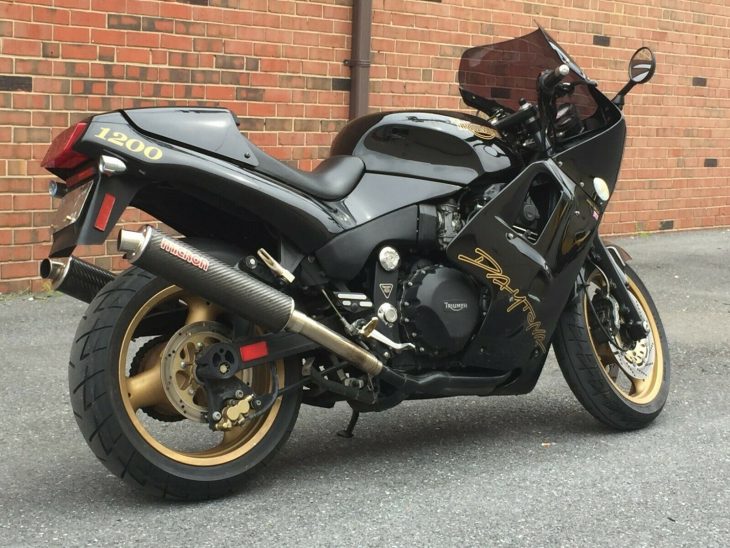 When new, it was considered a bit of an also-ran, since it was compared directly to Japanese rivals like the Suzuki GSX-R1100 and Kawasaki ZX-11 in that all-important top-speed metric while costing a good bit more. With 147hp from the 1180cc engine to haul 550lbs of wet weight around, power-to-weight compares favorably with the last generation of Suzuki's GSX-R1100, while offering an extra cog to make even better use of the flexible engine. That may seem unimpressive by today's ludicrous power levels, but the 85lb-ft of torque is paired with real-world gearing that emphasized performance street riders could actually use, instead of hypothetical top speeds they couldn't. With stock gearing, a 1200 Daytona could easily embarrass a ZX-11 from 40-100mph, before running out of puff at a mere 160mph.
And like the ZX-11 and the later GSX-R1100, the Daytona wasn't a sport-touring bike, it was a big GT, a sportbike with comfortable ergonomics suited to mature riders who wanted to occasionally do very immature things on their motorcycles. A GSX-R with wild graphics and neon colors would blast to triple-digit speeds, strafe canyons, but had very boy-racer pretensions, for better or worse. But if you'd aged out of that, but still wanted to scare the bejesus out of yourself without needing to pretend you were hitting LeMans the following weekend, the Daytona was available in elegant black, classic British Racing Green, or a rich yellow. The styling was simple and unadorned by crass graphics, and the bike exudes class from nose to tail.
From the original eBay listing: 1999 Triumph Daytona 12oo for Sale
Helping a family friend clear out an estate. Two Owner bike, Was adult owned its whole life, most recently by an avid motorcycle enthusiast in his 60's for the last 15 years. Clean and Clear title ready to go and two sets of keys.

Limited edition 1999 Triumph Daytona 1200 in very nice condition. This is a rare bike they do not come up for sale often. limited production Only 250 made, this is bike #175.

She has been sitting in storage for the last 2-3 years or so, fuel was drained before storage. Pulled it out, new battery, gave it a wash, put fresh gas in, fresh oil change, and she fired right up and sounds amazing. Tires have good tread left, the bike brakes and handles amazing, its very fast! This bike has been very well taken care of and well maintained by owners. No leaks of any kind.

Paint is nice, always garaged. there are a few blemishes that I noticed, some scratches on the right side fairing isolated to about 2″x2″, and a hairline crack and some nicks up by the left mirror(see pics)

Modifications that I noticed: 

Micron carbon fiber slip on exhaust

Hella headlights, very bright, turn signals

Nology profire coils

Windscreen?

Very clean for being 20 years old, a few things I have noticed that I want to mention for full disclosure: 

Bike hesitated a little  before it took off when I drove it, I would recommend a fuel additive to clean out the carbs and fuel system for the first few tanks of gas since it has been sitting
Temp gauge was working intermittently

Don't let this rare opportunity pass you by!!
With a Buy It Now price of just $5,500 this is a ton of bike for the money, and it looks clean and relatively unmolested, with just 15,000 miles on the odometer and a set of Micron carbon cans to liberate a bit more growl, as you can hear in the included video. It's unfortunate the seller doesn't know more about the history, but is pretty thorough in presenting what is there. It's not quite perfect, with some scratches, flush front signals, and the frankly awful rear turn signals, but looks complete and all Triumphs of the era still represent a seriously fast chunk of classic sportbike for a pretty minimal outlay of cash.
-tad